Lost 43 Pounds, 13% BF, Pants 38″-33″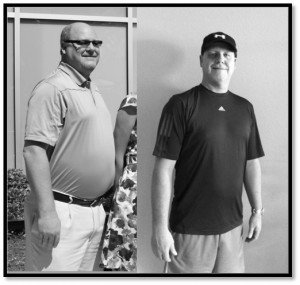 It was nearing the end of 2011 and it was time for the obligatory New Year's resolutions. I mentioned to my wife Susan that I wanted to get in shape and shed a few pounds. The years of traveling as a software executive and bad eating habits had caught up with me. She took my statement to heart and got me a three month membership with Rob at RobZFitness as a Christmas gift. This turned out to be one of the best gifts I have every received!
My goal was to lose weight, improve strength, and tone up. Everyone has heard the advice, "eat right and exercise", but it is very difficult to accomplish without the right support mechanism. Over the past three months the dedicated staff at RobZFitness provided everything I needed to be successful, including a supportive eating plan, exercise regimen, and ongoing accountability and encouragement. Rob and his staff were there with me every step of the way, providing a range of weightlifting and cardiovascular activities to help me reach my goal. The results speak for themselves and exceeded my expectations.
After 3 months I lost 43 pounds, 13% body fat and my pant size is down from 38″ to 33″. My sports jacket size is down from a 48L to 40L. I have improved strength and flexibility and have increased my energy two fold.
While the measurements are nice, I am most impressed with the influence that the eating plan has had on the whole family. Rob not only helped me reach my short term physical goals, but also provided me a blueprint for long-term sustainability of a healthy lifestyle.
John Prestridge
A new study shows being thin can make you look older later in life.
Second helpings on dessert might seem like the sweetest way to celebrate new research that says being thin ages us more than anything else.
Sadly, you can't have your cake and eat it, too: While the research does note that thinness makes the face appear older, this holds true only for women over 40, says lead study author Dr. Bahman Guyuron.
"For those younger than 40, it's the other way around," says Guyuron, chairman of the department of surgery at Case Western Reserve School of Medicine in Cleveland.
"For women under 40, gaining weight obscures the facial definition that is inherent in a younger woman."
The study, the first of its kind, to be published in the April issue of the Plastic and Reconstructive Journal, focused on a variety of factors that can make people look older.
A thin face is the lead culprit because being slender causes a loss of volume in the face, Guyuron says.
"This loss of volume creates jowls and makes wrinkles develop," he says. "The older we get, the more the face gets depleted. When you lose weight, this look is enhanced and aging is accelerated.
In older women, having a little weight on board makes the face look a little younger." Facial shape actually changes with age, says plastic surgeon Dr. Jacob Steiger of Boca Raton, Florida.
In the late 20s and early 30s, a woman's facial shape is a heart or inverted triangle but with age, it becomes a square or an upright rectangle. To keep that younger looking shape, many women opt for a procedure to fill out the face with injections of Restylane, Juvederm, or a similar product.
"But to tell a patient to gain weight to look younger is silly," Steiger says. "The study just shows that a full face looks younger than a gaunt face, and it illustrates the importance of volume when women are thinking about facial rejuvenation."
Being thin isn't the only factor in whether your face looks aged or not, according to the study, which looked at nearly 200 pairs of identical twins over the course of two years.
Since the twins' genetic makeup was the same, researchers were able to attribute the differences in how old they looked not to their gene pool, but to external factors. And the researchers found that, in addition to thinness, smoking, heavy drinking, sun exposure, being divorced and being on antidepressants also are to blame.
"We also have discovered that indoor jobs, since your sun exposure is limited, help you look younger," says Guyuron. "Having an outdoor job makes you look older." For women who want to look younger but don't want to shell out money on plastic surgery, there are other things to try.
"From the standpoint of preventive measures, not smoking and staying out of the sun are the two biggest things you can do for yourself," Steiger says.
"Gaining weight is not advisable. When you gain weight, you gain it everywhere. It's kind of like hair: as you get older you grow it where you don't want it and lose it where you don't want to lose it."
The main message Guyuron wants people to take away from the study?
"Even though being really thin is perhaps in vogue, we are not advocating that you lose too much weight because even though your body may look thin, your face will look older," he says.
"Try to keep your weight around the ideal range and if you do that, you'll look younger than if you lose a lot of weight."
Come join us on Veterans Day November 12, 2012 for our special BootCamp/Yoga class at 7:30am taught by my wife Amy and myself.  Stay a bit longer for Yoga for Athletes at 8:30am with instructor Monica Wieruszewski.
Tickets are $10.00 in advanced or $12.00 at the door.
Register now to reserve your spot.
For more information please feel free to call me at (813) 571-3700 or email me at Rob@RobZFitness.com about any questions you may have.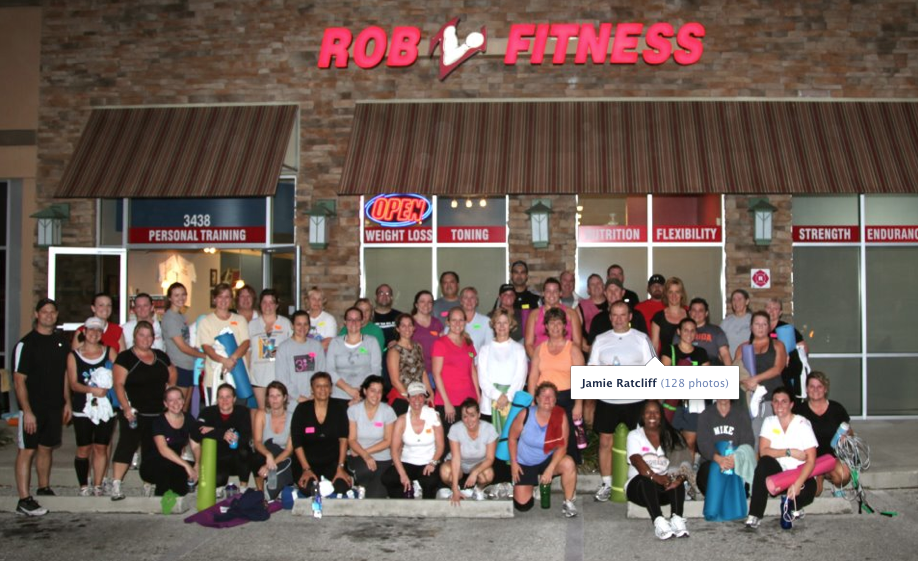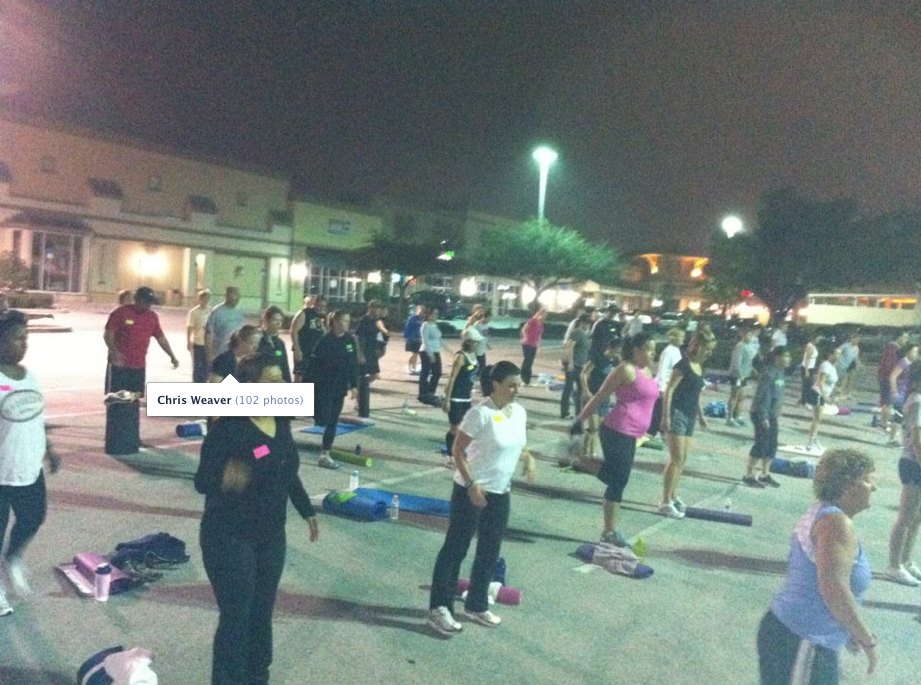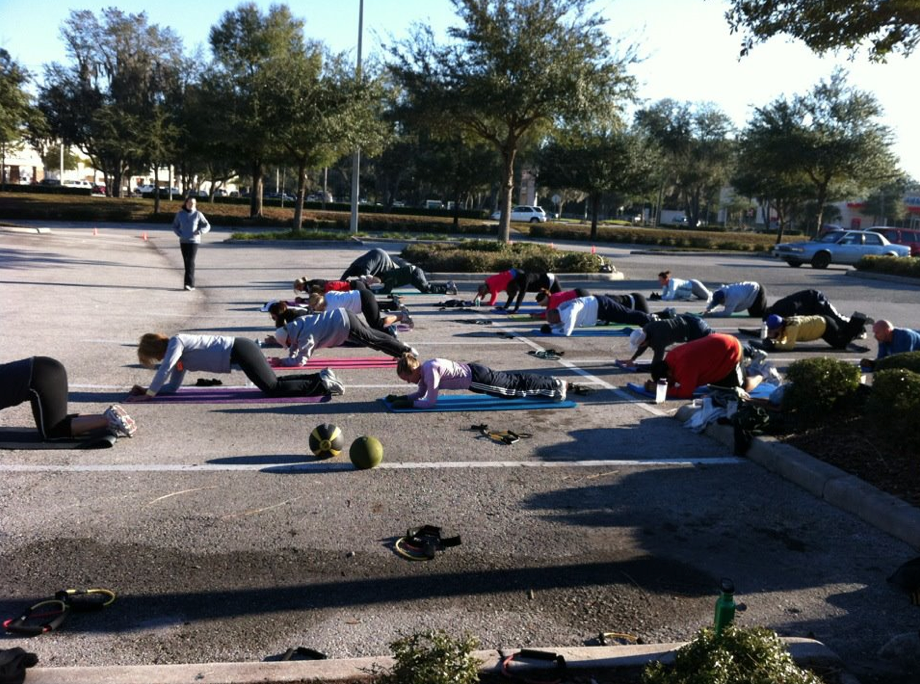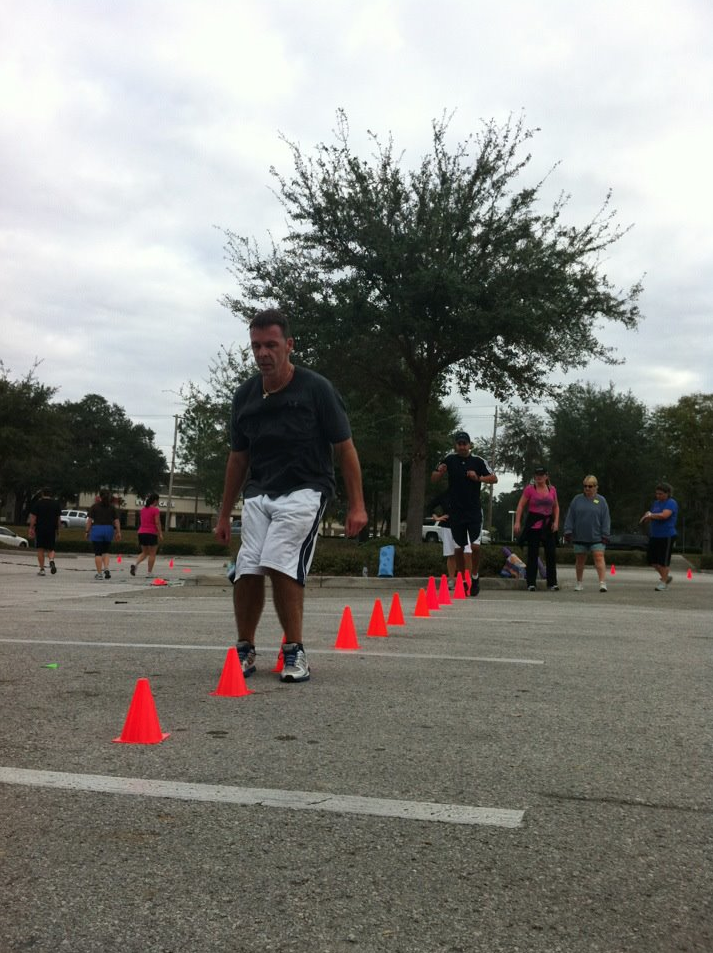 "Lost 52 lbs, 12.5% Body Fat, 5 inches Waist"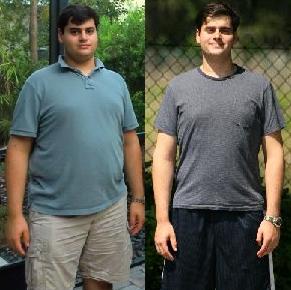 Four months ago, I sat in my dorm room cramming for finals. I was reviewing notes, practicing problems, and eating some pizza in the meantime. It was when I looked at the reflection in my computer screen I noticed the real issue. My face – stuffed cheeks, greasy lips, and a second chin beneath it – was horrific. I was not happy with what I saw. The person looking back at me was not the person I see in my mind. I thought of myself as a smart person with strong goals and a happy life. I saw someone who couldn't control bad habits and constantly ignored signs of poor health and inactivity. I did not go to college to gain weight, lose focus, and become a diabetic; I concentrated too much on my studies that I lost sight of some of the true priorities in life. Unable to continue with the matter, I shut off the computer screen, threw away the rest of the pizza, and resumed studying. I knew this issue needed to be addressed in the near future.
In the midst of finals week, I sat in one of my favorite restaurants eating one of my favorite meals: smoked cheeseburger with fresh cut fries. Looking for something to read, I picked up an Osprey Observer at the counter and glanced through the articles. I came upon a testimonial from a client from RobZFitness who lost a 100 pounds. I was astonished. I thought those kind of numbers are for Biggest Loser contestants or gastric bypass patients. Once again gorged with burger grease and oily hands, I said enough is enough. How can I, an eighteen-year-old kid with many years ahead of me, sit around while other people are doing something about their lives? I kept the article, returned home, and decided to give it a shot and make the call.
That night, I spoke to Rob Zulkoski. I told him who I was and where I wanted to be. I was a USF freshman severely overweight. I would be committed to the program and do whatever asked of me. I wanted confidence back, I wanted a healthy future, and I wanted a lifestyle change. I was promised all of those things. The next day, I came in to meet him and get evaluated for the weight loss program. I started out weighing 250 pounds with 33% body fat. I never thought it was that bad; it was surely quite a shock. After a few more tests and measurements, my percentile ranking for men my age was 3. That's it. 97% of eighteen-year-olds were in better shape than I was. It was time for that to change. I signed up for a long-term commitment at the studio and was ready for a new beginning.
Four months later, I happily weigh only 198 pounds, losing a total of 52 pounds to this date. My body fat percentage dropped from 33% to 20.5%. My percentile ranking improved to 24 and the feeling is unbelievable. I climbed the Bank of America building in downtown Tampa – all 42 flights – in just over ten minutes. Never did I believe that I could accomplish all that in sixteen weeks. It's amazing how effective Rob's system is. If you follow the plan, eat right, and stay focused, there is no reason not to expect big results. The trainers are encouraging, firm, and have faith in your abilities. You work out with others who are going through the same process and it's certainly beneficial to have a support system to help you through the adjustments. I am finally looking in the mirror and seeing the person that I've always pictured myself to be. I look forward to continuing with the plan through the coming months and maintaining a healthy lifestyle for many years to come. Thank you RobZFitness for getting me back on track and giving me a fresh start on life.
Robert Ackerman
Long time friend and USA Olympian (former RobZFitness client) Chris Colwill won the U.S. Men's 3M Springboard Diving Championship two weeks ago on NBC.
Chris will be representing Team USA in his second Olympic games in London this Summer 2012.
We will all be routing for you.
Good luck Chris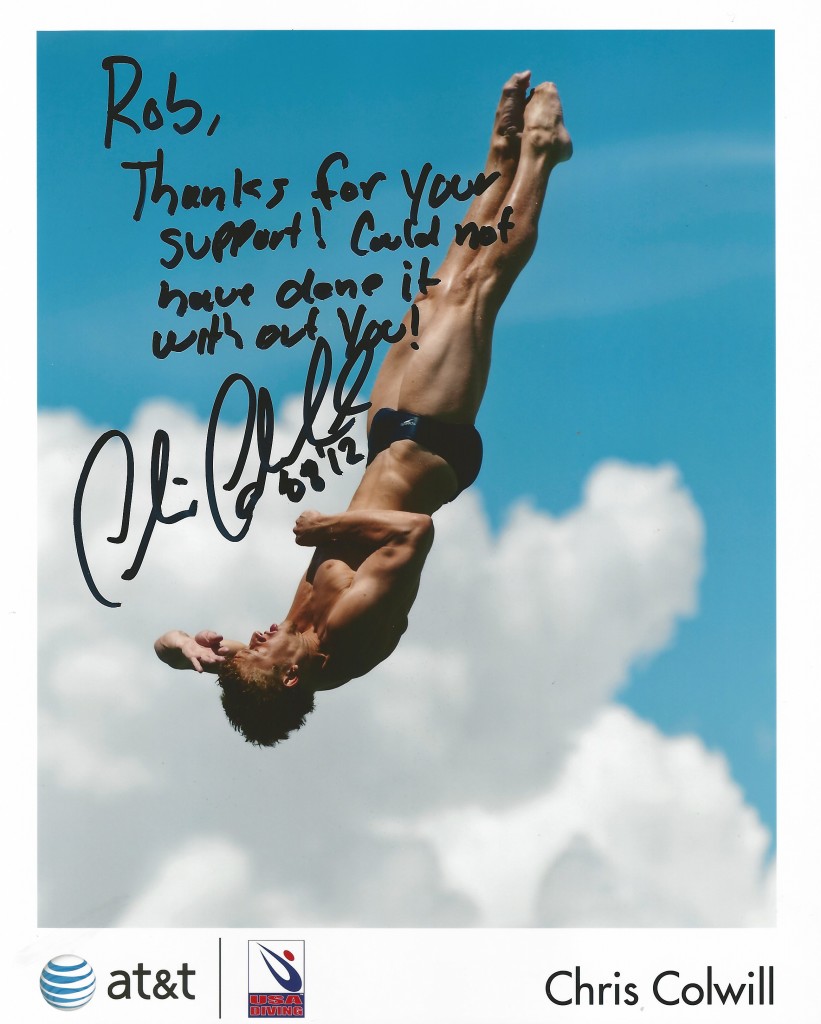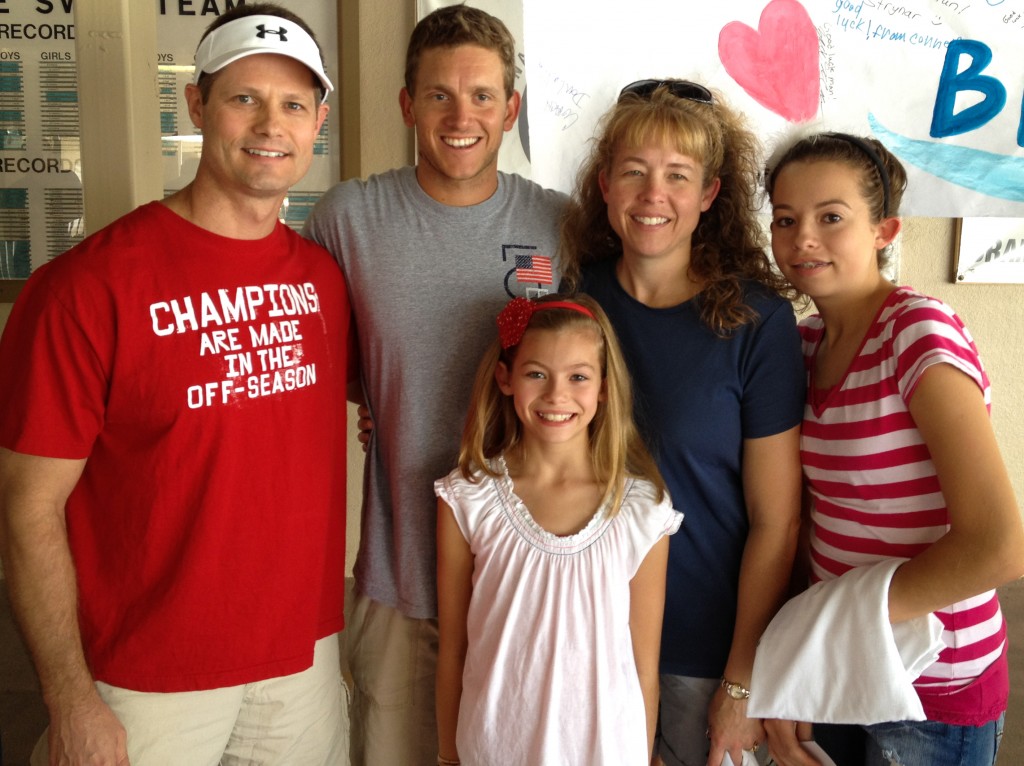 Title: Body Step
Location: RobZFitness
Description: Come step with me
Start Time: 06:00
Date: 2012-06-02
End Time: 07:00
Bob & Chris – Both Excited With Progress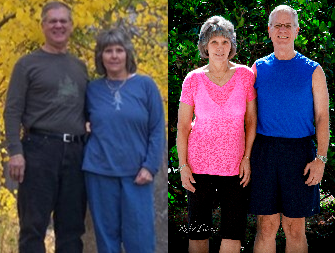 We always thought we were in fairly good shape for our age (both 63).  We had been fitness walking for years or using a gym for our daily workouts.  Our eating habits, however, had deteriorated over time, and we found we snacked a lot at night and NOT on healthy foods. We finally acknowledged that we were overweight and no longer as toned and fit as we wanted to be.  It had gotten to the point that photos of us were not exactly 'complimentary' – shadows would simply not cover our pudginess!
About this time, we started noticing several of our friends were looking fitter, healthier,  and happier and we asked questions to try and discover their secret.  It turned out that each had been transformed at RobZFitness, so we summoned up our courage and marched our not-so-svelte bodies to his facility for a fitness evaluation which (unfortunately) validated our concerns.  After Rob explained his proven program of nutrition, cardio, and weight training, we signed up and began our training that same week.  Our personal trainer, Taylor, was awesome!  He constantly assessed our progress, and cheerfully pushed us to improve (completely tuning out our stereo whining). We worked very hard every session and Taylor continually introduced new exercises to challenge and motivate us, increase our strength, and improve our muscle tone. No time to get bored!
Bottom line – we are so excited with our progress.  After 3 months of intense training, there has been a huge change in the way we look and feel.  Bob's body fat dropped from 25.8% to 13.5% after 12 weeks, and he lost 20+ lbs.  Chris lost just shy of 20 lbs, and her body fat percentage went from 32.4% to 19.4%! We no longer mind having our picture taken! We eat healthier foods; we have more energy; and we are committed to continuing on this path so that we remain toned and fit. 
We promise…try it and you'll be so glad you did!!
Bob & Christine Garrett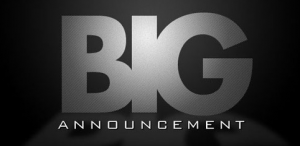 In case you missed it announced on my RobZFitness FB fanpage. I wanted to thank you for being patient with me as details about the BIG NEWS had to be delayed a couple of weeks as negotiations took longer than anticipated.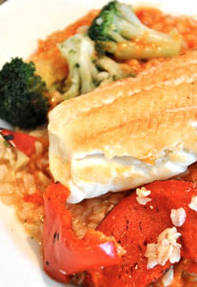 This is a great meal for cutting calories and dropping weight. Watch your portions with the brown rice in order to stay within your daily calorie goal. White fish is packed with protein – just what you need for toning your body.
Servings: 2 
Here's what you need:
2 fillets white fish
1 teaspoons olive oil
1 lemon
seafood seasoning
paprika
1/2 red bell pepper, cut into bite-sized chunks
1/2 cup broccoli florets
2/3 cup brown rice, cooked
2 Tablespoons salsa
Preheat broiler. Grease your broil pan with the olive oil. Place the fillets and bell pepper in the pan, squeeze the lemon juice over it. Sprinkle with seafood seasoning and paprika.
Place the pan under the broiler for 5-7 minutes, watching closely to prevent burning. Add the broccoli and cook for another minute until soft.
Mix the cooked brown rice with the salsa and divide between two plates. Place a fillet on each bed of rice along with half of the veggies.
Nutritional Analysis: One serving equals: 203 calories, 3g fat, 24g carbohydrate, 3g fiber, and 19g protein.
"I Lost 42 pounds, Lost 5″ off Waist"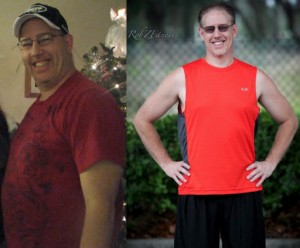 I had tried for 3 years to lose the weight I had put on over the past 20 years. I had some success by doing various exercise programs such as walking, running & working out with exercise videos. Additionally, I also started watching what I was eating. But this was never enough as I often gained back some of the weight I had lost. This yo-yo effect stopped went I went to RobZFitness.
I had thought about going to a personal trainer many times while trying to lose weight over the past year. But it wasn't until I had taken 2 of Rob's Boot Camp classes that I saw what could be done if I put in the effort & had some professional support. As a result of attending the 2 boot camps I jump started my weight loss by losing 10 lbs. With this success under my belt I signed up for Rob's personal training program.
It has been 3 months since I started training with Rob & his staff and in those 3 months I lost an additional 32 lbs. This 32 lb. loss translated into over a 10% loss in body fat. When I started the program I was more fit that 13% of men my age and at the end of my 3 months I am more fit than 60% of men my age. I have gained strength & have toned so much so that I don't feel so self conscious when I take off my shirt. In fact when I completed the program I was able to rid myself of all my extra large shirts & start buying a smaller size. My waist is 5 inches smaller & my pants are falling off me. As a result I feel much more confident & have more energy. And after 3 years I have started to play softball again.
With the ever changing & challenging routines along with the Supportive Eating Program provided by Rob I now have the tools to continue on my quest to meet my fitness goals.
Bill Rynkowski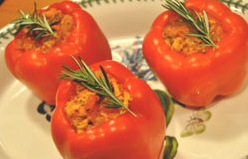 Eating healthy doesn't have to be boring! These turkey-stuffed bell peppers are the perfect meal for those days when you're bored of eating healthy. Shhhh, your taste buds won't suspect that this dish is low-carb and protein-filled. Serve over a bed of greens for a complete meal.
Servings: 5
Here's what you need…
5 organic bell peppers
1 teaspoon olive oil
2 cloves garlic, minced
2 Tablespoons fresh basil, minced
1 yellow onion, minced
1 Tablespoon fresh rosemary, minced
1 teaspoon dried parsley
dash of salt and pepper
20 oz organic ground turkey, 99% fat free
1 organic tomato, chopped
3/4 cup spaghetti sauce
1/4 cup shredded mozzarella cheese
Bring a large pot of water to boil, add a pinch of salt. Cut the tops off the bell peppers and remove the seeds. Place in the boiling water, using a spoon to keep them submerged for 3 minutes or until the skin is slightly softened. Drain and set aside.
Preheat the oven to 350 degrees F. Prepare a baking pan with non-stick cooking spray and set aside.
In a large skillet heat the oil on medium. Add the garlic, basil, onion, rosemary, parsley, salt and pepper. Cook for about 5 minutes, until the onions begin to soften. Add the ground turkey and continue to heat until the meat is browned. Add the tomato and cook for another 2 minutes.
Remove from heat. Pour the spaghetti sauce into the turkey mixture and mix well. Add the cheese and mix until well combined.
Stuff each prepared bell pepper with the turkey mixture and place on prepared baking sheet. Cook for 15-20 minutes until the bell peppers are tender.
Nutritional Analysis: One serving equals: 193 calories, 3 fat, 256mg sodium, 14g carbohydrate, 3g fiber, and 28g protein.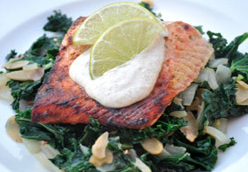 Salmon is filled with quality protein and omega-3 benefits, making it the perfect center of your healthy dinner. Serve your salmon on a bed of fresh or braised greens.
Servings: 4 
Here's what you need:
1/2 cup Greek yogurt, fat free
1 lime, juiced
3 garlic cloves, minced
1 1/2 teaspoons ground coriander
1 1/2 teaspoons ground cumin
4 (3oz) wild caught salmon fillets
Preheat oven to 375 degrees F. Coat a baking pan with nonstick spray and set aside.
In a small bowl combine the yogurt, lime juice, and garlic. Put half of the yogurt mixture aside in the fridge. Coat the salmon with the other half of the yogurt mixture and marinate in the fridge for 30 minutes.
Place the salmon on prepared pan and bake for 20 minutes. Turn on the high broil for an additional 5 minutes until the top of the salmon has browned.
Serve the salmon on a bed of kale with a dollop of the reserved yogurt.
Nutritional Analysis: One serving equals: 172 calories, 6.9g fat, 62mg sodium, 1g carbohydrate, 0g fiber, and 24.6g protein.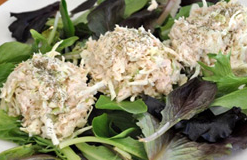 Most recipes for tuna salad call for fat-filled mayonnaise, but this recipe uses fat free Greek yogurt instead. You get all the creaminess without added calories to set back your results.
Servings: 5 
Here's what you need…
2 (5oz) cans wild albacore tuna, packed in water
1 cup fat-free Greek yogurt
2 Tablespoons champagne mustard
1 teaspoon dried dill weed, plus more for garnish
dash of freshly ground pepper
1 green apple, shredded
2 cups green cabbage, shredded
4 cups organic mixed greens
Drain the tuna and flake in a medium bowl. Add the yogurt, mustard, dill and pepper. Mix until creamy and well combined.
Add the shredded apple and cabbage. Mix well.
Arrange mixed greens on plates, then use an ice cream scooper to place the tuna mixture. Sprinkle with dill weed.
Nutritional Analysis: One serving equals: 140 calories, 1 fat, 210mg sodium, 13g carbohydrate, 2g fiber, and 20g protein.
* Recipes not intended for my training clients.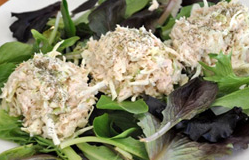 Most recipes for tuna salad call for fat-filled mayonnaise, but this recipe uses fat free mayonnaise instead. You get all the creaminess without added fat calories to set back your results.
Servings: 5 
Here's what you need…
2 (5oz) cans wild albacore tuna, packed in water
3/4 cup fat free mayonnaise
2 Tablespoons champagne mustard
1 teaspoon dried dill weed, plus more for garnish
dash of freshly ground pepper
2 cups green cabbage, shredded
4 cups organic mixed greens
Drain the tuna and flake in a medium bowl. Add the mayonaise, mustard, dill and pepper. Mix until creamy and well combined.
Arrange mixed greens on plates, then use an ice cream scooper to place the tuna mixture.
Sprinkle with dill weed.
Nutritional Analysis: One serving equals: 137 calories, 1 fat, 210mg sodium, 6g carbohydrate, 4g fiber, and 30g protein.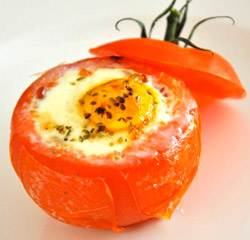 You know that curbing your carbs will help you lose weight and tone up, so try this low carb breakfast. It's a great way to eat some veggies with breakfast.
Servings: 4 
Here's what you need…
4 large, round tomatoes
1 teaspoon olive oil
1 clove garlic, minced
1 small onion, finely chopped
dash of dried oregano, plus more for garnish
optional dash of salt (added salt is not in nutritional analysis)
dash of pepper
4 organic, omega-3, free range eggs
Preheat oven to 400 degrees F.
Wash tomatoes, slice off the tops and scoop out the insides. Place tomatoes on a pan, and bake for 5 minutes.
In a skillet, heat the oil over medium heat. Add garlic. Add onion. Saute for 5 minutes, until mostly cooked. Add the spices and mix well.
Turn oven to broil.
Fill each tomato with the mixture, leaving about 1/2 inch of space at the top of each tomato. Crack an egg into each tomato then sprinkle with oregano. Place in the oven under broiler for 5 minutes. Remove from oven once the top has set, and you'll have perfectly done over easy eggs.
For well done eggs: change oven temperature back to 400 degrees F, and continue to bake for an additional 10 minutes.
Nutritional Analysis:
One serving equals: 81 calories, 5g fat, 62mg sodium, 3g carbohydrate, .6g fiber, and 6g protein.
Jeff Houck has been training at RobZFitness now for 2 months.
Jeff has quickly became our fastest weight loss client during his short 60 days so far. His goal was to lose weight and to tone up. So far he has lost 50 pounds of body fat and a lot of inches. As a food writer for the Tampa Tribune you can imagine how tough this must be.
For more information about RobZFitness or want to become a member call (813) 571-3700.
Jeff Houck has been training at RobZFitness for 1 month.
His goal is to lose weight and to tone up.
It's been quite remarkable that Jeff has lost over 25 pounds of body fat and a lot of inches during his initial 12 visits.
As a food writer for the Tampa Tribune you can imagine how tough this must be.
"Lost 101 Pounds in 11 Months"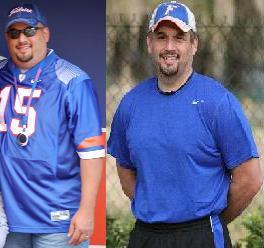 I had been an athlete for most of my life. I played baseball and football as far back as I can remember. I loved sports, all sports. For that period of time as a kid growing up in middle school, high school and even college it was a major part of who I was. The competition, the camaraderie and the pain (yes, the pain) all drove me to strive to excel in not just sports but everything I did, everyday. I may not have been the most elite athlete, but no one was going to work harder at being the best they could be.
Somewhere between college and my mid to late 30's, life happened. It's the quintessential story of being too busy to take care of yourself; career aspirations, family pressures…..blah, blah, blah. For me it didn't happen right away. After college I still played competitive softball and worked out for many years but the energy levels and passion began to wane and before you know it I was playing but not really knowing why or if I really wanted to. I also picked up one of the worst habits imaginable; I started smoking a couple of years out of college. I had been a tobacco user in the past when I played baseball, so smoking was an easy transition and it it seemed as if everyone smoked where I worked at the time. It had no redeeming value except I was fitting in I guess.
Fast forward several years later and I got to a point where I was no longer that athlete that I once was. I was shell of myself and I knew it. I constantly told myself that I would start working out tomorrow or next week but tomorrow or next week never came. Before I knew it I was not only an unhealthy smoker but my weight had also ballooned to the point of being close to 250 pounds. That wouldn't be the worst of it.
In late 2007, I had finally gotten tired of constantly being sick, coughing relentlessly and not being able to breath when I laid down at night. I decided I was going to quit smoking. Sounds all well and good but if you don't have a solid plan for the rest of what is about to happen in your life you are in for a very rude awakening. You see smoking is as much a mental dependency as it is a physical one. The habitual nature of smoking is what drives people crazy and why they eventually succumb to the cravings. Those that don't revert back to smoking usually find a substitute and all too often it is in the form of food. I quit smoking in early 2008 and all was good with life or so I thought.
By late 2009 I had managed to stop caring about what others thought of me and lived by the motto that I was going to "enjoy life". Hmmmm, that's a bit of an oxymoron. Given the direction that I was heading I may have been "enjoying" life but it was becoming clearer by the day that your body can only survive the abuse for so long. By March of 2010 I had gotten up to a weight of just over 300 pounds. What's funny about that is that while I knew I was overweight I would look at pictures and not notice it. Somehow I had adjusted my paradigm and began to accept it. I had learned to accept myself at 5' 11'' and 300+ pounds.
While mentally you may learn to accept yourself that way, physically your body begins to rebel and all kinds of aches and pains set in. It becomes a struggle to just get out of bed in the morning. Ankle joints hurt, knee joints ache, your back is constantly sore, etc. etc. Those day-to-day struggles begin to wear on that mental acceptance and something's got to give. Either you're going to go deeper the wrong way or your going to begin to dig yourself out of the hole that you put yourself in. Somewhere between seeing a caricature of myself done by a 'carnie' at the Strawberry Festival and seeing long-time co-workers begin to change their lives for the better, I decided it was time for me to make a change. It was time for me to take my life back; to take control of my situation versus letting it control me. So I did. The problem was that I had no idea where to start or what to do.
So I did what I thought would be the most effective way to lose weight and that was to start running and reduce my calorie intake. I put it into the simplest of terms; burn as much or more than I eat. While this is not necessarily the best method, it would prove effective to a point. I would later feel the effects of this method in the form of muscle mass loss.
I ran every day. I started out on a 2-mile path. Initially I could only run for about a ¼ mile and it wasn't a continuous ¼ mile, but my goal everyday was to complete the 2-miles faster than I did the day before. Nothing was going to stop me; not darkness, not rain, nothing. Everyday I got stronger and faster. Within a month or so I was able to hit the full mile mark without stopping and it seemed as though the barriers were lifted at that point. Within a short period of time of being able to run a full mile, I could run 2 miles, then 3 miles, then 4 miles. I have run as much as 13.5 miles at one time.
My eating was similar in fashion in that I didn't make any wholesale drastic changes. I wasn't the kind of person where I could just change to boiled chicken, whole grains and tons of vegetables. Wasn't going to work for me. So I just adjusted my portions and counted my calories. I tracked everything I ate. I used an app on the iPhone to record my daily progress. As time progressed I began to make better food choices. Before I knew it the weight began to fall off. I dropped 16 pounds in the first 3 weeks and over the next few months I would shed over 89 pounds.
While my story sounds great up to that point it wasn't until I made a recent discovery in December of 2011. I had just finished my second Tough Mudder event and while my endurance for the event was fine, my strength to overcome the challenging obstacles was not where I thought it should be. I seemed to struggle doing some of what I thought should be relatively routine tasks for someone of my stature. That very next week, I ran across RobZFitness in an ad and gave them a call. I spoke with Rob and decided to go in to see what he had to offer. We did a short fitness test and then sat down to discuss my results. For all the hard work that I had put in up to that point, it became glaringly obvious to me that I still had a lot of work to do to achieve a "healthy" status. You see, somewhere along the way my thought process changed from being about weight loss to being healthy. That's important because you can lose weight in many different ways but being healthy requires a whole different approach. It requires a balance of eating right, exercising right and, I believe, challenging yourself to go beyond what limits you set for yourself. I decided that day to join with Rob and his team to see if they could help me achieve my final goals. I have not regretted that decision in slightest. My trainers at RobZFitness are awesome. Both Sam Kicak and Taylor Green are not only exceptional trainers but I think they are exceptional people as well. They have their own style of training, which allows for some variety to the workouts but they equally understand the exercises and the work that it takes to achieve the desired fitness results. They will push you past your comfort zone while maintaining the integrity of the exercise. With their help I was able to drop a total of 7 scale pounds, drop 5% body fat, gain 7.5 pounds of lean muscle, drop a full pant size and most importantly feel better than I have in a very long time. All of this was done in my first 5 weeks of joining RobZFitness.
I have since dropped another 5 pounds on the scale to bring my total weight loss since starting my journey of over a year ago to 101 pounds. My journey is long from being over. I'm sure I will adjust my goals as time progresses but I feel as strong as ever and well on my way to being what I will call "healthy".
Ed Radzevich