Bill Rynkowski
"I Lost 42 pounds, Lost 5″ off Waist"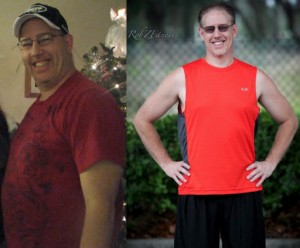 I had tried for 3 years to lose the weight I had put on over the past 20 years. I had some success by doing various exercise programs such as walking, running & working out with exercise videos. Additionally, I also started watching what I was eating. But this was never enough as I often gained back some of the weight I had lost. This yo-yo effect stopped went I went to RobZFitness.
I had thought about going to a personal trainer many times while trying to lose weight over the past year. But it wasn't until I had taken 2 of Rob's Boot Camp classes that I saw what could be done if I put in the effort & had some professional support. As a result of attending the 2 boot camps I jump started my weight loss by losing 10 lbs. With this success under my belt I signed up for Rob's personal training program.
It has been 3 months since I started training with Rob & his staff and in those 3 months I lost an additional 32 lbs. This 32 lb. loss translated into over a 10% loss in body fat. When I started the program I was more fit that 13% of men my age and at the end of my 3 months I am more fit than 60% of men my age. I have gained strength & have toned so much so that I don't feel so self conscious when I take off my shirt. In fact when I completed the program I was able to rid myself of all my extra large shirts & start buying a smaller size. My waist is 5 inches smaller & my pants are falling off me. As a result I feel much more confident & have more energy. And after 3 years I have started to play softball again.
With the ever changing & challenging routines along with the Supportive Eating Program provided by Rob I now have the tools to continue on my quest to meet my fitness goals.
Bill Rynkowski