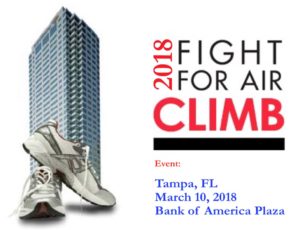 Join the RobZFitness Stair Climb Team as we compete against some of the fastest stair climbing teams around the TampaBay area to raise money for the 2018 Fight For Air Tampa American Lung Association. After a few years absence from the challenge we are coming back to compete.
Are you ready for a new challenge this year?
Looking for a different type of workout? One that will challenge and excite you?
How about challenging yourself with an event that is vertical, challenging and rewarding all at the same time. This workout will give you a great feeling of accomplishment that you will never forget.
Join me, my trainers, members and friends of RobZFitness as we race (walk) up the Bank of America building in Tampa on Saturday, March 10, 2018 for the Fight For Air Stair Climb challenge.
The American Lung Association coordinates this great event where 1,000 climbers run (walk) up the stairs every year raising money for their organization.
in 2011 we competed swept everything and placed first as the largest and fastest team (top 3 climbers in group). In 2010 we again placed first in largest team but finished second in fastest team time.
Here a few clips from years past of the fun you'll have…
(Promotion Video Trailer Clip)
(Click – 2010 Promotion video)



Register Early and Get Your Friends to Join!
Only 1,000 climbers can participate in this years challenge.
I have already registered my team (RobZFitness) in the climb but now I need you to register ASAP! There are only 600 spots left but I know they will fill up soon. We have had over 40+ climbers on our team in our past two years.

Aerobics/Group Fitness Classes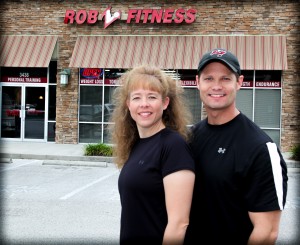 RobZFitness
has a great reputation in the community. With hundreds of testimonials, success stories and achievements of guiding local clients to find their fitness and health goals through strength training it is hard to believe that there could be even more to offer.
But with the help of his wife, Rob Zulkoski and Amy, a licensed fitness instructor herself, are ready to add even more offerings to
RobZFitness
with the addition of a new group fitness/aerobic studio inside the current personal training studio. Zulkoski opened for business in 2006 and now is adding on more fitness programing. The new aerobic/group fitness classes expand to give more ways to provide better fitness for his members.
RobZFitnessTV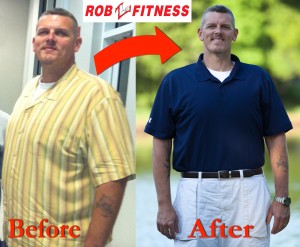 Flab Life vs Fit Life?
There's a perfectly sane explanation as to why most people say they want to be fit, and yet only a very small percentage actually are fit. Most of us, instead, are firmly cemented in the Flab Life rather than the Fit Life.
Why is this? Because the Fit Life is hard.
Want to know just how hard it is to lose the flab due to full immersion into the Fit Life? Here's a glimpse into the Habits of Being Fit:
Fit Habit #1: Exercise Daily
The truly fit among us choose to hit the gym instead of getting extra sleep, watching TV or doing whatever else it is that you'd rather be doing. Exercise is a daily habit that simply becomes a way of life, rather than a task that's begrudgingly undertaken on occasion. Those who adhere to the Fit Life incorporate challenging exercise into their lives so often that – gasp – they begin to enjoy and look forward to it!
28 Day Back to School
28 Day Turkey Burner Bootcamp
New Challenge starts Monday, December 3 – December 29 Lose 8-12+ pounds in 28 Days by joining our Turkey Burner Bootcamp Challenge #2 and start to transform your body for a lifetime. You can guarantee to burn calories and lots of them… You can now lock in your spot right now. This training program is fast paced, strength and interval training style. Each participant is motivated in the outdoor and indoor environment to excel beyond current levels of fitness. It's proven results that brings everything together AND allows each person to be challenged beyond their fitness level and creates faster RESULTS! And I know your want FAST RESULTS right? Sign up now (below) before you forget. Spots will fill up quickly! Our three classes will start at 5:45am (Bootcamp),...
Fitness Tip #6

(double click picture)
Current Testimonial

Paul & Michelle Ayres
"We have realized that diets alone do not work" Like so many married couples – life got the best of us.  We were happy going about our daily activities not thinking too much about healthy eating or living.  Three kids later and in 2006 Paul was diagnosed with Hodgkin's Lymphoma sent our lives upside down. Our daily activities and concerns shifted from running errands to making multiple... Read more
Article Written by RobZFitness Trainer

The Skinny on Burning Body Fat
Pop quiz: Which would you say is more effective at reducing body fat- aerobic exercise or resistance training? If you chose aerobic exercise you would be among the 99% of the population who would fail this quiz. Let's break down the misconception. Because aerobic exercise promotes cardiovascular health,... Read Article
David Barnes - Video Testimonial
Monica Alvidrez - Video Testimonial
Bob Hendryx - Video Testimonial
Sharon Michael - Video Testimonial