Aerobics/Group Fitness

Aerobics/Group Fitness Classes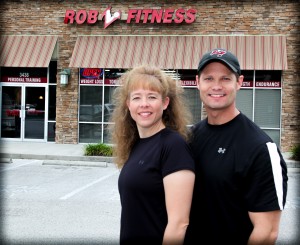 RobZFitness
has a great reputation in the community. With hundreds of testimonials, success stories and achievements of guiding local clients to find their fitness and health goals through strength training it is hard to believe that there could be even more to offer.
But with the help of his wife, Rob Zulkoski and Amy, a licensed fitness instructor herself, are ready to add even more offerings to
RobZFitness
with the addition of a new group fitness/aerobic studio inside the current personal training studio. Zulkoski opened for business in 2006 and now is adding on more fitness programing. The new aerobic/group fitness classes expand to give more ways to provide better fitness for his members.
Starting by adding a class schedule that highlights Amy's 27 years of experience as an aerobics instructor, Zulkoski is looking at even further opportunities for the expanded location.
"I have been looking for ways for my current and past clients can stay involved at RobZFitness," says Rob. "I wanted to give my current clients a place to do cardiovascular activity on their off days and I wanted to help past clients maintain their fitness activity and to be able to still stay connected to RobZFitness."
Of course, personal training and fitness instruction will continue where clients can find personalized training including weight loss, muscle toning and cardiovascular training.
Zulkoski's fitness career has been working in Florida since 1991 and has worked as the first corporate fitness director for Lifestyle Family Fitness and fitness director/personal training coordinator for The Harbor Island Athletic Club prior to branching out on his own. He is used to working with a variety of clients ranging from age 12 to 92, each with specific goals.
For more information about taking a "FREE" class or more information on the aerobic/group fitness classes please contact Amy at Amy@RobZFitness.com
In addition to Zulkoski and Amy, the RobZFitness team also includes certified trainers Taylor Green and Sam Kicak.