RobZFitness – Group Training Workouts
.
We are currently offering group training workouts this fall starting on Monday, September 12th.
Training times are on Monday's and Wednesday's from 1:30-2:15pm.
Each workout will be 45 minutes long for a total of 8 weeks (16 sessions) or two workout sessions per week.
Please arrive 5-10 minutes early to warmup and stretch.
The cost is $320.00 plus tax or by Paypal and must be paid in full before the workout program starts.
After you pay, click this link to signup for your time slot.
For any questions please call the studio and ask for Taylor or Rob at (813) 571-3700.
.
If you have weight to lose, then this message is meant specifically for you. Through my work with clients over the years, I've come to learn the fastest track to fat loss, and I'd like to share it with you today.
First, I'd like to ask you a few questions. At this stage in your life, have you noticed the following?
It's easier to gain weight these days.
Your body is changing as you age, and not in a good way.
You have less muscle and more unattractive bodyfat.
It takes more and more effort to reduce your body fat.
The dieting tricks that once worked aren't helping anymore.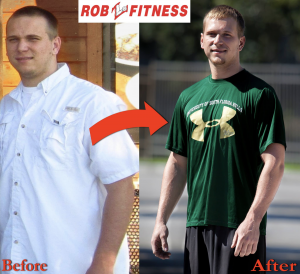 If any on this list are true for you, you are in good company.
The fact is that once we reach middle age, fat loss becomes more and more difficult to accomplish.
My older clients know firsthand, that the older we get the harder it is to maintain a healthy body weight. Some have even told me that they feel like their own bodies are working against them.
I have awesome news for you, though, just as I did for them.
You can do something to achieve serious fat loss right now.
It's possible to look better than ever, to experience more energy, and to be proud of the body that you see in the mirror. 

But…it requires that you ACT NOW!
Today is the easiest that your fat loss transformation will ever be. Every day that passes by without you taking action only makes it tougher and tougher to become a leaner, happier, sexier version of yourself. 

If you want your fastest track to fat loss, then stop waiting.
Don't let another year or two pass you by before you decide to do something about your weight, once and for all. I'm here to help you do something NOW to reverse the clock by melting away fat, increasing your energy and filling you with unstoppable confidence.
Call (813) 571-3700 or email Rob@RobZFitness.com now and let's get you started on your epic body transformation!
Make a decision today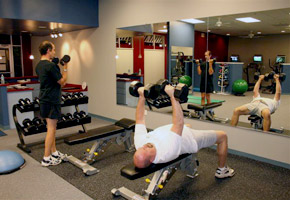 Personal Training for Weight Loss & Muscle Toning By far our most popular program if your goal is to lose weight and tone and firm up. Over 100+ written and video testimonials is proof enough. This program is a combination of weight training, cardiovascular exercise to lose body fat fast, increase body tone, improve endurance all at the same time.
Buddy or Couple Training Very popular. Train together or at different times. Studies prove that working out with others increase results. An exercise buddy may be exactly what you need to get back on track. Perfect for couples or friends who like working out together.
Strength Training An intensive resistance training program to increase muscle mass and strength gains to develop the muscular size.
Aerobics/Group Fitness Studio
Amy Zulkoski, a licensed fitness instructor cordinates our aerobic/group fitness classes. Our group fitness studio inside or our personal training studio. We offer BOOTCAMP, BODYPUMP, CXWORX, STEP, BODY SCULPTING, CORE/STRETCH, TABATA INTERVAL TRAINING.
On-Line Training and Fitness Coaching
This program has been ever so popular as I coordinate on-line training programs for those not close to our studio. Includes a fitness assessment, exercise prescription, unlimited email, phone calls, and video instruction. Assessments are followed up monthly. Call 813-571-3700 or email Rob@RobZFitness.com today for inquiry.
Sport Specific Training (ages 12-18)
Athletes interested in increasing power, strength, speed, and endurance to improve performance in a their specific sport. A great way to improve athletic ability to play at your best in sports and for life.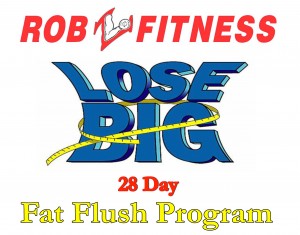 28 Day Rapid Fat Flush Bootcamp
(New challenge starts January 27, 2020) This program is about my super fast weight loss program for large groups. It's called the 28 Day Rapid Fat Flush Bootcamp Challenge for good reason. It's pretty amazing really… You workout with us 3-5 days a week for 28 days and you will look and feel great! Click here for details
Gift Certificates (Great Gift Idea)
Can be bought for any monthly program or purchased in any dollar amount to be applied to any program.
RobZFitness Cycling Club
RobZFitness organizes several rides a week, catering to a variety of levels and including a range of distances. We have special rides of longer distances during the course of the bike season and hold social events at various times of the year. Organized leave times during the week are at 10:00am on Tuesday and Thursday morning and Saturday at 9:00am. Our club provides a great way to meet other bicyclists in our area and to learn from their experience. Interested in joining email Rob at Rob@RobZFitness.com.
(813) 571-3700
Call today to get started!
.
.
.
.
New Challenge starts
Monday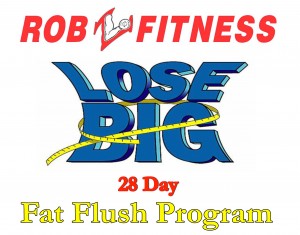 Lose 8-12+ pounds in 28 Days by joining our New 2021 Rapid Fat Flush Bootcamp Challenge #1 and start to transform your body for a lifetime.
You can guarantee to burn calories and lots of them…
You can now lock in your spot right now.
This training program is fast paced, strength and interval training style. Each participant is motivated in the outdoor and indoor environment to excel beyond current levels of fitness.
It's proven results that brings everything together AND allows each person to be challenged beyond their fitness level and creates faster RESULTS!
And I know your want FAST RESULTS right?
Sign up now (below) before you forget. Spots will fill up quickly!
Our two classes will start at 5:45am (Bootcamp), and 7:00pm (Bootcamp). I must also tell you that you should sign up right away after reading this to guarantee your spot.
It's pretty amazing really… [Read more]