Micki Sealy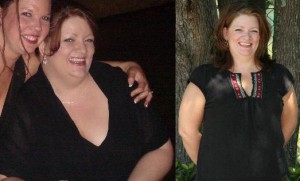 "People are so amazed with my results"
I have always struggled with my weight throughout my whole life. As an adult I experienced periods of mild depression. Over the years my weight spiraled out of control before I knew it. I realized that it was time to change my lifestyle for the better. I was a size 20/22 and had decided that enough was enough. For Christmas this past year, my family gave me a gift certificate to Rob Z Fitness.
I was more than a little nervous and intimidated about going to a Gym and discussing my weight with a stranger and not to mention where I should start. I just had to put those thoughts behind me and focus on what my trainers, Davie Ferraro and Rob Zulkoski had to say. Their result oriented process was very organized and easy to follow. Through their dedication, motivation, passion, and not to mention, their sound nutritional program, I have taken back control of my life. I am now more active than I have ever been and I can also say that I no longer experience any more depression.
People are so amazed with my results; they ask me if I have had surgery or a facelift. Just a few weeks ago, my hair dresser that I have been seeing for years was waiting on me and she did not even realize that it was me sitting there waiting. They can't believe the results I have seen in just 3 months. When I first started with Davie at Rob Z Fitness, I weighed in at 225 pounds, and my body fat was at 41.8%. Exactly 3 months later, I have dropped a total of 39 pounds to 186 pounds, lost over 26 inches, and my body fat has dropped from 41.8% to 29.6%, a total of 12%. My clothes are continuing to get bigger and bigger on me. I have dropped from a size 2XL in pants size to a medium. All you have to do is listen to what Davie says to do and trust me that it will work, because I am living proof.
For more information about Davie or RobZFitness, call 571-3700 or visit www.RobZFitness.com.