Fitness Programs
January 15, 2020 by admin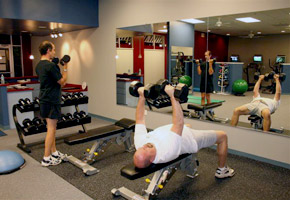 Personal Training for Weight Loss & Muscle Toning By far our most popular program if your goal is to lose weight and tone and firm up. Over 100+ written and video testimonials is proof enough. This program is a combination of weight training, cardiovascular exercise to lose body fat fast, increase body tone, improve endurance all at the same time.
Buddy or Couple Training Very popular. Train together or at different times. Studies prove that working out with others increase results. An exercise buddy may be exactly what you need to get back on track. Perfect for couples or friends who like working out together.
Strength Training An intensive resistance training program to increase muscle mass and strength gains to develop the muscular size.
Aerobics/Group Fitness Studio
Amy Zulkoski, a licensed fitness instructor cordinates our aerobic/group fitness classes. Our group fitness studio inside or our personal training studio. We offer BOOTCAMP, BODYPUMP, CXWORX, STEP, BODY SCULPTING, CORE/STRETCH, TABATA INTERVAL TRAINING.
On-Line Training and Fitness Coaching
This program has been ever so popular as I coordinate on-line training programs for those not close to our studio. Includes a fitness assessment, exercise prescription, unlimited email, phone calls, and video instruction. Assessments are followed up monthly. Call 813-571-3700 or email Rob@RobZFitness.com today for inquiry.
Sport Specific Training (ages 12-18)
Athletes interested in increasing power, strength, speed, and endurance to improve performance in a their specific sport. A great way to improve athletic ability to play at your best in sports and for life.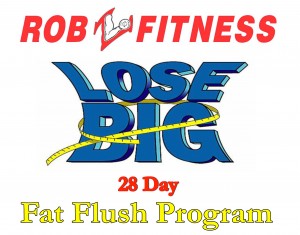 28 Day Rapid Fat Flush Bootcamp
(New challenge starts January 27, 2020) This program is about my super fast weight loss program for large groups. It's called the 28 Day Rapid Fat Flush Bootcamp Challenge for good reason. It's pretty amazing really… You workout with us 3-5 days a week for 28 days and you will look and feel great! Click here for details
Gift Certificates (Great Gift Idea)
Can be bought for any monthly program or purchased in any dollar amount to be applied to any program.
RobZFitness Cycling Club
RobZFitness organizes several rides a week, catering to a variety of levels and including a range of distances. We have special rides of longer distances during the course of the bike season and hold social events at various times of the year. Organized leave times during the week are at 10:00am on Tuesday and Thursday morning and Saturday at 9:00am. Our club provides a great way to meet other bicyclists in our area and to learn from their experience. Interested in joining email Rob at Rob@RobZFitness.com.
(813) 571-3700
Call today to get started!
.
.
.
.