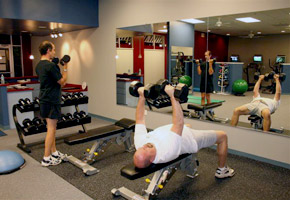 Personal Training for Weight Loss & Muscle Toning By far our most popular program if your goal is to lose weight and tone and firm up. Over 100+ written and video testimonials is proof enough. This program is a combination of weight training, cardiovascular exercise to lose body fat fast, increase body tone, improve endurance all at the same time.
Buddy or Couple Training Very popular. Train together or at different times. Studies prove that working out with others increase results. An exercise buddy may be exactly what you need to get back on track. Perfect for couples or friends who like working out together.
Strength Training An intensive resistance training program to increase muscle mass and strength gains to develop the muscular size.
Aerobics/Group Fitness Studio
Amy Zulkoski, a licensed fitness instructor cordinates our aerobic/group fitness classes. Our group fitness studio inside or our personal training studio. We offer BOOTCAMP, BODYPUMP, CXWORX, STEP, BODY SCULPTING, CORE/STRETCH, TABATA INTERVAL TRAINING.
On-Line Training and Fitness Coaching
This program has been ever so popular as I coordinate on-line training programs for those not close to our studio. Includes a fitness assessment, exercise prescription, unlimited email, phone calls, and video instruction. Assessments are followed up monthly. Call 813-571-3700 or email Rob@RobZFitness.com today for inquiry.
Sport Specific Training (ages 12-18)
Athletes interested in increasing power, strength, speed, and endurance to improve performance in a their specific sport. A great way to improve athletic ability to play at your best in sports and for life.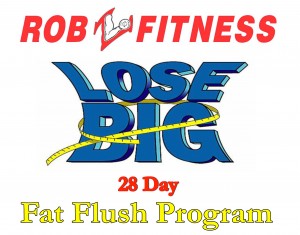 28 Day Rapid Fat Flush Bootcamp
(New challenge starts January 27, 2020) This program is about my super fast weight loss program for large groups. It's called the 28 Day Rapid Fat Flush Bootcamp Challenge for good reason. It's pretty amazing really… You workout with us 3-5 days a week for 28 days and you will look and feel great! Click here for details
Gift Certificates (Great Gift Idea)
Can be bought for any monthly program or purchased in any dollar amount to be applied to any program.
RobZFitness Cycling Club
RobZFitness organizes several rides a week, catering to a variety of levels and including a range of distances. We have special rides of longer distances during the course of the bike season and hold social events at various times of the year. Organized leave times during the week are at 10:00am on Tuesday and Thursday morning and Saturday at 9:00am. Our club provides a great way to meet other bicyclists in our area and to learn from their experience. Interested in joining email Rob at Rob@RobZFitness.com.
(813) 571-3700
Call today to get started!
.
.
.
.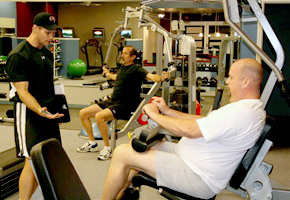 Weight training is defined as progressive resistance exercise. This is a form of muscular exercise using resistance provided by barbells and dumbells (free weights), or exercise machines Read more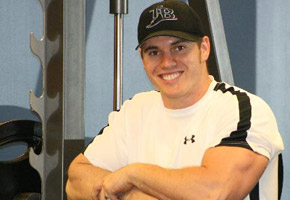 I was born in Ft. Worth, Texas and graduated from Bloomingdale High School in 2003 and played for the Bloomingdale Bulls baseball team for three years. I then graduated from Liberty University in Lynchburg, VA in 2007 with degree in Exercise Science and Fitness Programming. I am currently certified through AFAA and FiTour for personal training and I am CPR and First Aid trained. I am looking into obtaining future certifications through ACSM and NSCA(CSCS).
While in high school, baseball was my interest. I did exercises only to improve my baseball game. My interest of exercise and fitness started to develop when my baseball coach required team workouts. Serious workouts! These workouts were not only for the game but, a workout for our entire well being. From this point on, I began loving and enjoying exercise. Since I enjoyed exercising so much, I sought to pursue a career in fitness. While in college, my requirements for my fitness degree were to shadow numerous exercise oriented jobs. I enjoyed exploring different avenues for fitness but, I discovered my passion was with personal training. I value being able to develop a relationship with my clients, and to be able to watch their confidence and self-worth increase though exercise and nutritional achievements. I always deliver to give my 110% effort to help my clients achieve their goals. I encourage each client to reach their initial goals and help them pursue new ones. Like Rob says, "Always train for your personal best."
In December of 2006 I married my wonderful wife, Tina. We live in the area and have a dog named, Sugar. My parents are Kelly and Beth Green. My father, a missionary, is on staff at Bell Shoals Baptist Church and my mother works as his secretary.
Even though I am a personal trainer and love working out, bodybuilding is one of my hobbies. Over the past two years I have developed a love for the sport. In the coming years I look forward to competing in my first natural bodybuilding competition. I am also a huge movie buff. My wife and I really enjoy watching all kinds of movies, especially THRILLERS!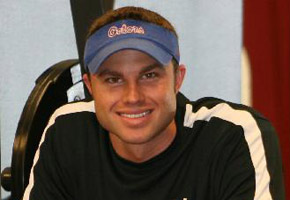 I have been a long time friend of 15 years with Rob Zulkoski. Rob was after me for three years to come on board and help expand the business and change the way people feel and look for the better. It was a long time passion of mine to be fit and to do it the right way and I joined with Rob and RobZFitness on December 1st 2007.
I was born and raised in Tampa, FL and now reside in Brooksville, FL. I am a graduate of the University of Florida with a Bachelor's degree in Business Administration and a minor in Management and Sales in Agribusiness. I am a Certified Personal Trainer through Aerobics and Fitness Association of America. I have been married to my wife Robin since March 25, 2006 and we are cherishing our bundle of joy, Emma Kate, who was born on August 10th 2007.
I grew up learning and experiencing the outdoors that God created for us with my father. I am proud to say that I am an avid outdoorsman who enjoys both fresh and saltwater fishing, hunting whitetails, hogs, and turkeys, four-wheeling, fitness and most of all, time with my family and friends. I am a huge fan of country music and my favorite artist is George Strait.
I was introduced to the fitness industry when I was a junior at the University of Florida. It was my goal to reduce body fat, increase lean muscle, and to achieve the most desired "six pack". By making a change in my lifestyle, exercise program, and with a sound nutritional program I was able to reach my goals. Little did I know that I could take it this far. And oh by the way, I did it the "natural way". I have had my body fat tested at 3.6% and Rob constantly reminds me of it every day by not allowing me to slack off. There is one thing that separates both Rob and I from other trainers…it's that we walk the walk and talk the talk.
Both Rob and I are very passionate about what we do. Nothing excites us more than watching our clients reach their goals. Rob and I are committed to get you the ultimate strategy for lifetime physique transformation through a sound nutritional lifestyle and exercise. If you are ready to get in the best shape of your life, join us today. Our motto is "Always train to gain, never to maintain." So give it your best and make the time each and every day.