Davie Ferraro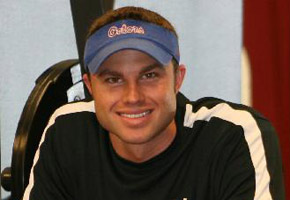 I have been a long time friend of 15 years with Rob Zulkoski. Rob was after me for three years to come on board and help expand the business and change the way people feel and look for the better. It was a long time passion of mine to be fit and to do it the right way and I joined with Rob and RobZFitness on December 1st 2007.
I was born and raised in Tampa, FL and now reside in Brooksville, FL. I am a graduate of the University of Florida with a Bachelor's degree in Business Administration and a minor in Management and Sales in Agribusiness. I am a Certified Personal Trainer through Aerobics and Fitness Association of America. I have been married to my wife Robin since March 25, 2006 and we are cherishing our bundle of joy, Emma Kate, who was born on August 10th 2007.
I grew up learning and experiencing the outdoors that God created for us with my father. I am proud to say that I am an avid outdoorsman who enjoys both fresh and saltwater fishing, hunting whitetails, hogs, and turkeys, four-wheeling, fitness and most of all, time with my family and friends. I am a huge fan of country music and my favorite artist is George Strait.
I was introduced to the fitness industry when I was a junior at the University of Florida. It was my goal to reduce body fat, increase lean muscle, and to achieve the most desired "six pack". By making a change in my lifestyle, exercise program, and with a sound nutritional program I was able to reach my goals. Little did I know that I could take it this far. And oh by the way, I did it the "natural way". I have had my body fat tested at 3.6% and Rob constantly reminds me of it every day by not allowing me to slack off. There is one thing that separates both Rob and I from other trainers…it's that we walk the walk and talk the talk.
Both Rob and I are very passionate about what we do. Nothing excites us more than watching our clients reach their goals. Rob and I are committed to get you the ultimate strategy for lifetime physique transformation through a sound nutritional lifestyle and exercise. If you are ready to get in the best shape of your life, join us today. Our motto is "Always train to gain, never to maintain." So give it your best and make the time each and every day.