Josh Alvarez
"Lost 30 lbs, BF 24% – 6%, BF Ranking 14% – 92%"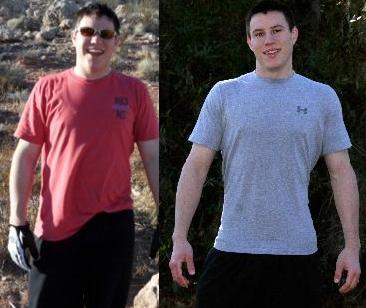 I have always felt that being fit was an important part of a happy life. I just really never took to time to educate myself on how to be truly healthy.
My dad started working out with Rob at RobZFitness last year and I began to notice a big difference that it was making in his life, he was much happier and had more energy.

I needed to do something to become more fit myself so I decided to go in for an evaluation and sign up to workout with Rob, hoping that I would begin to see results like my dad.
I was surprised when I first went in for my evaluation. I thought I was in pretty good shape and that I would just have to lose a few pounds. I weighed 182 pounds and Rob told me that my body fat percentage was at 24.2%, I was also shocked to hear that I was only in better shape than 14% of men at my age for body fat.
It was then that I decided to truly change my eating habits immediately and to set goals for myself that would help me to achieve a healthy and fit lifestyle.
Rob worked with me and pushed me to achieve my personal best. I have learned how to properly workout so that I am able to have a safe and effective workout.
I have learned so much about proper nutrition and what it takes to feed my body correctly so that I am able to fuel my body the right way, not by eating whatever I want to eat at anytime.  I need to eat to fuel my body the way it needs to so I can get the results that I set out to see.
Rob and the other trainers at RobZFitness that I have worked with (Davie, Sam & Taylor) truly know how to produce results. I have learned that if you are willing to work at being healthy and fit that you can achieve amazing results, all you need is the will to change.
Today I now weigh 152, my body fat percentage is now at 6.7% and I am in better shape than 92% of men at my age.  I have never felt better.
All I can say is if you have a desire to be the best you, Rob and your new life are only a phone away. Just do it!!!!
Josh Alvarez
Dan Wren - Video Testimonial
Bruce Stafford - Video Testimonial
Nevada Smith - Video Testimonial
David Barnes - Video Testimonial
Monica Alvidrez - Video Testimonial
Bob Hendryx - Video Testimonial
Sharon Michael - Video Testimonial