Low Fat Tuna Salad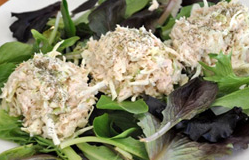 Most recipes for tuna salad call for fat-filled mayonnaise, but this recipe uses fat free mayonnaise instead. You get all the creaminess without added fat calories to set back your results.
Servings: 5 
Here's what you need…
2 (5oz) cans wild albacore tuna, packed in water
3/4 cup fat free mayonnaise
2 Tablespoons champagne mustard
1 teaspoon dried dill weed, plus more for garnish
dash of freshly ground pepper
2 cups green cabbage, shredded
4 cups organic mixed greens
Drain the tuna and flake in a medium bowl. Add the mayonaise, mustard, dill and pepper. Mix until creamy and well combined.
Arrange mixed greens on plates, then use an ice cream scooper to place the tuna mixture.
Sprinkle with dill weed.
Nutritional Analysis: One serving equals: 137 calories, 1 fat, 210mg sodium, 6g carbohydrate, 4g fiber, and 30g protein.