Bob/Christine Garrett
Bob & Chris – Both Excited With Progress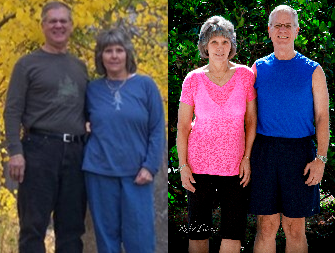 We always thought we were in fairly good shape for our age (both 63).  We had been fitness walking for years or using a gym for our daily workouts.  Our eating habits, however, had deteriorated over time, and we found we snacked a lot at night and NOT on healthy foods. We finally acknowledged that we were overweight and no longer as toned and fit as we wanted to be.  It had gotten to the point that photos of us were not exactly 'complimentary' – shadows would simply not cover our pudginess!
About this time, we started noticing several of our friends were looking fitter, healthier,  and happier and we asked questions to try and discover their secret.  It turned out that each had been transformed at RobZFitness, so we summoned up our courage and marched our not-so-svelte bodies to his facility for a fitness evaluation which (unfortunately) validated our concerns.  After Rob explained his proven program of nutrition, cardio, and weight training, we signed up and began our training that same week.  Our personal trainer, Taylor, was awesome!  He constantly assessed our progress, and cheerfully pushed us to improve (completely tuning out our stereo whining). We worked very hard every session and Taylor continually introduced new exercises to challenge and motivate us, increase our strength, and improve our muscle tone. No time to get bored!
Bottom line – we are so excited with our progress.  After 3 months of intense training, there has been a huge change in the way we look and feel.  Bob's body fat dropped from 25.8% to 13.5% after 12 weeks, and he lost 20+ lbs.  Chris lost just shy of 20 lbs, and her body fat percentage went from 32.4% to 19.4%! We no longer mind having our picture taken! We eat healthier foods; we have more energy; and we are committed to continuing on this path so that we remain toned and fit. 
We promise…try it and you'll be so glad you did!!
Bob & Christine Garrett