Giving up Junk Food
Junk food tastes annoyingly good. There's a reason for this – the food companies actually formulate each bite for maximum craveability with a specialized balance of sugar, fat and salt.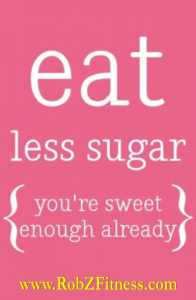 But while junk food tastes like another…it's detrimental to your fat loss results.
Wondering what exactly classifies as junk food? You're in good company, especially these days as many junk foods are being deceptively marketed and packaged as healthy choices.
Here's the rundown on what classifies as junk food:
Junk food has little to zero nutritional value
Junk food is processed and packaged
Junk food is high in sugar, fat and salt
Junk food is high in calories
Junk food is rarely eaten out of hunger
Soda pop, convenience foods, packaged snacks, frozen treats…
4 Steps to Quit Junk Food
Imagine being 100% free of junk food for the next 30 days. How would your weight improve? How would you feel? How many empty calories would you save yourself from? Now let's take some action!
Step #1: Get Rid of It
Step one is simple: get rid of all the junk food that currently resides in your home, office and car. Go through with a big garbage bag and toss anything that remotely resembles junk food. Remember, junk food is stuff that is high in empty calories.
Step #2: Stock Up on the Healthy Stuff
Don't worry, you aren't going to starve now that your junk food has been cleared out. Step two is where you go to the store and stock up on delicious, nutritious foods that will take the place of the junk food. Nuts, seeds, fruit, veggies, hard boiled eggs, meatballs, and hearty salads or burrito bowls (like the recipe below) are great items to have on hand. You'll eat less of these healthy snacks, since these aren't empty calories, but rather nutrient-filled calories that satiate.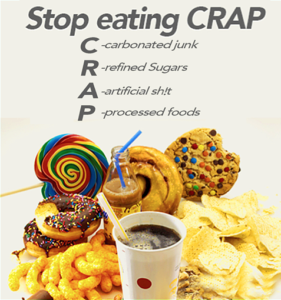 Step #3: HALT!
When the next craving strikes you, tell yourself to HALT! This word is actually a handy acronym. Ask yourself, "Am I Hungry, Angry, Lonely or Tired?" If you're hungry then reach for one of the healthy snacks from step two. If you're angry, then explore the issue and seek resolution. If you are lonely, then reach out to a friend, instead of reaching for junk food. And if you are tired then make the time to grab a nap or get to bed early to catch up on sleep.
Step #4: Stick With It
The first day that you go without junk food will be the hardest day. The second day will be a smidge easier. The third day will be even easier than the second…and so on.
The fact is that your taste buds adjust to the foods that you exist on. When your diet is filled with junk foods then that is what your taste buds will crave, but as you shift to a diet that is filled with fresh, nutritious foods then your taste buds will forget all about that old junk food. Stick with it, one day at a time, and you will break free from the grip of junk food addiction.
You're Getting What You Put In
Have you ever noticed how two people can do the exact same fitness routine for a period of time and one will have breathtaking results while the other looks the same as when they started?
Why is that?
It's frustrating when you are the person going through a fitness routine without seeing dramatic results. Might make you look for a reason outside of yourself to blame, such as genetics.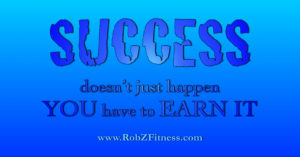 In reality, the thing holding you back is something that you have complete control over: it's the intensity with which you exercise.
Intensity is something that's difficult for the outside observer to measure but is felt within your body as you go through the motions of an exercise.
It's how hard you push yourself to go as heavy and as quickly as possible.
It's picking up a weight that feels hard to handle.
It's putting a boost behind each stride as you run.
It's resisting the urge to simply go through the motions.
It's outdoing your efforts from last time.
Now I understand the urge to put out token effort in your workout, going through the motions while cutting corners along the way. We all have days when the weights feel extra heavy and our energy stores feel depleted, and those days will naturally be less intense.
However, when low intensity workouts are your norm, you simply won't ever achieve the results that you're hoping for. And this is something that you completely control.
So, as you go into your next workout, think about the intensity that you're bringing. Are you pushing yourself with each rep? Could you go heavier? Could you be faster?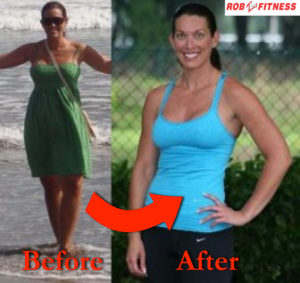 Fight the urge to be comfortable while you exercise. There's plenty of time throughout your day to feel comfortable, just not while you're working out.
Does this make sense?
Attack your next workout with 100% intensity and set a new standard for yourself to continuously push to become stronger, faster, leaner and more fit.
You've got this!
And if you're not yet one of my awesome clients then call (813) 571-3700 or email Rob@RobZFitness.com today set up your free fitness evaluation to join the family. Together we will get you into your best shape yet!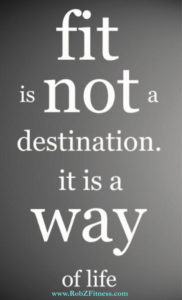 Workout Consistently
What do you do every night before getting into bed? You brush your teeth. It doesn't take much thought since it is such an ingrained habit. Imagine if exercise was as much of an ingrained habit as brushing your teeth. You would quickly achieve your weight loss goal and improve your health.
Here's how to make exercise a habit
1) Exercise at the same time each day
2) Put it on your schedule as a must – not a maybe
3) Log your workouts in a journal
4) The ultimate way to create the habit of exercise is to join one of my programs – talk about guaranteeing your success!
Call (813) 571-3700 or email me at Rob@RobZFitness.com for more information.
Greens, Eggs and Ham Recipe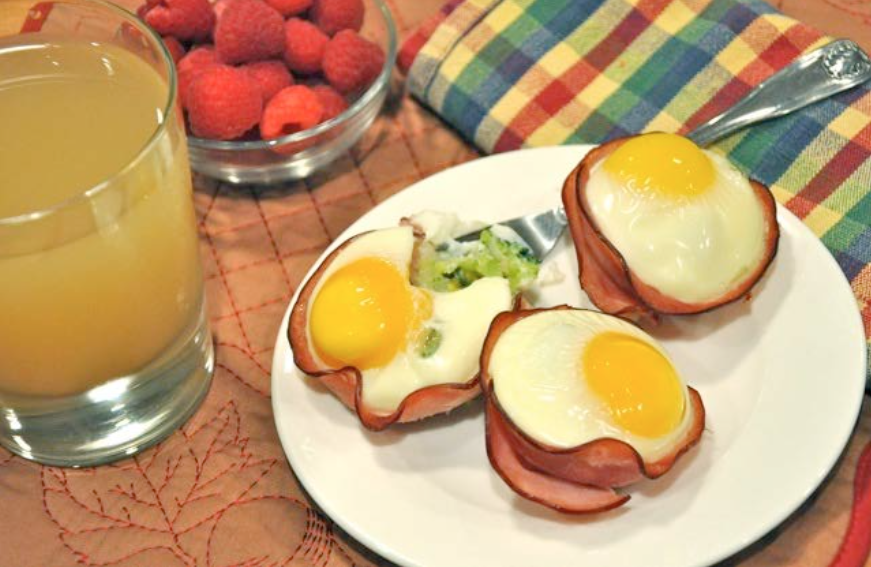 Who doesn't love breakfast that comes in a cute package? I certainly do. These Greens, Eggs and Ham cups are perfect for your healthy on-the-go breakfast! First fill your ham cups with veggies.
Here's what you need for 12 servings:
1 teaspoon olive oil
1 clove garlic, minced
1/2 yellow onion, chopped
12 slices of nitrate free ham
1 cup broccoli, steamed and chopped
1/4 cup shredded cheddar cheese
dash of salt and pepper
12 eggs
Preheat oven to 350 degrees F. Lightly spray a muffin pan with nonstick cooking spray. Set aside
In a medium sized skillet, heat the olive oil over medium heat. Add the garlic and onions. Cook untiltender.
Add the steamed broccoli, cheese, salt and pepper. Mix until fully combined. Remove from heat.
Using kitchen scissors, make a slice to the center of each piece of ham, then fold into a cone shape ineach muffin cup. Fill halfway with the broccoli mixture.
Crack an egg into each ham cup. Bake for 16-20 minutes, or until the edges of the ham are crispy.
12 Servings
Nutritional Analysis: One serving equals: 135 calories, 8g fat, 437mg sodium, 2g carbohydrate, 1g fiber, and 12g protein.