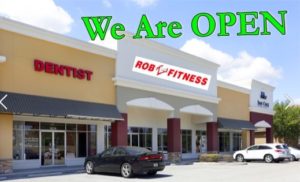 Yes, the rumors are true!
RobZFitness has moved to FishHawk
We have told our members personally and now we break the news to you.
We opened September 20th seeing all personal training clients and have started all aerobics/group fitness classes too.
Please bear with us as the studio is undergoing construction at the same time. All mirrors and carpet will be installed this weekend.
The address of our new location is 16315 FishHawk Blvd, Lithia, FL 33547 (813) 571-3700 located just to the west of Walgreens and across the street from the FishHawk sports complex.
RobZFitness is a personal training and aerobic/group fitness studio. We offer superb personalized training programs for long-term success that are results oriented.
We are increasing our square footage to 2,600 sq ft. with state of the art fitness equipment and a proven training program that gets results!
We are your ONLY personal training studio you should consider training at.
Stop trying to do it on your own and never getting results. Let us show you the natural and right way to get results!
My 100+ testimonial page at www.RobZFitness.com will provide all the proof you need. By joining, you will be given all the proven health strategies and advice you need.
If you are looking for the quick fix, the cheapest trainer or studio with inexperienced trainers…we are NOT the place for you! We want clients like yourself who want proven results, flexible hours and a plan of action that will inspire you to get into the best shape of your life.
I have over 26 years of personal training experience and education to pass along to you. My training staff have a combined 33 years of practice. We are your fitness training headquarters.
** ALL NEW MEMBERS ** who join up for personal training three months or longer will be given a 11% off discount celebrating our 11 years in business at our past location if you sign up by October 31, 2017. [Read more]
(813) 571-3700
16315 FishHawk Blvd, Lithia, Florida 33547
You know that diet and exercise are important when it comes to creating your best body, but you may be overlooking other techniques for getting into the best shape.
Turn the following 13 simple tips into habits and watch as your body transforms.
1) Eat a Smart Breakfast.
Most people load up on carbohydrates and simple sugars for breakfast. Cereal, pastries, smoothies and juice are all poor choices when it comes to starting your day off right. Center your breakfast around protein and healthy fat, and you'll have energy for hours. Try a protein shake, eggs, lean breakfast meat, or a handful of nuts.
2) Get More Sleep.
If you're not getting at least 8 hours of sleep each night then you could use more sleep. This is especially true if you've reached a plateau with weight loss. Give your body the 8 hours of sleep each night and make weight loss easier.
3) Just Do It.
If you're really ready to achieve your best body ever, then dig down deep and commit. As Woody Allen famously said, "80% of success is showing up." This is absolutely true when it comes to fitness. Show up to your workout. Even if you're tired. Even if you'd rather be doing something else. Just do it.
4) Plan Ahead.
Take one day each week to plan your healthy meals for the following week. You don't have to do all the shopping and cooking on that day, simply jot down what you plan to eat. This small act of planning ahead will keep you on track with healthy meals even when the week gets crazy busy.
5) Cut Out Gluten.
Many people don't realize that they have a certain level of sensitivity to gluten, which causes intestinal inflammation and bloating. Also, gluten-filled foods are typically high in carbohydrates, which contribute to weight gain. When you cut gluten-filled items from your diet don't fall into the trap of simply replacing those items with other high-carb items. Choose non-packaged, whole foods instead.
6) Believe In Yourself.
Do you believe that you have what it takes to transform your body? If you want to succeed in weight loss then you have to believe that it's possible. Give yourself a pep talk and dig down deep for the courage and discipline to apply these healthy changes to your life.
7) Eat Less Dairy.
Dairy products like cheese or cream add extra fat and calories to your meals. Pass on the dairy and you'll eliminate unnecessary calories, making weight loss quicker.
8) Sleep and Wake at the Same Time.
This tip sounds so simple, and yet it's a powerful way to increase your daily energy. Get your body on a schedule and watch how much more productive and energetic you become.
9) Include Veggies at Every Meal.
Most people aren't too crazy about vegetables, and probably eat less than they should. Make it a point to include a vegetable with each of your meals – even breakfast. The increase in fiber and other nutrients will give your body that extra boost that you're looking for.
10) Ditch Packaged Food.
Throw out those packaged foods! This is one of the easiest things you can do to achieve quicker weight loss results. Packaged foods contain chemicals and additives that will slow your fitness results.
11) Drink More Water.
Being hydrated is key when it comes to creating your best body. Drink water throughout your day and limit caffeinated beverages to once daily.
12) Forget Artificial Sweeteners.
Sure, these sweeteners don't contain calories, but they are known to increase your appetite and cravings for carbohydrates. In the quest for your best body, put down the diet soda and reach instead for some water.
13) Exercise With a Pro.
Are you exercising as efficiently as possible? Do you challenge your muscles enough during each workout? Are you keeping the routine new and fresh? These are all factors that will be taken care of for you when you work with a trained fitness professional. Working with a pro ensures that you make the most of your exercise time.
So there you have it, 13 tips that will take your results up a notch.
If you haven't joined one of my programs yet, now is a great time to start. Together we will get you focused on your goals with my results-driven method.
Call me at (813) 571-3700 or email Rob@RobZFitness.com today to set up your first workout.
New Back to School Meltdown Starts
(Sept 25 – Oct 21)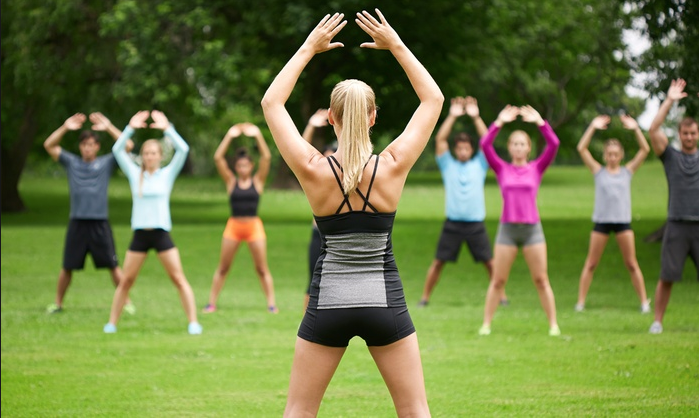 Lose up to 10+ pounds in 28 Days by joining our Back to School Meltdown Challenge #2 at RobZFitness (new location) and start to transform your body for a lifetime.
You can guarantee to burn calories and lots of them…
This training program is fast paced, strength and interval training style. Each participant is motivated in the outdoor and indoor environment to excel beyond current levels of fitness.
It's proven results that brings everything together AND allows each person to be challenged beyond their fitness level and creates faster RESULTS!
And I know your want FAST RESULTS right?
Sign up now (below) before you forget. Spots will fill up quickly!
Our three classes will start at 6:00am, 8:30am, and 7:00pm. I must also tell you that you should sign up right away after reading this to guarantee your spot.
Sign-up Now (Sept 25 – Oct 21)