Ira Sukrungruang
"I Lost 108 Pounds in 10 Months"

Fat has been the center of my life. I've made a career out the topic, co-editing two anthologies—What Are You Looking At? The First Fat Fiction Anthology and Scoot Over, Skinny: The Fat Nonfiction Anthology—and my own writing have centered on how my body is viewed by others and by myself. I still believe in those books and the work I have published. No one fat or skinny should be judged by appearance, just as we should not be judged by color of skin or gender.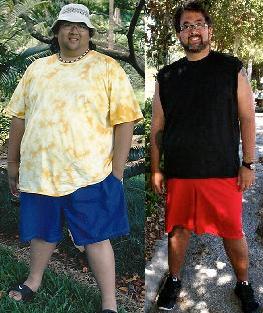 Despite this, after turning thirty-five, my body began to spin out of control. It was saying, "Dude, what are you doing?" I was nearing the four hundred pound mark, a weight I once imagined only the giant wrestlers on TV weighed. My body was telling me that if I wanted to live longer, if I wanted to live, I needed to do something. The path I was on, the absurd amount of eating I was doing, was destroying it. "A body can only hold so much," it was saying.
My body was keeping me completely sedentary. Worse of all, it was taking away my mental stamina. I found myself unable to think, unable to write. My professional life suffered, and because of that, so did my personal life. I was a deeply unhappy. I never wanted to go out anymore, opting to stay at home in front of the television. I couldn't make decisions. Self-defeating and self-loathing phrases entered my lexicon of language. I often said, "I hate myself," or, "I'm ugly." I lost my sense of self. I did not think I could be saved. I did not think it was possible to regain power over this spiraling and out-of-control body of mine.
What happened then? What made me start my climb out of the darkness? My wife. Yes. My students? Yes. My family. Yes? My friends? Yes. But most importantly, me. I looked at where I was and asked myself, "Is this what you want?" No. It wasn't. It never was.
So in February of this year, I contacted

RobZFitness

, and a little over eight months later, I had lost one hundred pounds. I needed someone to believe in me, to give me constant motivation, to tell me that what I was doing was worthwhile. That was what was missing in my life—belief. My trainer,

Sam Kicak

, believed in me. The other trainers at

RobZFitness

believed me. And week after week—the pounds shedding, my body tightening, my energy revitalized—I believed in myself. 
Soon, I was buying new clothes every other week. Soon, I was kayaking rivers and oceans for miles. Soon, I was entering myself in 5Ks. I can say with certainty that I have never felt this way about my body. This liveliness is a gift.  I can say with certainty that I'm not done and will probably never be done. There have been stumbling points, and I imagine more along the way, but I have to believe that this part of the process. I have to believe that nothing is impossible.