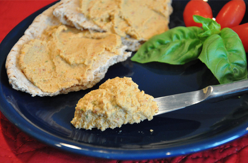 While the red and green speckles give this homemade hummus a jolly look, it's the taste that makes it unforgettable. This dip makes the perfect party take-along. Serve it up with whole grain pita bread or fresh cut veggie sticks.
What you need
Serves 12
1 (15 oz) can garbanzo beans
1 Tablespoons tahini
1 Tablespoon olive oil
1 Tablespoon lemon juice
1 Tablespoon water
2 garlic cloves, mashed
1/4 teaspoon salt
2 teaspoons soy sauce
4 sun-dried tomatoes
1/4 cup basil leaves
Instructions
1. Throw all the ingredients into a food processor and combine until smooth.
Nutrition
One serving equals 75 calories, 2g fat, 11g carbohydrate, 3g fiber, and 3g protein.
Why your weight won't budge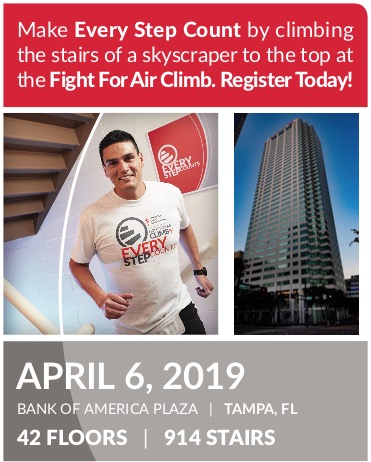 Join the RobZFitness Stair Climb Team as we compete against some of the fastest stair climbing teams around the TampaBay area to raise money for the 2019 Fight For Air Tampa American Lung Association.
Are you ready for a new challenge this year?
Looking for a different type of workout? One that will challenge and excite you?
How about challenging yourself with an event that is vertical, challenging and rewarding all at the same time. This workout will give you a great feeling of accomplishment that you will never forget.
Join me, my trainers, members and friends of RobZFitness as we race (walk) up the Bank of America building in Tampa on Saturday, April 6, 2019 for the Fight For Air Stair Climb challenge.
The American Lung Association coordinates this great event where 1,000 climbers run (walk) up the stairs every year raising money for their organization.
in 2011 we competed swept everything and placed first as the largest and fastest team (top 3 climbers in group). In 2010 we again placed first in largest team but finished second in fastest team time.
Here a few clips from years past of the fun you'll have…
(Promotion Video Trailer Clip)
(Click – 2010 Promotion video)



Talk soon!
3 Month Video Testimonial
Click Video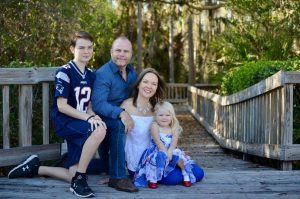 I grew up in Lakeland and have lived in the Valrico area since 2006. I married my husband Howard in 2001 and we have two amazing children.
Growing up I played softball and I ran cross country in high school but became very inactive as an adult. Not surprisingly, my clothes size began going up so I decided it was time to get moving again.
About a year or so into my fitness journey I joined a small group personal training and I was hooked! I decided to take my fitness journey to the next level and I've been moving ever since. I love to run and I've completed two marathons and numerous 1/2 marathons.
After years of contemplating becoming a personal trainer I took the leap and became certified with ACE in the fall of 2016. The following year I completed my Health Coach certification with ACE. I am currently in the process of completing my Body Pump certification through Les Mills.
I love helping people see what they are truly capable of achieving and to discover the beauty that comes with becoming the best version of themselves. I'm a firm believer that fitness and exercise change so much more than just one's physical appearance!
Kathy Bass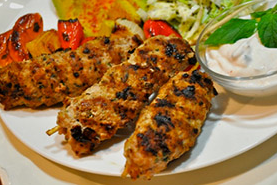 Here's a great recipe for a busy weekday dinner. Ground turkey breast is mixed Mediterranean spices to create flavorful, protein-packed kebabs. Serve with salad and vegetables and a side of plain Greek yogurt.
Servings: 4
Here's what you need…
1 1/2 pounds turkey breast, de-boned, trimmed of skin and cut into thin strips
2 garlic cloves, minced
1 teaspoon olive oil
2 eggs
1/4 cup almond meal (more if needed)
1 teaspoon cumin
1 teaspoon sweet paprika
1/2 teaspoon cinnamon
dash of salt (optional)
2 Tablespoons fresh parsley, finely chopped
1 Tablespoon fresh mint, finely chopped
Directions:
1. In a food processor, blend the turkey strips until ground. Add the remaining ingredients and pulse until well blended.
2. Pre-heat your grill or grill pan.
3. Lightly grease your hands, then press the meat into the wooden skewers until it covers about 3-4 inches in an elongated meatball shape. If the meat is not sticking then add some more almond meal.
4. Grill for about 8 minutes per side.
Nutritional Analysis: One serving equals: 254 calories, 8g fat, 156mg sodium, 2g carbohydrate, 1g fiber, and 47g protein
Do You Have a Bad Habit (Weight Loss)? 70% of people do. I have bad habits but weight loss is not one of them.
Habits can be changed rather quickly.
It may take a few weeks or months to get there. You just have to change the way your going about it.
Most people try and give it up (eat less, eat no fats or carbs, workout more).
You need a correct plan of action (usually from a fitness expert) to be set in place the right way.
Don't try to re-invent the wheel.
Call us Today!

Aerobics/Group Fitness Classes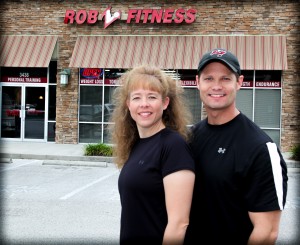 Tire Tosses
Want a great way to workout your oblique muscles without using gym equipment. Phil's workout today consisted of tire tosses and while outside a 1/4 mile of lunges to boot. That's it 45 mins of glutes/quads/obliques today. Way to go Phil! You killed it!!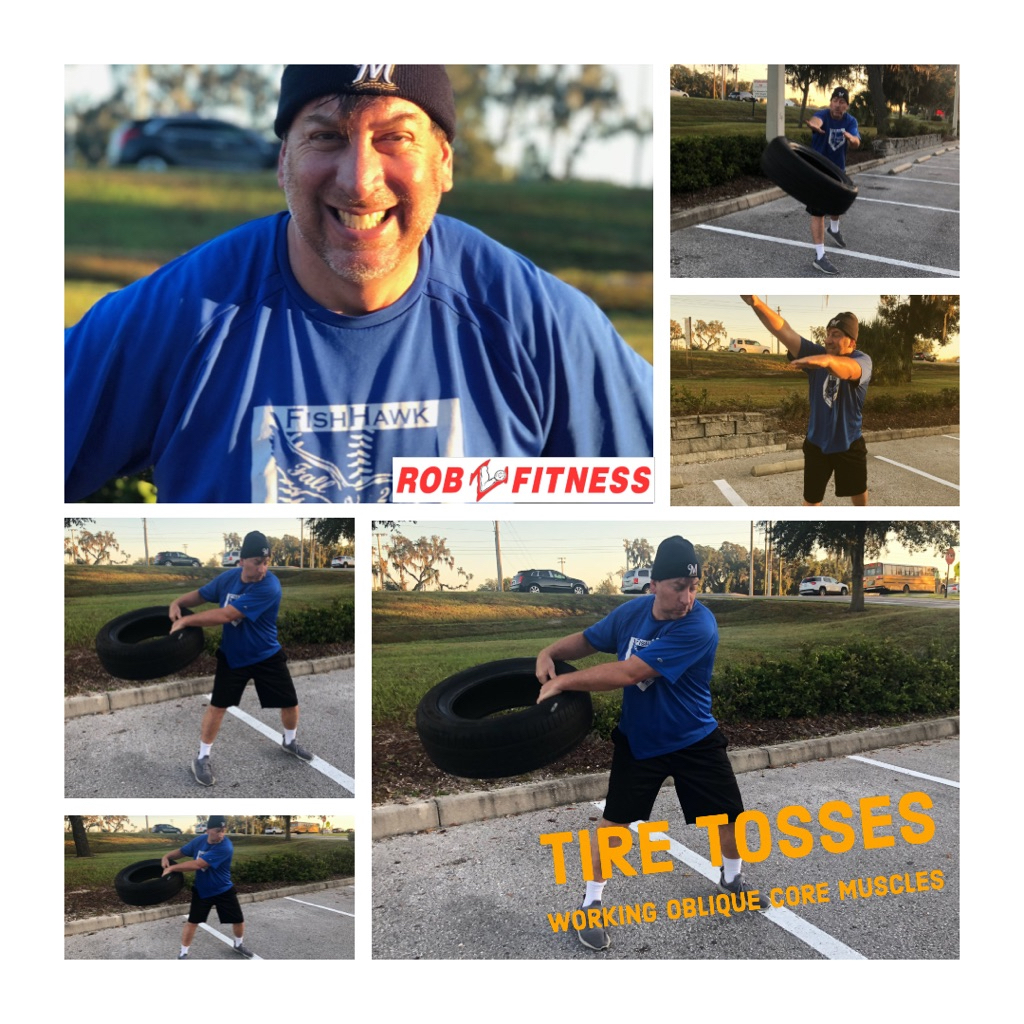 "Lost 7.5% Body Fat, 10 lbs, Pant Size from 6 to 2"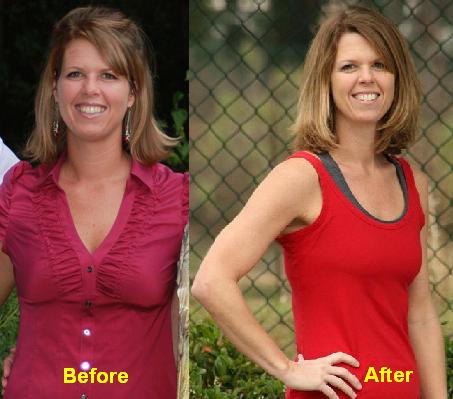 I am a teacher with 2 children and had been feeling pretty good about myself, spending the summer at the beach, being in a bathing suit, having fun with the family……. until it was time to go back to work and I couldn't button some of my pants! And the ones that did fit were uncomfortably tight. No problem, I thought, I know how to work out and eat healthy. So, I hit the gym a little harder, and watched what I ate a little better. All to no avail. Not one pound budged (the scale actually went up!) I decided enough was enough. Ten pounds may not seem like much, but it was making me miserable, not to mention uncomfortable, all day at work. My daughter even asked if I had a baby in my belly. Gotta love kids!
I decided to check out RobZFitness. I had heard good things about him. I made an appointment with Rob and told him my goals were to lose 10 pounds and fit in my pants which were size 4-6. I said I had never been smaller than that and he said "we'll see". I ended up signing right then and there. I totally changed my eating habits too – but that was what I wanted, right? Long term fitness and lifestyle change? Right, I could do it. I have a hard time sticking to what I start when it comes to personal goals, but I was determined to do this right.
Everyone at RobZFitness was so nice and easy to get along with. We would chat throughout the workouts making them fly by. They were very knowledgeable and could answer any question I threw at them. Though it took awhile to get used to the lifestyle change, it has been totally worth it. I could never have dreamed I could feel so good about myself!
Not only did I lose that 10 pounds, but I lost inches everywhere. I am not just skinny, but toned and look great. I went from needing to buy a new wardrobe in a bigger size, to needing one in a smaller size. I just bought my first pair of size 2 jeans!!
I now have the tools and knowledge I need to stay looking good and I know I can call on them at RobZFitness if I need a little advice or input.
Thank you for helping me get back into the best shape of my life!
Michelle Toale
It Doesn't Matter What The Scale Says!
Colleen Pounds,
Physical Therapist Assistant
Weight Scales lie!
My victory can be seen but not weighed, and it feels good.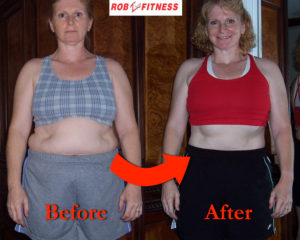 Before RobZFitness, like so many others, I habitually stepped on the scale. My Personal Trainer immediately began drilling into my head to "Stay off of the scale", explaining that it often gives false impressions of what really happens, which leaves people feeling defeated and depressed. Through the Education component of the RobZFitness program I learned that the only reason scale-weight is needed is to help calculate one's Fat-to-Muscle Mass ratio. Herein lay my victory.
If I were to tell you that from May to September I lost 13.5 pounds, you might not be impressed? However, here is the big picture. Within these four months, I lost 29 lbs of body fat, gained 15.5 lbs of lean muscle mass, dropped from a size 16 to 10 and decreased my body fat from 37% to 22%! This is what I actually achieved with the in-depth education of fitness and nutrition given to me at RobZFitness.
I feel very confident that I now have the tools to maintain my results, my strength and my nutritional habits for a lifetime.
Thanks gang!
"I Lost 56lbs, 13% BF, 7″ in Waist"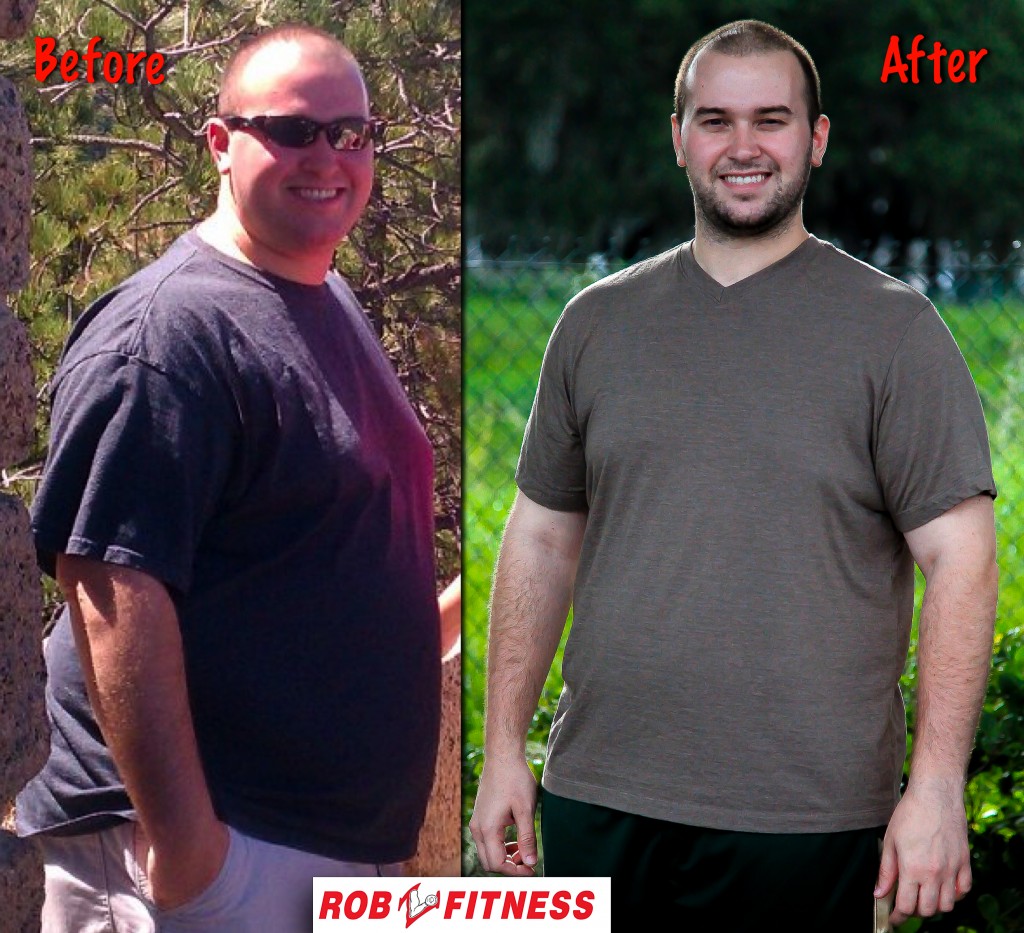 Ever since I was a child I have always had a goal in mind of becoming an Air Force pilot, but at 350 pounds and size 48 pants I knew that I was a long way away from that goal. I attempted losing the weight on my own but after reaching 325 pounds I noticed that my weight was no longer going down like I had wanted.
I heard from a friend about her colleague's great success at RobZFitness and I decided to give them a call to see what they could offer me. I was never looking for a quick solution to reach my goal. I wanted to work for it because I knew at that point that I needed help to get where I wanted to be. A quick phone call later and I was set up for my fitness evaluation with Rob. Through the course of his evaluation I began to realize where I was on the fitness level for men at my age and where I needed to be for my goal were a lot farther apart than I had thought. Within a week I began training at RobZFitness and I have never regretted that decision. Even over the course of a few months Taylor, my trainer, was able to find new ways to force me and my body to continue on the right path towards better overall health.
My trip to better health is not yet over, but with the help of all the trainers at RobZFitness I am much closer to it. So far over the course of six months I can tell that I am already in better shape than I was in high school, and probably the best shape of my life this far. So far I have lost 56 pounds, lost 13.4% body fat and lost 7.5 inches around my chest, 7 inches around my waistline and 4 inches around my thigh. Already through my short time at RobZFitness I have been able to accomplish great things and one of my favorites is not having to pay extra for the plus size clothes. Before too much longer I will finally be able to purchase pant sizes in the 30's and I have RobZFitness to thank for that.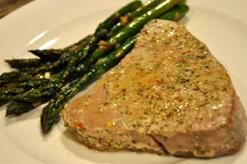 Ahi tuna is high in protein and low in fat, the perfect combination for building a lean, toned body. Add a side of roasted asparagus for a delicious healthy meal.
Servings: 4
Here's what you need:
1 Tablespoon olive oil
1/4 cup lemon juice
4 cloves garlic, minced
1 teaspoon red chili flakes
2 Tablespoons cilantro, minced
dash of salt and pepper
4 (6oz) ahi tuna steaks
In a large re-sealable plastic bag combine the first six ingredients; mix well.
Add tuna to the marinade, cover and refrigerate for 1-1/2 hours, turning once. Drain and discard marinade. Preheat oven to 425 degrees F.
Place the tuna in a glass pan. Bake for 10 minutes. Turn the steaks and bake for another 10 minutes or until fish flakes easily with a fork.
Nutritional Analysis: One serving equals: 247 calories, 5g fat, .6g carbohydrate, .2g fiber, and 50g protein.