Climb Tampa 2019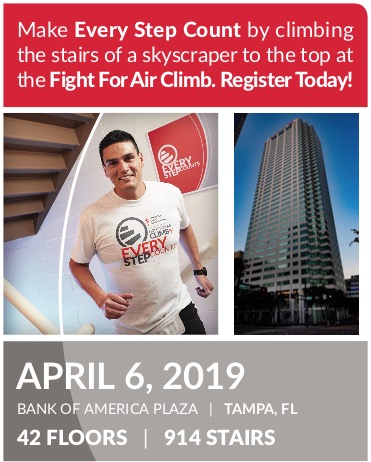 Join the RobZFitness Stair Climb Team as we compete against some of the fastest stair climbing teams around the TampaBay area to raise money for the 2019 Fight For Air Tampa American Lung Association.
Are you ready for a new challenge this year?
Looking for a different type of workout? One that will challenge and excite you?
How about challenging yourself with an event that is vertical, challenging and rewarding all at the same time. This workout will give you a great feeling of accomplishment that you will never forget.
Join me, my trainers, members and friends of RobZFitness as we race (walk) up the Bank of America building in Tampa on Saturday, April 6, 2019 for the Fight For Air Stair Climb challenge.
The American Lung Association coordinates this great event where 1,000 climbers run (walk) up the stairs every year raising money for their organization.
in 2011 we competed swept everything and placed first as the largest and fastest team (top 3 climbers in group). In 2010 we again placed first in largest team but finished second in fastest team time.
Here a few clips from years past of the fun you'll have…
(Promotion Video Trailer Clip)
(Click – 2010 Promotion video)



Register Early and Get Your Friends to Join!
Only 1,000 climbers can participate in this years challenge.
I have already registered my team (RobZFitness) in the climb but now I need you to register ASAP! There are only 600 spots left but I know they will fill up soon. We have had over 40+ climbers on our team in our past two years.
So I challenge you to race with the RobZFitness team members to the top of the Bank of America building Saturday, March 10, 2018 at 8:00am.
I promise you will have a lot of fun and probably get in one of your best workouts of the year while supporting a great cause.
I have joined the American Lung Association's FIGHT FOR AIR STAIR CLIMB / Tampa. Here is the RobZFitness Team Page to register. This vertical race challenge is professionally timed and ranked 42-floor story climb.
I would be honored if you would join my team.
If you can't climb with me, please consider making a tax deductible contribution. Any amount you decide to give will help me reach our fundraising goal. All proceeds go to the American Lung Association in their mission to save lives by improving lung health and preventing lung disease.
Let's make this year the best climb ever!
Please contact me at (813) 571-3700, email me at Rob@RobZFitness.com or visit my team page to sign up or if you have any questions about this years climb.
Thank you in advance for your support!