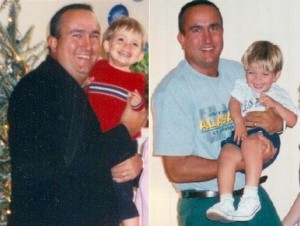 Hey! Who's the Trainer Here?
"Let's be honest…All of us at one time or another have not been in the best of shape possible. We decide we are going to do something about it, thus the quest begins to find a personal trainer. We get up early one morning, go down to the local gym, fill out some paperwork, write a check and the only thing that is different is that your checkbook is a few bucks lighter."
"You enter the weight room, look around and there are all shapes and sizes represented. You begin to feel more comfortable with the environment, but you don't know where to start. You stop at the information desk and ask what you need to do to find a personal trainer. The person behind the desk points to the area over there that is the weight room, but you are still lost. You ask "which person is the trainer"? THAT IS THE PROBLEM! It takes a T-shirt to separate the trainers from their clients. THEY LOOK THE SAME."
"Back in January, I decided to do something about it. Enter Rob Zulkoski with RobZFitness not only does he TALK the TALK, but WALKS the WALK! From day one with his comprehensive fitness evaluation he has driven me to be the best that I can be. He also encouraged me that I would achieve my goals with his programs. Many people think that you have to be in shape to have a trainer and that is simply not the case. Rob took my initial consultation and constructed a fitness program based on my goals and guaranteed me success that is allowing me to achieve my "Personal Best".
"After committing to the program for the past six months, I am happy to say that I have experienced gains beyond my wildest dreams. I have lost 70 lbs. the natural way (not by using fat-burning products) including reducing my body fat by 15% and I am the strongest I have ever been. If you are truly committed to your own personal well-being and fitness, call Rob Zulkoski today in order to achieve your "Personal Best"."
| | | |
| --- | --- | --- |
| | | |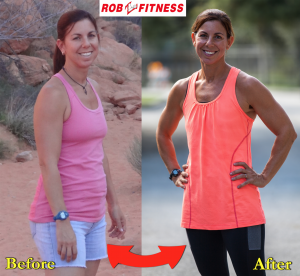 Lost 18lbs of body fat, increase 6 lbs lean weight
Most people wouldn't look at me and think I was out of shape, but I knew different. I knew my shorts were fitting tighter than they ever had. I knew that working out a couple times a week wasn't enough to maintain the shape I wanted. I knew the choices I was making with regards to nutrition were a misguided attempt to eat well. I knew what I was doing on my own wasn't working.
I have four children and have always strived to be an example of fitness for them but I felt I was quickly sliding into the 'typical' mom shape. I wanted to be the best 'me' I could be for them. I decided I wanted to reshape my body in a healthy way. After many attempts to take control of my eating and workouts on my own, I finally decided it was time to go see Rob.
Working with Rob was, hands down, the best decision I could have made. I went into it committed to the program and goals Rob laid out for me. He assessed where I was and where I wanted to be and had complete confidence he could get me there. I quickly began to see results.
The pairing of the fitness program and with me eating better was very effective. There were definite changes I had to make in my eating plan but I don't look at it as a diet but as a lifestyle change. Now that I have implemented these changes for three months I don't plan on ever going back to my old style of eating.
The fitness aspects of the program were fantastic. The workouts Rob designed and pushed me though were much more intense than I would be able to push myself through on my own. I loved getting to feel the tangible reward of becoming stronger.
After three months I was able to reach my goals. I dropped 11% of my body fat. I am down 18 lbs of body fat. Increase 6 lbs of lean weight and have lost inches all over my body. My clothes fit comfortably if not a little lose. But most important, I feel better. I am stronger. I am healthier. I am a better example for my children. I am the best 'me' that I can be.
"Lost 52 pounds, Pant Size 48" to 40"
.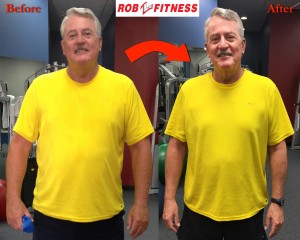 So where do I begin? Well, it just doesn't dawn on you one day that you're not in shape anymore. Over the last few years and increasingly over the last half year, I found myself considerably out of shape and overweight. Wow, never thought I'd be there, but I was. My doctor was working on me trying to regulate my thyroid, talking high blood pressure, and telling me how close I was to being diabetic. Something had to change! My retirement was heading in the wrong direction.
There I was at 266 pounds, borderline high blood pressure with a poor metabolism. I had to do something. I tried doing it on my own, but found at every ache and pain I'd stop. I was going nowhere. I needed support and a higher commitment. I'd never worked with a trainer before but decided to check on it.
When I first met Rob at RobZFitness in September I discussed about getting into shape and losing weight. Rob asked me what my goal was. Well, I asked if I could lose 30 pounds by Christmas. He said it was "attainable but everybody was different." Rob sounded believable and very supportive so I went for it.
After 3+ months I have lost 52 pounds, lowered my body fat percentage 12.1% from 29.5% to 21.5%, lost 8" around my chest and went from a pant size 48" to 40". Clearly I'm moving in the right direction.
Following RobZ advice on both exercising and his supportive eating plan it has really worked for me. Sure, it takes commitment on our part, but his plan has flat out worked for me! But even more important, my blood pressure is way down (138/80 to 118/65), my thyroid meds are less than 1/2 of what they were and my doctor is no longer worried about a lot of my ailments! My energy level is high and I don't tire out now.
Oh, my goals have changed too. I decided to stay with Rob and get really lean. Sure it's a few more months of work, but I always wanted abs and at age 67 why not now!
Dan Wren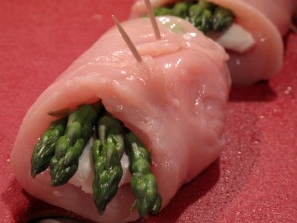 This is a great meal for cutting calories and dropping weight. Watch your portion size in order to stay within your daily calorie goal. Chicken is packed with plenty of protein – just what you need for building your muscles.  Servings: 4-6
Here's what you need:
3-4 chicken cutlets (or regular chicken breasts, sliced horizontally)
goat cheese (about 2 ounces per wrap)
1/2 pound asparagus
1-2 eggs
panko (mixed with your favorite seasonings) – for your friends 🙂
toothpicks
Preheat oven to 350 degrees. The first thing we're going to do is rinse the chicken and pat it dry. Place the chicken in a Ziploc bag, then pound it with the smooth side of a mallet. You will want to pound them to approximately 1/4-1/2″ thick.
Lay the chicken down on a cutting board, and place a 1-2″ piece of goat cheese and 4-5 pieces of asparagus on the center of each cutlet. I know that working with raw chicken is not very fun – but I promise, we are almost done. Wrap the chicken around the goat cheese and asparagus, and secure with 1-2 toothpicks.
For your friends 🙂 Prepare egg wash (1-2 eggs + a tablespoon or two of water) in one dish. In a separate dish, add the panko and your seasonings of choice.
Once the cutlet is seasoned and dredged in the panko mixture, place on a foiled lined baking sheeting while you repeat with the rest of the chicken cutlets. Dredge each cutlet in the egg wash followed by the panko mixture.
Now bake for about 30 minutes – just long enough for the cheese to melt and for the panko breading to turn a delicious golden brown.