Dan Wren
"Lost 52 pounds, Pant Size 48" to 40"
.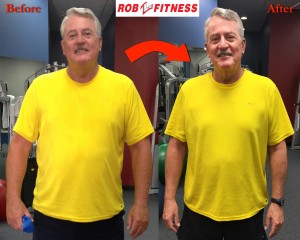 So where do I begin? Well, it just doesn't dawn on you one day that you're not in shape anymore. Over the last few years and increasingly over the last half year, I found myself considerably out of shape and overweight. Wow, never thought I'd be there, but I was. My doctor was working on me trying to regulate my thyroid, talking high blood pressure, and telling me how close I was to being diabetic. Something had to change! My retirement was heading in the wrong direction.
There I was at 266 pounds, borderline high blood pressure with a poor metabolism. I had to do something. I tried doing it on my own, but found at every ache and pain I'd stop. I was going nowhere. I needed support and a higher commitment. I'd never worked with a trainer before but decided to check on it.
When I first met Rob at RobZFitness in September I discussed about getting into shape and losing weight. Rob asked me what my goal was. Well, I asked if I could lose 30 pounds by Christmas. He said it was "attainable but everybody was different." Rob sounded believable and very supportive so I went for it.
After 3+ months I have lost 52 pounds, lowered my body fat percentage 12.1% from 29.5% to 21.5%, lost 8" around my chest and went from a pant size 48" to 40". Clearly I'm moving in the right direction.
Following RobZ advice on both exercising and his supportive eating plan it has really worked for me. Sure, it takes commitment on our part, but his plan has flat out worked for me! But even more important, my blood pressure is way down (138/80 to 118/65), my thyroid meds are less than 1/2 of what they were and my doctor is no longer worried about a lot of my ailments! My energy level is high and I don't tire out now.
Oh, my goals have changed too. I decided to stay with Rob and get really lean. Sure it's a few more months of work, but I always wanted abs and at age 67 why not now!
Dan Wren