David Carothers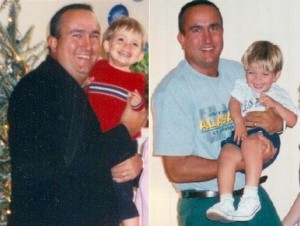 Hey! Who's the Trainer Here?
"Let's be honest…All of us at one time or another have not been in the best of shape possible. We decide we are going to do something about it, thus the quest begins to find a personal trainer. We get up early one morning, go down to the local gym, fill out some paperwork, write a check and the only thing that is different is that your checkbook is a few bucks lighter."
"You enter the weight room, look around and there are all shapes and sizes represented. You begin to feel more comfortable with the environment, but you don't know where to start. You stop at the information desk and ask what you need to do to find a personal trainer. The person behind the desk points to the area over there that is the weight room, but you are still lost. You ask "which person is the trainer"? THAT IS THE PROBLEM! It takes a T-shirt to separate the trainers from their clients. THEY LOOK THE SAME."
"Back in January, I decided to do something about it. Enter Rob Zulkoski with RobZFitness not only does he TALK the TALK, but WALKS the WALK! From day one with his comprehensive fitness evaluation he has driven me to be the best that I can be. He also encouraged me that I would achieve my goals with his programs. Many people think that you have to be in shape to have a trainer and that is simply not the case. Rob took my initial consultation and constructed a fitness program based on my goals and guaranteed me success that is allowing me to achieve my "Personal Best".
"After committing to the program for the past six months, I am happy to say that I have experienced gains beyond my wildest dreams. I have lost 70 lbs. the natural way (not by using fat-burning products) including reducing my body fat by 15% and I am the strongest I have ever been. If you are truly committed to your own personal well-being and fitness, call Rob Zulkoski today in order to achieve your "Personal Best"."