Katie Cafaro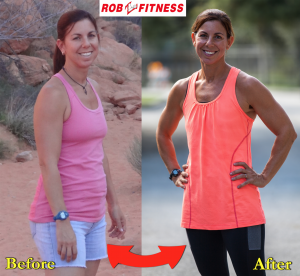 Lost 18lbs of body fat, increase 6 lbs lean weight
Most people wouldn't look at me and think I was out of shape, but I knew different. I knew my shorts were fitting tighter than they ever had. I knew that working out a couple times a week wasn't enough to maintain the shape I wanted. I knew the choices I was making with regards to nutrition were a misguided attempt to eat well. I knew what I was doing on my own wasn't working.
I have four children and have always strived to be an example of fitness for them but I felt I was quickly sliding into the 'typical' mom shape. I wanted to be the best 'me' I could be for them. I decided I wanted to reshape my body in a healthy way. After many attempts to take control of my eating and workouts on my own, I finally decided it was time to go see Rob.
Working with Rob was, hands down, the best decision I could have made. I went into it committed to the program and goals Rob laid out for me. He assessed where I was and where I wanted to be and had complete confidence he could get me there. I quickly began to see results.
The pairing of the fitness program and with me eating better was very effective. There were definite changes I had to make in my eating plan but I don't look at it as a diet but as a lifestyle change. Now that I have implemented these changes for three months I don't plan on ever going back to my old style of eating.
The fitness aspects of the program were fantastic. The workouts Rob designed and pushed me though were much more intense than I would be able to push myself through on my own. I loved getting to feel the tangible reward of becoming stronger.
After three months I was able to reach my goals. I dropped 11% of my body fat. I am down 18 lbs of body fat. Increase 6 lbs of lean weight and have lost inches all over my body. My clothes fit comfortably if not a little lose. But most important, I feel better. I am stronger. I am healthier. I am a better example for my children. I am the best 'me' that I can be.