Title: Body Step
Location: RobZFitness
Description: Come step with me
Start Time: 06:00
Date: 2012-06-02
End Time: 07:00
Bob & Chris – Both Excited With Progress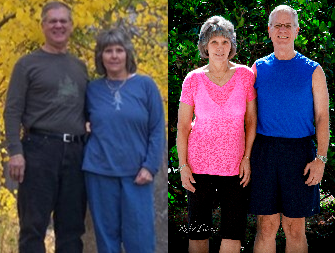 We always thought we were in fairly good shape for our age (both 63).  We had been fitness walking for years or using a gym for our daily workouts.  Our eating habits, however, had deteriorated over time, and we found we snacked a lot at night and NOT on healthy foods. We finally acknowledged that we were overweight and no longer as toned and fit as we wanted to be.  It had gotten to the point that photos of us were not exactly 'complimentary' – shadows would simply not cover our pudginess!
About this time, we started noticing several of our friends were looking fitter, healthier,  and happier and we asked questions to try and discover their secret.  It turned out that each had been transformed at RobZFitness, so we summoned up our courage and marched our not-so-svelte bodies to his facility for a fitness evaluation which (unfortunately) validated our concerns.  After Rob explained his proven program of nutrition, cardio, and weight training, we signed up and began our training that same week.  Our personal trainer, Taylor, was awesome!  He constantly assessed our progress, and cheerfully pushed us to improve (completely tuning out our stereo whining). We worked very hard every session and Taylor continually introduced new exercises to challenge and motivate us, increase our strength, and improve our muscle tone. No time to get bored!
Bottom line – we are so excited with our progress.  After 3 months of intense training, there has been a huge change in the way we look and feel.  Bob's body fat dropped from 25.8% to 13.5% after 12 weeks, and he lost 20+ lbs.  Chris lost just shy of 20 lbs, and her body fat percentage went from 32.4% to 19.4%! We no longer mind having our picture taken! We eat healthier foods; we have more energy; and we are committed to continuing on this path so that we remain toned and fit. 
We promise…try it and you'll be so glad you did!!
Bob & Christine Garrett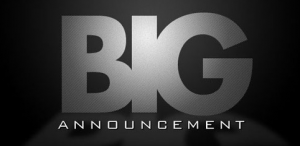 In case you missed it announced on my RobZFitness FB fanpage. I wanted to thank you for being patient with me as details about the BIG NEWS had to be delayed a couple of weeks as negotiations took longer than anticipated.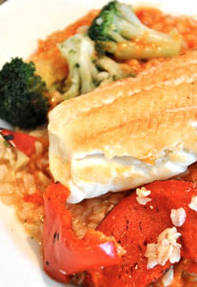 This is a great meal for cutting calories and dropping weight. Watch your portions with the brown rice in order to stay within your daily calorie goal. White fish is packed with protein – just what you need for toning your body.
Servings: 2 
Here's what you need:
2 fillets white fish
1 teaspoons olive oil
1 lemon
seafood seasoning
paprika
1/2 red bell pepper, cut into bite-sized chunks
1/2 cup broccoli florets
2/3 cup brown rice, cooked
2 Tablespoons salsa
Preheat broiler. Grease your broil pan with the olive oil. Place the fillets and bell pepper in the pan, squeeze the lemon juice over it. Sprinkle with seafood seasoning and paprika.
Place the pan under the broiler for 5-7 minutes, watching closely to prevent burning. Add the broccoli and cook for another minute until soft.
Mix the cooked brown rice with the salsa and divide between two plates. Place a fillet on each bed of rice along with half of the veggies.
Nutritional Analysis: One serving equals: 203 calories, 3g fat, 24g carbohydrate, 3g fiber, and 19g protein.
"I Lost 42 pounds, Lost 5″ off Waist"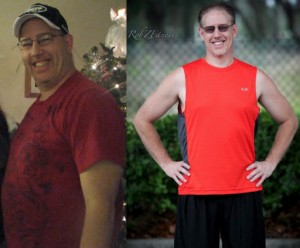 I had tried for 3 years to lose the weight I had put on over the past 20 years. I had some success by doing various exercise programs such as walking, running & working out with exercise videos. Additionally, I also started watching what I was eating. But this was never enough as I often gained back some of the weight I had lost. This yo-yo effect stopped went I went to RobZFitness.
I had thought about going to a personal trainer many times while trying to lose weight over the past year. But it wasn't until I had taken 2 of Rob's Boot Camp classes that I saw what could be done if I put in the effort & had some professional support. As a result of attending the 2 boot camps I jump started my weight loss by losing 10 lbs. With this success under my belt I signed up for Rob's personal training program.
It has been 3 months since I started training with Rob & his staff and in those 3 months I lost an additional 32 lbs. This 32 lb. loss translated into over a 10% loss in body fat. When I started the program I was more fit that 13% of men my age and at the end of my 3 months I am more fit than 60% of men my age. I have gained strength & have toned so much so that I don't feel so self conscious when I take off my shirt. In fact when I completed the program I was able to rid myself of all my extra large shirts & start buying a smaller size. My waist is 5 inches smaller & my pants are falling off me. As a result I feel much more confident & have more energy. And after 3 years I have started to play softball again.
With the ever changing & challenging routines along with the Supportive Eating Program provided by Rob I now have the tools to continue on my quest to meet my fitness goals.
Bill Rynkowski