"I Lost 56lbs, 13% BF, 7″ in Waist"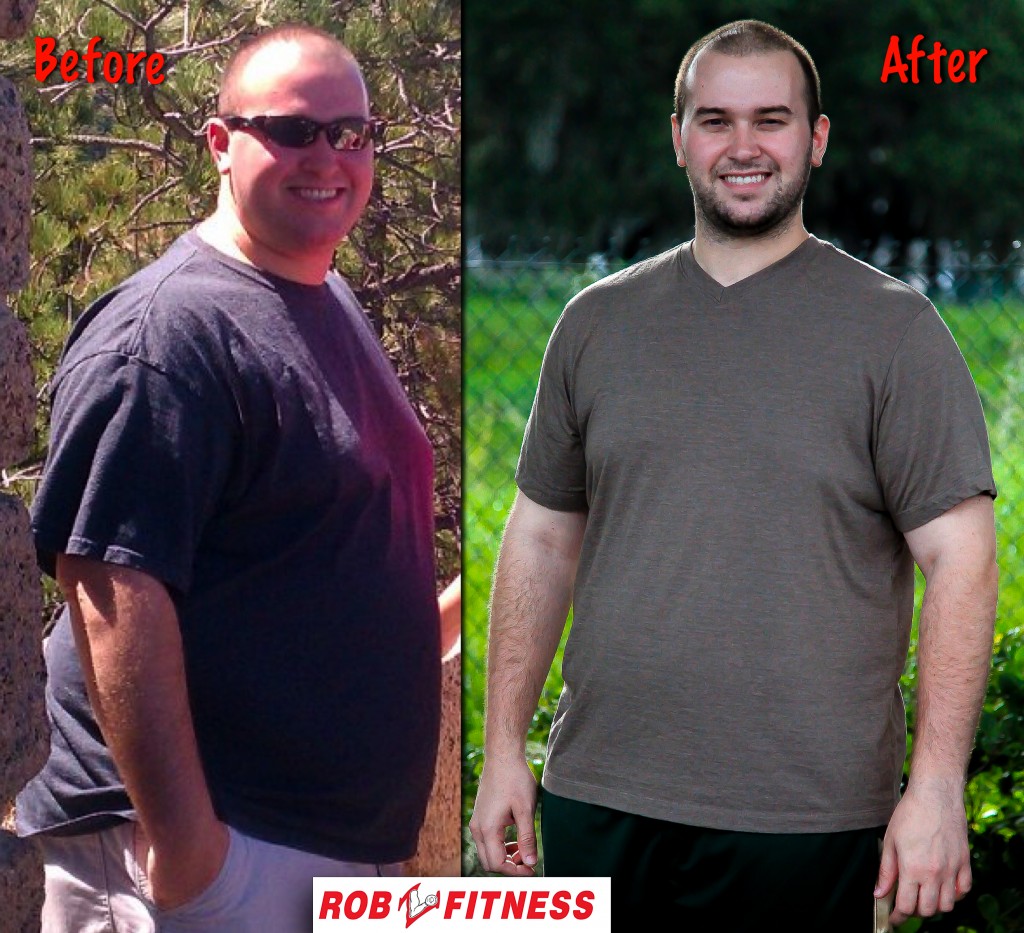 Ever since I was a child I have always had a goal in mind of becoming an Air Force pilot, but at 350 pounds and size 48 pants I knew that I was a long way away from that goal. I attempted losing the weight on my own but after reaching 325 pounds I noticed that my weight was no longer going down like I had wanted.
I heard from a friend about her colleague's great success at RobZFitness and I decided to give them a call to see what they could offer me. I was never looking for a quick solution to reach my goal. I wanted to work for it because I knew at that point that I needed help to get where I wanted to be. A quick phone call later and I was set up for my fitness evaluation with Rob. Through the course of his evaluation I began to realize where I was on the fitness level for men at my age and where I needed to be for my goal were a lot farther apart than I had thought. Within a week I began training at RobZFitness and I have never regretted that decision. Even over the course of a few months Taylor, my trainer, was able to find new ways to force me and my body to continue on the right path towards better overall health.
My trip to better health is not yet over, but with the help of all the trainers at RobZFitness I am much closer to it. So far over the course of six months I can tell that I am already in better shape than I was in high school, and probably the best shape of my life this far. So far I have lost 56 pounds, lost 13.4% body fat and lost 7.5 inches around my chest, 7 inches around my waistline and 4 inches around my thigh. Already through my short time at RobZFitness I have been able to accomplish great things and one of my favorites is not having to pay extra for the plus size clothes. Before too much longer I will finally be able to purchase pant sizes in the 30's and I have RobZFitness to thank for that.
Josh Sprigg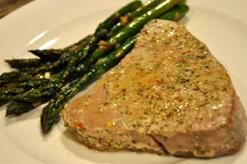 Ahi tuna is high in protein and low in fat, the perfect combination for building a lean, toned body. Add a side of roasted asparagus for a delicious healthy meal.
Servings: 4
Here's what you need:
1 Tablespoon olive oil
1/4 cup lemon juice
4 cloves garlic, minced
1 teaspoon red chili flakes
2 Tablespoons cilantro, minced
dash of salt and pepper
4 (6oz) ahi tuna steaks
In a large re-sealable plastic bag combine the first six ingredients; mix well.
Add tuna to the marinade, cover and refrigerate for 1-1/2 hours, turning once. Drain and discard marinade. Preheat oven to 425 degrees F.
Place the tuna in a glass pan. Bake for 10 minutes. Turn the steaks and bake for another 10 minutes or until fish flakes easily with a fork.
Nutritional Analysis: One serving equals: 247 calories, 5g fat, .6g carbohydrate, .2g fiber, and 50g protein.
So you took a break from your fitness routine this summer. You ate, you drank, you relaxed, and ate some more.
Well, now it's time to face the music.
As you look in the mirror after a summer of less-than-healthy eating… Your body is puffy and bloated. Your joints are achy. Your clothes feel tight.
Maybe you are feeling that way right now.
Here's how to get you back on the fitness fast track.
1) Find Your Focus
Summer happened. You ate things from the "never eat these" list, you drank more that you should have…but now it's over.
Draw a line in the sand. You're back now so the bad eating stops now.
If you're serious about your fitness goals, then the past few weeks were the exception, and not the rule. Don't beat yourself up for letting loose. Simply get back up, dust yourself off and get focused.
2) Get Hydrated
While summer days can take on many forms, the end result is most often dehydration and water retention. The only way to restore your balance is to get hydrated.
Your first priority in getting back on track is to drink plenty of water throughout the day. Start with a tall glass of water in the morning, and carry a water bottle with you to sip throughout the day.
Don't add any artificial sweeteners or stimulants to your water – these will sabotage your hydration efforts. For flavor, add sliced fresh fruit, herbs or vegetables to your water, just like at the spa.
3) Cleanse Your System
For your first few days getting back on track I need you to be extra picky about what you eat. Stick with only whole, real foods like fruits, vegetables and lean meats. Whole, real foods will help to restore balance and block out cravings.
Don't eat any packaged foods for the next few days. This means no snack foods, processed meat slices, dairy, baked goods or alcohol.
Try the recipe for Creole Chicken and Green Beans below – this is a wonderful, whole food dish.
4) Get Some Rest
As relaxing as summer days are, most end with the feeling of exhaustion. Make catching up on sleep a priority over the next few days.
When your body is low on sleep, it becomes easier to make poor eating choices. You're also less likely to get back into your workouts if you don't give your body a chance to rest.
Aim for getting a full 8 hours of sleep each night.
5) Jump Back Into Your Exercise Routine
It's time to sweat out all those indulgences. So lace up your shoes and put on your favorite gym clothes. When you start your first workout, ease in slowly. Take the time to warm up and stretch your muscles before powering up to a solid 30-minute routine.
I have just the exercise plan for you – one that will not only help you recover from your summer but will help keep you motivated and going strong in the future.
If you haven't joined yet, now is the perfect time for you to start. Together we will get you to your goals with my results-driven method.
Simply call (813) 571-3700 or email Rob@RobZFitness.com today to set up your first workout.