Exercise Makes You Feel Better
You're Getting What You Put In
Have you ever noticed how two people can do the exact same fitness routine for a period of time and one will have breathtaking results while the other looks the same as when they started?
Why is that?
It's frustrating when you are the person going through a fitness routine without seeing dramatic results. Might make you look for a reason outside of yourself to blame, such as genetics.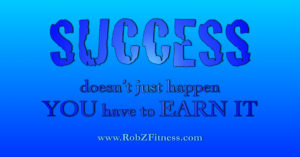 In reality, the thing holding you back is something that you have complete control over: it's the intensity with which you exercise.
Intensity is something that's difficult for the outside observer to measure but is felt within your body as you go through the motions of an exercise.
It's how hard you push yourself to go as heavy and as quickly as possible.
It's picking up a weight that feels hard to handle.
It's putting a boost behind each stride as you run.
It's resisting the urge to simply go through the motions.
It's outdoing your efforts from last time.
Now I understand the urge to put out token effort in your workout, going through the motions while cutting corners along the way. We all have days when the weights feel extra heavy and our energy stores feel depleted, and those days will naturally be less intense.
However, when low intensity workouts are your norm, you simply won't ever achieve the results that you're hoping for. And this is something that you completely control.
So, as you go into your next workout, think about the intensity that you're bringing. Are you pushing yourself with each rep? Could you go heavier? Could you be faster?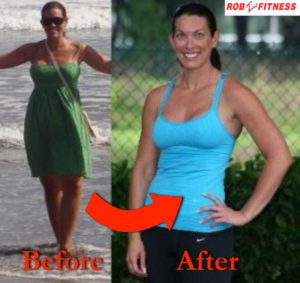 Fight the urge to be comfortable while you exercise. There's plenty of time throughout your day to feel comfortable, just not while you're working out.
Does this make sense?
Attack your next workout with 100% intensity and set a new standard for yourself to continuously push to become stronger, faster, leaner and more fit.
You've got this!
And if you're not yet one of my awesome clients then call (813) 571-3700 or email Rob@RobZFitness.com today set up your free fitness evaluation to join the family. Together we will get you into your best shape yet!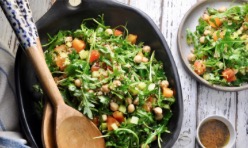 Here's a salad recipe that serves as an entire meal. It's filled with fresh ingredients that increase your fiber count for the day. The simple dressing tastes fantastic. Add a grilled chicken breast to increase the protein in the dish and enjoy leftover for lunch the next day. Enjoy!
What you need: Serves 8
For the Dressing:
2 tablespoons red wine vinegar
1 teaspoon garlic, minced
½ teaspoon Dried Oregano
½ teaspoon sea salt
¼ teaspoon black pepper
¼ cup olive oil
1 Tablespoon lemon juice
For the Salad:
8 cups Baby Arugula
1 cup cooked quinoa
1 can (15 oz.) chickpeas, drained and rinsed
1 heirloom tomato, finely chopped
½ cup celery, minced
¼ cup fresh scallions, thinly sliced
¼ cup fresh basil, thinly sliced
Instructions
1. Combine the dressing ingredients in a jar. Close the lid and shake until fully combined.
2. Combine the salad ingredients in a large salad bowl. Toss with the dressing and serve immediately. Enjoy!
Nutrition
One serving equals 196 calories, 8g fat, 25g carbohydrate, 262mg sodium, 1g sugar, 4g fiber, and 7g protein.
The POWER of Habit
It's pretty clear that the habits you adopt will shape who you are.
What are your habits?
Do you eat the same thing for lunch, go through the same exercise routine, and fall into bed at the same time each night?
Or maybe you've made a habit out of eating something sweet before bed, avoiding the gym, and staying up as late as possible.
When it comes to your fitness, the two habits that define you are your eating and exercise habits. In fact, everyone that you know who is in great shape has dialed in these two important habits.
If you aren't happy with your body, then simply adjust your eating and exercise habits.
Here's how to adopt a habit:
Here are some healthy habit ideas:
1) Decide on the ONE habit that you would like to develop. It's tempting to pick up 3 or 4 healthy habits but choosing just one new habit is realistic and doable.
Here are some healthy habit ideas:
Do not eat after 7pm each night.
Bring your lunch to work instead of eating fast food.
Exercise 4 times a week after work for 45 minutes each time.
Only eat fruits and veggies as your afternoon snack.
Get up early and exercise for an hour each morning.
Workout with me 3 times a week.
2) Write your new habit down on paper. Also include your 3 main motivators for developing this new habit, the obstacles you'll face, and your strategies for overcoming these obstacles.
Here's an example:
My new habit is to work with a personal trainer 3 times each week.
My 3 main motivators are 1) to feel confident in my bathing suit this summer, 2) to have more energy, and 3) to fit into my skinny jeans.
The obstacles I will face are 1) not having the energy to go to my session after work, 2) not having enough money to pay for sessions, and 3) not having my spouse's support.
I will overcome these obstacles by 1) doing my workouts before work instead of after work, so I have more energy, 2) cutting down on frivolous spending to ensure that I can afford it, and 3) asking my spouse to join me so we can get in shape together.
3) Commit fully to your new habit, in a public way. This could mean posting it on social media, or simply announcing it at the dinner table. Put yourself in a position where you'll be embarrassed to give up on your new habit.
4) Keep track of your progress. You could keep a detailed journal or simply make a check mark on each calendar day that you successfully exercise your new habit.
Once your new habit becomes second nature, usually in about 30 days, feel free to add a second habit by going through the same steps.
I'd love for my fitness program to become your new healthy habit! Call
(813) 571-3700
or email
Rob@RobZFitness.com
now to reserve your spot.
It's Grill Time
Looking for something delicous to grill that won't derail your weight loss goals?
Look no further than the produce and meat section.
Use beaf, poultry and a variety of veggies on you kebabs
Onions, bell peppers, eggplant, carrots, asparagas and zuccini are all great options to throw on the grill along with your protein – and they can all be eaten guilt free.
Have a great rest of the week!
Rob Zulkoski
Once in a while you are going to have a bad week. Your nutrition will be off, your workouts will be weak, and your head will not be in the game.
That's OK.
Remember that you are human, and that sometimes your body needs a little break. The key is to take care of yourself in that moment, to not let yourself stray too far off your fitness plan during the time of rest, and to then get yourself back on track this next week.
Many people allow a bad week to spiral into a bad month, or even a bad year. My hope for you is that you're able to give yourself time to rest and then quickly get back to your program in full force, rested and ready to get at it!
Let's kick off this coming week right.
I believe in you!