Mediterranean Salad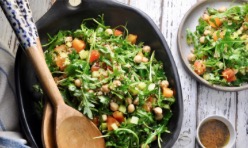 Here's a salad recipe that serves as an entire meal. It's filled with fresh ingredients that increase your fiber count for the day. The simple dressing tastes fantastic. Add a grilled chicken breast to increase the protein in the dish and enjoy leftover for lunch the next day. Enjoy!
What you need: Serves 8
For the Dressing:
2 tablespoons red wine vinegar
1 teaspoon garlic, minced
½ teaspoon Dried Oregano
½ teaspoon sea salt
¼ teaspoon black pepper
¼ cup olive oil
1 Tablespoon lemon juice
For the Salad:
8 cups Baby Arugula
1 cup cooked quinoa
1 can (15 oz.) chickpeas, drained and rinsed
1 heirloom tomato, finely chopped
½ cup celery, minced
¼ cup fresh scallions, thinly sliced
¼ cup fresh basil, thinly sliced
Instructions
1. Combine the dressing ingredients in a jar. Close the lid and shake until fully combined.
2. Combine the salad ingredients in a large salad bowl. Toss with the dressing and serve immediately. Enjoy!
Nutrition
One serving equals 196 calories, 8g fat, 25g carbohydrate, 262mg sodium, 1g sugar, 4g fiber, and 7g protein.