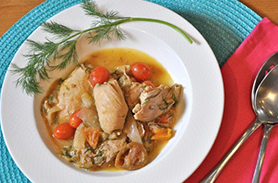 Cooking a healthy dinner at home does not have to be complicated or take lots of time. This simple recipe for chicken, shallots and fresh dill will only take you about 45 minutes from start to finish. Meals that are rich in protein and fiber and low in carbs, like this one, will help you build muscle and stay lean. Servings: 8
Here's what you need:
1/3 cup coconut flour
3 lbs boneless, skinless chicken thighs
sea salt and black pepper
2 Tablespoons olive oil
20 shallots, peeled and halved
4 garlic cloves, minced
3 Tablespoons Dijon mustard
2 cup organic chicken broth
1 cups cherry tomatoes, halved
1/2 cup fresh dill, chopped
Place the flour in a shallow bowl. Rinse the chicken and pat dry. Season both sides of the chicken thighs with salt and pepper. Dredge through the coconut flour.
In a heavy Dutch oven, heat the olive oil over medium high. Add the chicken and cook until browned, about 4 minutes per side.
Add the shallots and garlic, cook until softened, about 5 minutes. Add the wine, mustard and chicken broth. Reduce the heat to a simmer, cover and cook for 30 minutes.
Add the tomatoes and fresh dill. Season with a little more salt and pepper. Cook over high for 5 minutes. Serve warm.
Nutritional Analysis: 206 calories, 6g fat, 242mg sodium, 3g carbohydrate, 2.5g fiber, and 35g protein per serving.
Lost 5" at Waistline, 9% Body Fat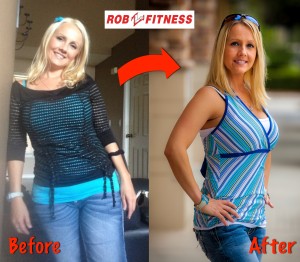 Like most, my New Year's resolution was to get back in shape and start eating healthy.  Being a full time nursing student and raising a family, it always seemed I was running around with my head cut off and there was no time for anything especially exercise. I felt like I was cooking the right foods for the most part, but I had never in my life read the back of a label. I was determined to make the time to get back on track, and make a few changes.
December 2013 marked 4 years since I quit smoking and I was feeling the effects of weight gain in many areas, and a little bounce in my step. We are a very active family going hiking, walking and biking and there was no room in my lifestyle for that way of living. The time to change was now.
I walked into RobFitness, just to gain information and no real intentions on having a personal trainer, thought it was way out of my budget. To my surprise I was very impressed when I walked in. I was given a tour and some information. The place was so nice and clean. I loved it. I made an appointment for a free body fat and fitness evaluation with Rob. I realized I could make the change right now! So that's exactly what I did. I choose to work out three days a week. This was a big step but I was determined to get into my favorite pair of jeans and shed those un wanted pounds I have accumulated through the years.
The first two weeks were a little rough for me as I adjusted to the workouts and my new clean and healthy way of eating. I grew to just love it. I looked forward to working out and feeling better. Based on my personal; assessment Rob set me up with a great workout schedule. There was something new every time I worked out. NO SAME ROUTINE HERE. What I loved the most was all I had to do is show up. I didn't have to worry about keeping track of my weights, or routine.
Prior to working out I suffered from Hypoglycemia and Rheumatoid Arthritis. My joint pain was unbearable some days, and I had several sugar drops throughout the day, every day. To date I have less muscle and joint pain, and not once have I had a drop in my sugar levels. No medicine has been able to do that.
When I first started I had a waist line of 32.3 and now I am a 27.5. That is 5 inches off my waist! That is something to be proud of. I lost 9% of body fat in three months, I'm so glad that I walked in there that day. It was time I did something for myself.  Not only did I gain a trainer but great relationships.
My journey does not end here, I will now continue to work out during the week and stay active and eating healthy. My husband, a workaholic, was much like myself and couldn't find the time to get to the Gym. Once he started working out at RobZFitness he is noticing drastic changes like I have made and now he's hooked!  This kind of lifestyle is contagious!!!!!
Thank you very much Rob and Staff!
Jodi Dykes