Jodi Dykes
Lost 5" at Waistline, 9% Body Fat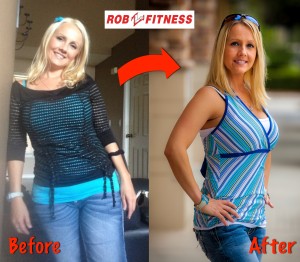 Like most, my New Year's resolution was to get back in shape and start eating healthy.  Being a full time nursing student and raising a family, it always seemed I was running around with my head cut off and there was no time for anything especially exercise. I felt like I was cooking the right foods for the most part, but I had never in my life read the back of a label. I was determined to make the time to get back on track, and make a few changes.
December 2013 marked 4 years since I quit smoking and I was feeling the effects of weight gain in many areas, and a little bounce in my step. We are a very active family going hiking, walking and biking and there was no room in my lifestyle for that way of living. The time to change was now.
I walked into RobFitness, just to gain information and no real intentions on having a personal trainer, thought it was way out of my budget. To my surprise I was very impressed when I walked in. I was given a tour and some information. The place was so nice and clean. I loved it. I made an appointment for a free body fat and fitness evaluation with Rob. I realized I could make the change right now! So that's exactly what I did. I choose to work out three days a week. This was a big step but I was determined to get into my favorite pair of jeans and shed those un wanted pounds I have accumulated through the years.
The first two weeks were a little rough for me as I adjusted to the workouts and my new clean and healthy way of eating. I grew to just love it. I looked forward to working out and feeling better. Based on my personal; assessment Rob set me up with a great workout schedule. There was something new every time I worked out. NO SAME ROUTINE HERE. What I loved the most was all I had to do is show up. I didn't have to worry about keeping track of my weights, or routine.
Prior to working out I suffered from Hypoglycemia and Rheumatoid Arthritis. My joint pain was unbearable some days, and I had several sugar drops throughout the day, every day. To date I have less muscle and joint pain, and not once have I had a drop in my sugar levels. No medicine has been able to do that.
When I first started I had a waist line of 32.3 and now I am a 27.5. That is 5 inches off my waist! That is something to be proud of. I lost 9% of body fat in three months, I'm so glad that I walked in there that day. It was time I did something for myself.  Not only did I gain a trainer but great relationships.
My journey does not end here, I will now continue to work out during the week and stay active and eating healthy. My husband, a workaholic, was much like myself and couldn't find the time to get to the Gym. Once he started working out at RobZFitness he is noticing drastic changes like I have made and now he's hooked!  This kind of lifestyle is contagious!!!!!
Thank you very much Rob and Staff!
Jodi Dykes