Wild Blackened Catfish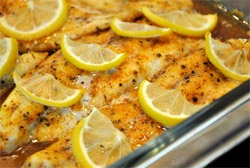 Any caveman would be proud of this catch! Wild caught catfish is delicate and flaky, with loads of flavor. Catfish contains healthy fatty acids, provides complete protein, is a source of vitamin B-12, and is low in mercury. Pair it with dark leafy greens and some fruit for the perfect caveman meal.
Servings: 4
Here's what you need…
– 2 teaspoon olive oil
– 4 fillets wild caught catfish
– blackened seasoning (try Cajun's Choice)
– 1 lemon, sliced
1. Preheat oven to 350. Lightly oil a glass pan.
2. Coat the catfish fillets in the olive oil. Generously apply the seasoning to both sides of each fillet.
3. Line the fillets in prepared pan, and top with sliced lemon.
4. Bake for 25-30 minutes, until flaky.
Nutritional Analysis: One serving equals: 107 calories, 3g fat, 120mg sodium, 0g carbohydrate, 0g fiber, and 20g protein.