Wholesome Chips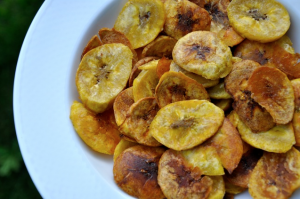 Avoid eating trigger foods by enjoying wholesome homemade versions of your favorites. When you have the urge for salty, crunchy snack foods make some of these whole food plantain chips. Cut processed and packaged snack foods completely out of your diet and you'll find that whole foods snacks like this more than satisfy your snack cravings. Servings: 6 
.
..
Here's what you need:
2 large unripe plantains
olive oil
juice from 1/2 a lemon
freshly ground sea salt
Preheat the oven to 350 degrees F. Lightly grease 2 large baking sheets with olive oil.
Peel the plantains and slice thinly on a diagonal. In a medium bowl toss the plantains with some olive oil, the juice from 1/2 a lemon and a generous sprinkle of salt.
Arrange in a single layer on the prepared baking sheets. Bake for 30 minutes, or until golden and crisp.
Nutritional Analysis: One serving equals: 110 calories, 2g fat, 133mg sodium, 22g carbohydrate, 2g fiber, and 1g protein