VickieWucher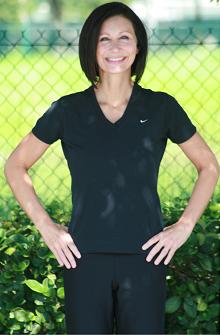 "I have taken back control of my life"
After years of inconsistent dieting and exercise, the weight crept on slowly. Before long, I came to the realization that I was unfit, exhausted on a daily basis, and did not seem to have the ability to control my diet. As a result, my self-esteem had diminished and an obvious state of depression was in place. The depression and lack of self-esteem caused me to avoid friends and social functions, in addition, the foods I craved and ate were purely comfort foods. I felt as though I was losing control of my life. My concerns were legitimate due to the fact that I have two sisters who lost the battle with their weight. Both sisters underwent surgery due to obesity, gastric bypass and lap banding. I was terrified that I would be next. In fact, my husband and I had a few conversations regarding cosmetic surgery. In my mind, surgery would be the quick fix I needed to make me feel better about myself and a remedy to my lack of exercise and horrible eating habits.
At one of the lowest points in my depression, I noticed an article in the Osprey Observer. The article showcased a woman, about my age, who had changed her life with the help of the personal trainers at RobZFitness. As I read the article, I distinctly remember reading that a majority of Rob's clients were women of my age. Afterwards, I walked straight to my computer and found Rob's website and read about the trainers and the many wonderful success stories. I felt there might be a glimmer of hope for me too.
The next day, I contacted Rob for an initial consultation. My reservation about finding out the devastating news about the state of my body was relinquished when I met Rob. He immediately made me feel comfortable and continually impressed upon me that my goals were achievable. After speaking with my husband, I began my incredible journey with one of Rob's most caring and knowledgeable trainers.
As a middle-aged woman, my road began at the bottom of the hill. My level of body fat was 30% and in better shape than only 32% of women my age. I was astonished by the fact that 40 pounds of my weight was fat. After rigorous workouts and following a supportive eating plan, I have lost 17 pounds and 14.43 total inches. Currently, my level of body fat is 17.8% and now I am in better shape than 92% of women my age. I still cannot believe that I met and surpassed the goals set at the beginning of my plan.
Even though my time has ended, I feel that I have taken back control of my life and learned how to successfully continue my journey. I thoroughly enjoyed my time at RobZFitness and will truly miss their passion of assisting people like me with meeting life-changing goals.
Vickie Wucher