TaylorGreen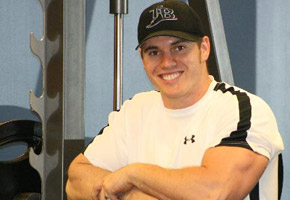 I was born in Ft. Worth, Texas and graduated from Bloomingdale High School in 2003 and played for the Bloomingdale Bulls baseball team for three years. I then graduated from Liberty University in Lynchburg, VA in 2007 with degree in Exercise Science and Fitness Programming. I am currently certified through AFAA and FiTour for personal training and I am CPR and First Aid trained. I am looking into obtaining future certifications through ACSM and NSCA(CSCS).
While in high school, baseball was my interest. I did exercises only to improve my baseball game. My interest of exercise and fitness started to develop when my baseball coach required team workouts. Serious workouts! These workouts were not only for the game but, a workout for our entire well being. From this point on, I began loving and enjoying exercise. Since I enjoyed exercising so much, I sought to pursue a career in fitness. While in college, my requirements for my fitness degree were to shadow numerous exercise oriented jobs. I enjoyed exploring different avenues for fitness but, I discovered my passion was with personal training. I value being able to develop a relationship with my clients, and to be able to watch their confidence and self-worth increase though exercise and nutritional achievements. I always deliver to give my 110% effort to help my clients achieve their goals. I encourage each client to reach their initial goals and help them pursue new ones. Like Rob says, "Always train for your personal best."
In December of 2006 I married my wonderful wife, Tina. We live in the area and have a dog named, Sugar. My parents are Kelly and Beth Green. My father, a missionary, is on staff at Bell Shoals Baptist Church and my mother works as his secretary.
Even though I am a personal trainer and love working out, bodybuilding is one of my hobbies. Over the past two years I have developed a love for the sport. In the coming years I look forward to competing in my first natural bodybuilding competition. I am also a huge movie buff. My wife and I really enjoy watching all kinds of movies, especially THRILLERS!