Stacy Templeton
"Lost 20lbs BF, Dress Size 10/12 to 5/6"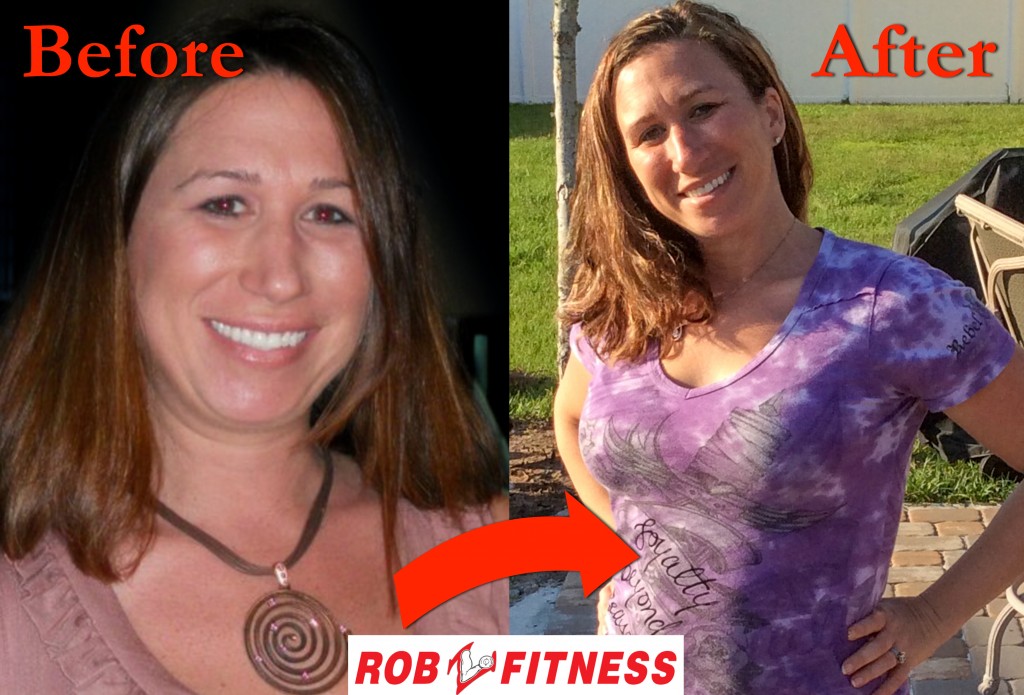 It all started on a Saturday morning when my husband said "hey babe put on some comfy clothes and meet me downstairs." Here I thought we were going to take a ride somewhere or go to the grocery store. Well, we ended up at

RobZFitness

at 8am for our initial consultation. I was a bit agitated to put it mildly. What on earth was he trying to get me into. You see my husband thought this would be a great way for us to not only spend time together but get back into shape as well. All I kept thinking was I work full time and we have kids.. When on earth did you want me to fit in a workout schedule???
So here is what happened. I would work all day and then go pick up my son from preschool. I would then go home, walk the dogs, get changed and get us back in the car. I would drop him off at my parents house and then go to work out. Yeah right I could see how this would not last long….. I needed more time in a day to get this accomplished. My husband is nuts!!!
Then I started working with Sam. It felt good working out again. I had been active my entire life and played sports from the age of 8 through college. I was used to being in shape and wearing clothes that made me look and feel good. I knew I needed this I just didn't know how to make it happen. It turns out that having this structured schedule and having to be in a certain place at a certain time MADE it happen. If I had to rely on myself to get to some gym to work out on my own time I would have always found a reason that something else was more important, laundry, cleaning, spending time home with kids, etc… But this made me accountable for my time.
I started to see results within the first month. I lost over 3% body fat in Month 1.
I started slowly fitting back in clothes I hadn't worn since I had my son 3 years ago.
I started figuring out the supportive eating plan and with Sam's help we came up with even more options to make me stick to the diet. I felt myself getting stronger and slowly started feeling really good again. I felt the strength coming back in my shoulders and could see the definition back in my legs.
Fast forward to Month 3 and I couldn't believe how fast this time had actually gone.
I had figured out scheduling issues and diet issues and even though my husband and I only got to work out together on limited occasions because of his work schedule it was a success!!
Overall I lost 20lbs of body fat and almost 9 inches and over 10% body fat.
I am back down to a size 5/6 from a 10/12 and feel a lot better about the summer approaching.
 Rob also mentioned to me that when I first started I was in better shape then 17% of women my age, now I'm at 65% of women my age. We are definitely on the right path. Staying healthy should be a lot easier now that we have become accustomed to an exercise routine and eating properly. A big thank you to Sam, Taylor and Rob for getting us off the couch and back to being healthy!
Stacy Templeton