Paul & Michelle Ayres
December 23, 2008 by RobZ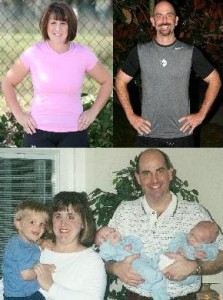 "We have realized that diets alone do not work"
Like so many married couples – life got the best of us.  We were happy going about our daily activities not thinking too much about healthy eating or living.  Three kids later and in 2006 Paul was diagnosed with Hodgkin's Lymphoma sent our lives upside down.
Our daily activities and concerns shifted from running errands to making multiple doctor visits.  We focused strictly on treatments, cures and of course raising our 3 boys.  The stress took its toll and we cared even less about how we looked let alone eating right or exercising.
After two years of the battle, and Paul was healthy again, we made the commitment of getting fit.
Both of us joined RobZFitness for different reasons. Paul joined to regain his strength and rid his body of what chemotherapy and radiation treatments did. Since working out with Rob, Paul has lost over 20 pounds and has reached his fitness goals. His body is toned and he feels great!
Michelle, like so many women, being overweight not only affected my body but also my mind.  I needed to not only look better but also mentally feel better.  Having kids and caring for them took all my time.  I had to commit to make myself number one and do something for me.
Since I started working out with Taylor, I have gone from a size 12 to a size 8 and have lost over 30 pounds. I not only look better but I feel awesome! Taylor keeps me motivated and I could not do this journey without him.
We both enjoy the way we look and feel.  Family and friends definitely see the difference in us.
We have realized that diets alone do not work.  You have to physically be active and eat right to give you healthy results.  Not only have we achieved our goals, but also we are setting a good example for our boys.  We can finally keep up with them.
Thank you Rob and Taylor!