Paul Michael
"Lost 44 Pounds, 38 to 32 Pant Size"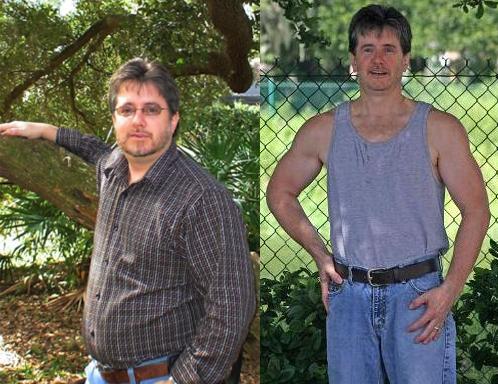 My name is Paul Michael owner of Michael Real Estate, Inc., I found it difficult at times to deal with my weight gain and continuing with the level of energy I needed to complete my personal and business goals.
At 43 years of age, 5'9" and 209 lbs, I woke up.  I was tired of the chest and back pains, lack of energy, high cholesterol, high blood pressure and so on.  I decided I was going to change my life, and I did, with the help of Rob from RobZFitness.  It took one phone call and some straight talk from Rob to get me moving.
I found out my body fat was at 32.9% which is at 4% of men my age.  For a very driven individual, this was not only a wakeup call, it was unacceptable!
So then the work began… Rob educated me on nutrition and started training me on a rigorous training routine and homework to do for my days without him.  I couldn't believe it!  It started to work and within my first 30 days I had lost right at 20 pounds.  Today, about 5 months later, I am 44 years old and in the best physical shape of my life!  I am very strong, energetic, no more back or chest pains and my blood pressure has dropped from about 150/90 to an average of 110/75, I can't wait to check my cholesterol.  I went from a 36 pant size (and they were tight) down to a 32 pant size and I see a 30 around the corner.  My shirt size has gone from an extra large to a small/medium.  Best of all, I have lost 44 pounds, my weight is now at 165 lbs and my body fat is at 16.3% which now puts me in better shape than 90% of men my age.
If you really want to get your life back, get in shape and aren't afraid to sweat – call Rob at RobZFitness!  Thanks to Rob and his superb staff of trainers, my life has come full circle.  I am eternally grateful for Rob's friendship and expertise.
Paul Michael
Click on Pictures below to view his video Testimonials.
Paul Michael has been working out at RobZFitness for the past 3 months.  During this time Paul has lost 38 pounds of body fat and lost 15.5% body fat.  His body fat percentage ranking compared to other men at his age increased from a low 4% ranking to 74%.  Paul continues to see big changes on a monthly basis and now wears a medium shirt size.

This is Paul's second month video testimonial and to date he has lost a total of 30lbs and 11% body fat.  He has also lost 3 inches in his chest, 2.5 inches in his waist line and 3.5 inches in his hips.    Paul is extremely dedicated to change his physical appearance.  Overall his body fat ranking for a male at his age has improved from 4% – 45%.
Paul has lost 7.2% body fat and 19.5 lbs of actual body fat in the 1st month of training at RobZFitness. Paul has followed every detail of our training program thus the great RESULTS! If you aren't experiencing results like this you need to give us a call at (813) 571-3700.