Patricia Tracy
"Lost 10% body fat, 20lbs, Size 8-4"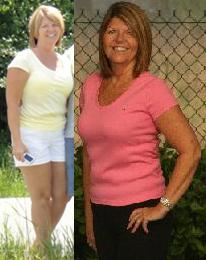 I have wanted to join RobZFitness for over 2 years. This year I made the decision – I was going for it!
I not only wanted to lose weight, as it is not about the pounds (fat weighs less then muscle).  I wanted to be in shape, build lean muscle and improve cardio.
I found when I started losing weight and gaining muscle I was losing inches fast.
RobZFitness offers an supportive eating plan, where you are never hungry. I used to skip meals now I eat more than ever. I am very impressed with his supportive eating plan & great recipes I have tried.
I have to credit a lot of my success to the compassion, encouragement & support I receive from my personal trainer Taylor Green. He puts up with my crazy phrases, says he is going to publish them, then he pushes me to the next level and next exercise.
In the first three months I trained with Taylor I have lost 10% body fat, a total of 20 lbs and I have lost 5 inches around my waist (down to a size 4). I am building lean muscle and increasing cardio.  My goal a size 2.
I like the fact that people notice how much I have lost but mainly it was my personal goal and I look and feel great. I love my new energy level. I give RobZFitness and Taylor an A+. I highly recommend them to all my friends, in fact a few have already joined after seeing my results.
I am Taylor made! Got to love it!!! Fitness at its BEST!
Patricia Tracy