Monica Alvidrez
September 8, 2010 by RobZ
"Lost 26 Pounds, 13.8% Body Fat, Over 12 Inches"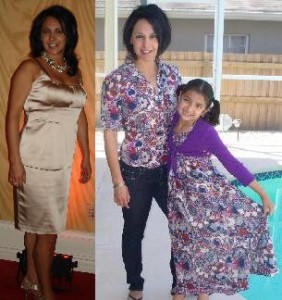 RobZFitness has changed my mom's life and our lives too.  My mom's name is Monica Alvidrez.  She started going to RobZFitness on 18 Apr 2009 and the results show! Unlike previous years, today she is more confident in the way she looks and the way she feels about herself.  She looks leaner and stronger more now than I have ever seen her!
She first started going to RobZFitness because my dad was deployed to Iraq.  She thought that is would be nice for her to get a full makeover in physical appearance before he returned home a year later.  So two weeks after he left, my mom started training with Taylor Green.  After developing a supportive eating plan to fit her diet and training needs she started on the path to her tremendous transformation.  After that first training session with Taylor, our lives were drastically changed!  We are now more conscious about what we eat and how much we are exercising. Our daily lives are now centered around workouts and a jumble of different classes she takes at the gym and mom always encourages us to exercise and eat right.
My mom has lost 26 pounds of body fat, increased her lean weight by 10 pounds, lost over 10 inches and improved her body fat percentage 13.8% from 32.6% to 18.8%.  Rob says she is now in better shape than 76% of women her age, up from 11% when she first started.
When my dad got home from Iraq at his mid-tour break he didn't even recognize her when we picked him up at the airport.  Since Taylor at RobZFitness had helped her change her appearance and get her into shape my dad went back to Iraq determined to get into better shape.  He was not to be outdone by my mom!  It was all in good fun.  Our dad was well surprised and amazed at the changes she and the rest of us had made!  Who would have thought kids would fight over vegetables?  Thank you very much Taylor Green and RobZFitness!   We will miss you Taylor, but we'll be thinking of you in Germany!
Rene Alvidrez II
. Click Video to Begin Play
Monica has been training at RobZFitness for the past 3 months and totally shocked
her husband when he arrived backed from Bagdad. Click on the video to watch and
see his reaction when he saw her and the kids for the first time.
.
Click on picture above to view her testimonial
Monica Alvidrez has been training at RobZFitness for the past month and has already seen some big improvements in her body composition. He goals were to change her body appearance and not really rely on the scale weight as her main focus. During her first month, Monica has lost 8.7% body fat and lost 15.5 pounds of actual body fat. Her overall ranking on body fat has improved from 11% – 44% for women at her age. Congratulations so far on your progress to this point and we look forward to seeing you improve over the next 2 months.
If you aren't experiencing results like this you need to give us a call at (813) 571-3700 or drop me an email at Rob@RobZFitness.com. On-line consultations are increasing in popularity. Call Today!!!