MarieGilmore
Month 2:     Counting Carbs & Losing Despite Vacation
By Marie Gilmore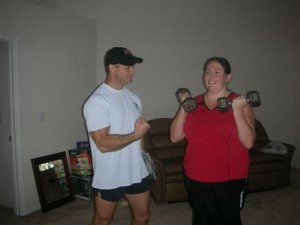 It is hard to believe that in my whirlwind life, two kids, three deadlines, vacation, two months have already passed with RobZFitness owner Rob Zulkoski at my side. This month, after getting a three-times weekly workout routine established, Zulkoski started really honing in on eating habits. Although he started eight weeks ago with encouraging me to eat lots of protein six times per day and watch my carbs and fats, he also put me on a high-carb, low-fat dinner two nights a week. This month, Zulkoski really got my eating established. Each meal, I am looking to eat 30 grams of carbs and 20 grams of fats. For me, for three of the meals this is a low-carb milk chocolate protein shake with a tablespoon of olive oil to get the fats in. I know, I know, sounds weird, olive oil… but it is the balance of protein and fats and low carbs that puts us into "fat burning mode," according to Zulkoski. For the other meals, I am looking for high protein, low fat and low carb. This is really achieved by lots of chicken, fish, cheese, nuts and broccoli, cauliflower, salad, etc.
My secret, shhhh, don't tell Zulkoski, is that I try to make it to Ruby Tuesdays at least once a week for some to-go low-carb cheesecake. A couple bites each night helps keep me on track.
For the next four weeks, Zulkoski is going to tackle my in-between meal snacking to keep the fat burning up and continue the three-times weekly workouts. Last month, I actually went on vacation for a week to Canada and can't say I was a saint, but during my seven day vacation, I did do my cardio workouts five of the days. But, on my carb night I really indulged with chocolate fondue. Upon my return, both Zulkoski and myself were thrilled that I had lost a pound!
Regardless, I am feeling good and like I am accomplishing something. It is getting easier to follow the diet especially when a pair of shorts from the back of my closet actually buttoned this week! The workouts are not fun; sweating is not fun but, feeling good is fun and the thought of having to report my results again next month….terrifyng! My next goal, to get under 30 percent body fat.
For more information or to contact Rob Zulkoski directly, visit his website at www.RobZFitness.com  or call 571-3700.
Month 3:   32 Sit-ups is Good
By Marie Gilmore
At this month's fitness test, even I was surprised by the number of situps I did. In one minute, I did 30 pushups and then following with 32 sit-ups in one minute and I am happy with those results. Especially considering that just 12 weeks ago, I couldn't achieve a single sit up. My blood pressure is excellent and all results are improving. In addition, weight is down 18 pounds overall and I will be excited to hit the 20 pound mark.
RobZFitness owner Rob Zulkoski is also happy with the results and says that the more muscle that I build, the faster the pounds will fall.
Getting into a routine to work out or do cardio more than three times a week is tough. On deadline week especially, it is hard to find the time. But, I have also found that after 12 weeks, exercise is becoming habit and I enjoy getting it done at the beginning of the day so that I can feel a sense of accomplishment all day. Much easier to stay on diet if I feel that I have started out well.
Next month, I am going to work with Rob to explain the three minute step test and what heart rate recovery and fitness have to do with each other.
Bear with me and thank you for all the well wishes! I look forward to continuing the path to fit!!
For more information or to contact Rob Zulkoski directly, visit his website at www.RobZFitness.com or call 571-3700.
Month 4:     Metabolism Key To Program
By Marie Gilmore
Month 4: Working out with RobZFitness owner Rob Zulkoski and still feeling great and working towards a goal. Total weight loss at this point is right at 25 pounds overall with a final destination of 40 more pounds to lose. Starting out weight training with Zulkoski is a learning experience; he doesn't try to say that just working out with him three times per week is the key to weight loss but tries to encourage an overall program of weight training, cardiovascular training and nutrition. With the weight training, we work together three times per week. Then, I work out at least three times per week with 45-60 minutes of cardio workouts, treadmill, elliptical trainer etc. and then the final piece of the puzzle is nutrition. As you are working out, Zulkoski will explain that all three pieces are needed for jump starting your metabolism and turning the body into a fat burning machine.
"In an effort to lose fat, you need energy," describes Zulkoski. "You've probably heard that exercising will give you energy, but how can you exercise if you don't have the energy? It's simple. You've got to consume fuel (food)."
When most people think diet, they think that they have to go hungry but actually, Zulkoski is going to encourage you to eat six times a day; it is just what you eat that is important.
Who wouldn't like bacon and eggs for breakfast, grilled chicken smothered in cheese with steamed broccoli for lunch and grilled or broiled salmon with a fresh salad and asparagus on the side plus three snacks in between? Doesn't sound too much like you would have to go hungry, actually, I am eating much richer foods now that I am dieting and the best part is that after a couple weeks of kicking my carb habit, I don't find it as hard to resist carbs and make better choices and….I haven't been to Ruby Tuesday for my low-carb cheesecake for three weeks.
And, unlike the Atkins or South Beach diets, Zulkoski encourages carbs on some days, lots of carbs, big plates of spaghetti, pizza, oatmeal on two days per week for the final two meals. One hundred carbs per meal is preferred but…don't mix fats and carbs. Have pasta and marinara or veggie pizza but don't mix fats and carbs which will stick.
Zulkoski's program makes a lot of sense and leaves you feeling satisfied. Eating perfectly every meal is tough but following the general guidelines has been working for me. The hardest part is making good choices at restaurants.
Regardless, I am still learning and eating my three meals with three milk chocolate protein shakes in between and eating every three hours when I am awake. I acknowledge that I have been a carb addict for a very long time but I am trying to make a lifestyle change for good!
So far, I am very happy with the results and can't wait to lose 40 more pounds and do a 'fat pants' picture.
For more information or to contact Rob Zulkoski directly, visit his website at www.RobZFitness.com or call 571-3700.
Month 6:    Half Way To Goal: Stay on Track
By Marie Gilmore 
When I first started working out with Rob Zulkoski, owner of RobZFitness, we had in mind a series similar to "The Biggest Loser." Do a series of feature stories following the progress of one person's working out. I didn't have a lot of big hopes since my former efforts at a commercial gym and with a trainer didn't really pan out, so I said, 'Hey, why not!" But, now, six months into the program and more than half way to my goal, I am saying, "Why did I wait?"
This month, despite some back strain that kept me on the treadmill but away from strength training for two weeks, I marked a loss of five pounds which brings my total to 35 pounds from the time Rob and I started. I had a goal of losing 65 pounds and now, I have just 30 to go. When this is achieved, I promised Rob I would splash it all over the front page of the paper and I will, because this is a huge accomplishment that means so much for my overall health.
Working out has a lot to do with the program and maintaining three times per week workouts with Rob keeps me on track. We do a series of strength training exercises geared to maximize muscle tone and increase repetitions, not build a body building physique. In addition, I can still use some fine tuning on the diet which will help me reach that 30 pound goal faster.
Eating six times per day, every three hours and trying to maintain a high protein, low carb, low fat diet is not always fun, but now it is hard to remember another way.
Rob's protein powder (30g protein, 2 carbs, 2 grams fat per shake) still makes up the majority-three of my daily meals.
I do a protein shake for breakfast at about 7:30 a.m., another at snack at 10:30 a.m. lunch of chicken or lean meat and fat-free cheese and raw vegetables at about 1:30 p.m. dinner at 5:30 p.m. and then another protein shake about 9 p.m.
Doing this program, it feels like it is always time to eat, but it is geared to keeping the metabolism burning for the maximum number of hours per day.
So, if your New Year's resolution includes getting in shape, think about calling Zulkoski for an initial consultation to see how his program make sense. Call 571-3700 or visit www.RobZFitness.com.
2 Year Mark:    Editor Completes 100 lb. Weight Loss
By Marie Gilmore
Two years, 100 lbs., two 5K runs and 14 clothing sizes later, I am happy to say that I am not quite half the person I used to be….but I am 100 lbs. lighter.
My weight loss journey started just after my now 2-and-a-half year old son Troy was born. I was done being a 'big' girl and tired of being embarrassed that as a good mom, a successful businesswoman and a happy wife, I was ashamed of the one aspect of my life I couldn't get a handle on, my weight.
So finally, I met Rob Zulkoski, a local personal trainer who came to homes to train clients and offer his unique eating plan of low-carb, high-protein options coupled with strength training and a secret weapon of high-carb meals twice a week to offset cravings and give the body much needed respite.
So, working out with Rob three times per week with my own cardio workouts in between were the key. Following the diet plan was a great guide that I have tweaked over the years to include my own 'treats', low-carb of course.
But, I also have to appreciate the support of the community, my neighbors (Thank you Anne St. John and Dawn Henderson), my family and friends for always looking out for me and keeping me on the straight and narrow. In addition, setting up workout dates really helps to keep me accountable.
"This weight loss is absolutely incredible," said Zulkoski who adds that I am the first female client he has had to reach this milestone. "This is a remarkable weight loss and Marie now has a great improvement in overall heath with top statistics in blood pressure, body fat, cardiovascular endurance and I have been proud to guide her. This has been all her work with just my help and guidance in between. People have to do this for themselves and have to want to make a change for themselves."
I am proud to announce that after watching my success, my husband Doug has just joined our now twice weekly workouts with Rob and has dropped 25 pounds in three months. Zulkoski, now working out of his 2,400 sq. ft. training studio in the Stein Mart Plaza is available for evaluations and monitors his clients every step of the way.
Watch for me to continue pursuing the low-carb lifestyle and watch for my healthy eating articles which will debut next month called, Taking Out The Carbage (thanks Jose Melendez!).
For more information on personal training with Rob Zulkoski or his highly-trained staff, watch his tips on MyOspreyTV.com or visit his site directly at www.RobZFitness.com or call him directly at 571-3700. If you need someone to talk to about weight loss, diets, low carb eating, email editor@ospreyobserver.com!