JackieHaan
December 11, 2011 by RobZ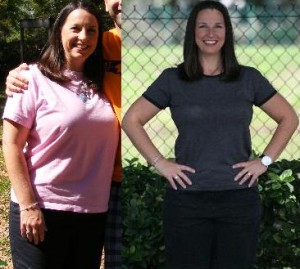 "I couldn't lose the
weight on my own"
I have always been out-going and athletic, trying any sport that came my way. I wasn't afraid of any challenge. But after only four years of marriage, I gained 55 lbs and became very self-conscience of my weight which affected my athletic ability. I turned inward not wanting to participate in anything. I used to run and knew something was drastically wrong when I couldn't even complete one lap around the track without wheezing and gasping for air.
I "let myself go". I stopped exercising and ate anything I wanted. Anything includes ice-cream every night of the week. Then I'd try to diet and exercise a little only to be discouraged when I didn't get the results quickly enough for my standards. I went back and forth between these two states of mind. In the meantime, I lost a ton of muscle mass and gained a ton of fat weight.
I saw a testimonial from RobZFitness in the Osprey Observer and took notice because I just happened to know the guy in the testimonial. I looked at my husband and said; "Honey, if we want to go on a cruise for our 5th anniversary, I've got to do something. Because if I look like this, I won't be going on any cruise!" I knew I needed help and couldn't lose the weight on my own.
Calling Rob at RobZFitness was one of the best decisions I've made in my life. I can't believe how good and strong I feel. I started with a body fat percentage of 37.4% and in better shape than only 3% of women my age. In three months time, I lost 25 lbs and 17.42 total inches; 10 inches just off my waist and hips alone. Now only 25% of my body is fat and I am in better shape than 40% of women my age.
I had the fortunate opportunity to train with all five trainers but worked mostly with Rob and Davie. I always looked forward to when I trained next because I had fun! Although I am saddened that my time at RobZFitness is complete, I know I can take what I've learned and continue with my new healthy life style. I no longer gasp and wheeze for air and feel strong enough to continue to decrease my body fat. I still plan on losing 20 more lbs. and now I have the confidence to do it on my own. I WILL be stronger than most women my age this time next year when I turn 40. For me, forty will be the new 30!
Jackie H