Jackie Sizemore
"Lost 30lbs Body Fat, Dress Size 18 to 12,
Over 20+ Inches"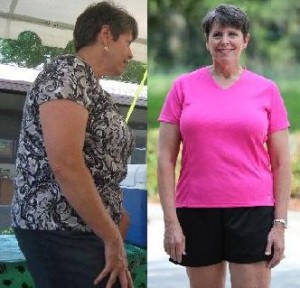 This past April 18th I made a decision that has had a profound effect on my life.  That's the day I walked through the door of RobZFitness for a consultation. I knew I was at an unhealthy weight but never thought that at age 52 my body fat would be at 38%. I had stopped taking care of myself and I discovered that 90% of the women my age were in better shape than I was.  The numbers were scary and certainly got my attention.  I joined that very day.
It's funny how you perceive yourself.  Although I knew I had gained weight and was wearing a size 18, in my mind I was still a size 10.  It wasn't until I saw a picture of myself at my daughter's graduation party that I knew the blinders had to come off.  I didn't recognize that overweight person and I certainly didn't like what I had let myself become.  I spent the next 8 months trying to take the weight off myself.  I tried to eat healthier and exercise but I just never could maintain anything over 2 weeks.  I was very discouraged until I remembered about a friend who had lost over 100 pounds at Rob's.  I began to believe if he could do it, then I could too. That thought is what motivated me to take that very first step.
I started the day after my consultation and I am now at the beginning of my 4th month.  I love the results and I feel like a new person.  At the end of 3 months I had lost 30 pounds of fat weight and my body fat was down to 27%. I also discovered that only 34% of the women my age were in better shape. What a change from my first day!  My waist has decreased by 10 inches and I have lost an overall total of over 20 inches. My husband loves my new look! My daughter has been motivated by my success and has just completed her first month with a lot of success of her own.  I couldn't have made such good progress without the personal trainers.  Taylor and Sam have been awesome.  They challenge and motivate me, knowing when to push and everyone has a great sense of humor.  It is obvious everyone at RobZFitness cares about you and your success.
My journey isn't finished yet.  I do know that fitness and healthy eating have become a part of my life again and I can't see ever going back. I love working out and eating healthy.  Don't ever think you can't do this because if I can, anyone can! All you have to do is take the first step.
Jackie Sizemore