Holly_Ferguson
"I Lost 36 lbs, 6" in Hips, and 2 Dress Sizes"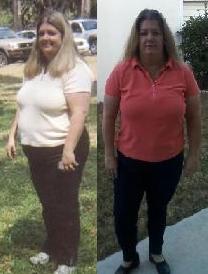 Shortly before my 47th Birthday I decided to make a change in my life that was way past due. That is LOSING WEIGHT AND GETTING IN SHAPE! It was time to start a new Path to get happy & healthy again. In many previous attempts at losing weight, I would always fail. Among a host of contributing factors in my life, the one causing the most problem was the obvious lack of self control. Not exercising and poor eating habits just added to the already big problem (I was already experiencing health concerns directly related to my weight, for instance – High Blood Pressure to name one).
So that's when I found my way to RobZFitness. While consulting with Rob, he explained his comprehensive fitness plans and strategies on eating properly. I felt very confident in him and his team. These guys were the ONES FOR ME!
My first scheduled workout fell exactly on my 47th Birthday , October 7th, 2010 . Rob's encouragement along the way helped me so much!
It's now , January 10, 2011 , three months since starting this FITNESS plan, I not only feel healthier and much happier, I have LOST 36 POUNDS!!, 6.5% body fat, a couple of dress sizes!, 6 Inches in hips, 3.5 inches in waist.
I now have the knowledge that Rob provided to me of proper exercise and eating properly (a new way of life) I will be able to continue.
Going thru this experience, I believe I am equipped to go forward on my own and continue to get fit and lose more weight.
Thanks Rob!!
.
Holly Ferguson