Herman Hunter
September 22, 2013 by RobZ
"I Lost 35 Pounds & 4 Pant Sizes"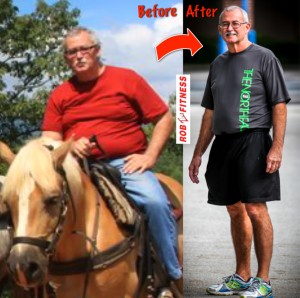 In June 2010 while working in Canada I flew to Atlanta to meet my family for a scheduled vacation. My youngest daughter arranged a horseback riding trip at a nearby stable. When they brought my horse they led it over to some steps for me to get on. I couldn't believe it, what made them think I couldn't get up on my own? My son-in-law kept a straight face, but my daughter just couldn't, I was so embarrassed. When we got to a scenic overview at the top of a mountain they took a family picture, after seeing it I understood why they thought I needed the steps. I felt sorry for that poor horse. I was about two twinkies away from not being able to tie my shoes. How could I have gotten so big so fast? After all I worked out with a friend from church, Taylor, at the YMCA five days a week.
In August 2012, after 8 months working in Canada I returned home. From August thru December 2012, old eating habits returned and I quickly gained back to 233 pounds. Taylor and I got back to our routine at the gym. He told me RobZFitness was offering a 2013 New Years Special, a 2 week boot camp. I knew he had trained at RobZFitness for 6 months of personal training and lost 40 pounds and kept it off. The things he told me they did in boot camp sounded too extreme! No way, but Taylor finally convinced me to go.
Boot camp was hard at first, still weighing 233 pounds! At first everything seemed impossible, push ups, dragging fire hoses and I had never done a burpie! After just a couple of weeks I had lost weight and felt so much better! Rob Z extended the Monday, Wednesday & Friday boot camp and I decided to continue the program. We could go to any of the aerobic classes during the week so I added BodyPump. At the end of the first day, we were given a new eating plan to follow. I didn't have to starve and the foods where things I like to eat. I knew right then I could do this. After a few weeks, I lost 13 pounds and hit a plateau at 220. Sam Kicak, our trainer, assured me that I would reach my goal of weighing under 200 if I would stay with the program! You just can't make up bad eating by just working out. I stuck to what she told me to do and the pounds came off. I begin attending the early morning body pump class. The groups are not crowded and the leaders encourage each individual!
RobZFitness is the place for me! The instructors and people in the group are always supportive. By 7 AM in the morning I'm ready to conquer the day.  The eating is easy and I'm seldom hungry, if I eat every three hours as directed.
After just 8 months my energy level is through the roof. I can now wear pants 4 sizes smaller now, weigh 198 pounds and still losing weight. The workouts are 60 minutes, 6 days a week. I used to spend 2 to 3 hours a day on my on with minimal results. Each training instructor always challenges the group with a new and more intense workout every day. My original goal was to get below 200 pounds. Today I weigh 198 pounds! My arms legs, waist and chest are smaller. I'm stronger, faster and have more stamina. I never thought I'd ever feel this way at 57 years old! Thanks go to the staff at RobZFitness. If I could have done it on my on, surly I would have a long time ago! Sometimes you just need help and someone to tell you what you need do.
A big thanks to Rob, Amy, Sam, Karen and Taylor my friend who talked me into going, the folks in the group who pushed and encouraged me along the way.
Herman Hunter – Age 57