Greens, Eggs and Ham
Greens, Eggs and Ham Recipe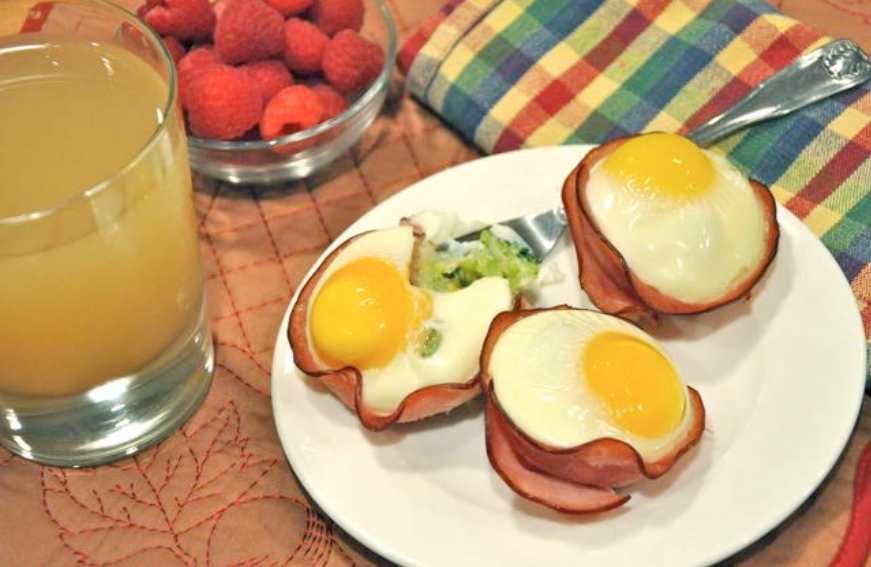 Who doesn't love breakfast that comes in a cute package? I certainly do. These Greens, Eggs and Ham cups are perfect for your healthy on-the-go breakfast! First fill your ham cups with veggies.
Here's what you need for 12 servings:
1 teaspoon olive oil
1 clove garlic, minced
1/2 yellow onion, chopped
12 slices of nitrate free ham
1 cup broccoli, steamed and chopped
1/4 cup shredded cheddar cheese
dash of salt and pepper
12 eggs
Preheat oven to 350 degrees F. Lightly spray a muffin pan with nonstick cooking spray. Set aside
In a medium sized skillet, heat the olive oil over medium heat. Add the garlic and onions. Cook untiltender.
Add the steamed broccoli, cheese, salt and pepper. Mix until fully combined. Remove from heat.
Using kitchen scissors, make a slice to the center of each piece of ham, then fold into a cone shape ineach muffin cup. Fill halfway with the broccoli mixture.
Crack an egg into each ham cup. Bake for 16-20 minutes, or until the edges of the ham are crispy.
12 Servings
Nutritional Analysis: One serving equals: 135 calories, 8g fat, 437mg sodium, 2g carbohydrate, 1g fiber, and 12g protein.