Garlic Asparagus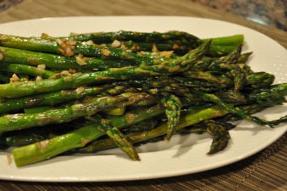 Your diet should be filled with vegetables, with asparagus at the top of the list. This asparagus recipe is easy to make and tastes great. Serve it with a piece of white fish, chicken breast or other lean meat for a healthy meal. Servings: 4
Here's what you need:
1 bunch asparagus
2 teaspoons olive oil
1 1/2 Tablespoons garlic, minced
dash of salt and pepper
1 teaspoon lemon juice
Preheat oven to 425 degrees F. Cut off the tough ends of the asparagus.
In a casserole dish, combine the asparagus, oil, garlic, salt and pepper. Bake for 15-20 minutes, until tender.
Remove from oven and mix in the lemon juice. Serve and enjoy!
Nutritional Analysis: One serving equals: 38 calories, 2g fat, 2g carbohydrate, 1g fiber, and 3g protein.