Easy Turkey Wrap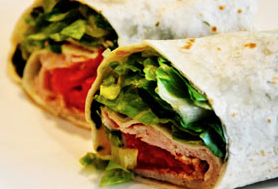 This wrap is perfect to pack for lunch or makes a quick and healthy dinner. It's ready in a flash, tastes amazing, and is filled with lean turkey, veggies and whole sprouted grains. Try it today, but don't be surprised if you get hooked! Servings: 1
Here's what you need:
1 Sami's Lavish wrap, 6 inches
1 Tablespoon fat free fat cream cheese
1/4 cup tomato, chopped
1 cup lettuce roughly chopped
4 oz lean turkey slices
dash of salt and pepper
Spread a tablespoon of fat free cream cheese evenly over one side of the tortilla.
Arrange the turkey slices over the cream cheese and layer with tomatoes. Top with lettuce, sprinkle with salt and pepper. Roll the tortilla closed.
Cut in half and enjoy.
Nutritional Analysis: One serving equals: 177 calories, 1g fat, 21g carbohydrate, 4g fiber, and 21g protein.
Help out your friends, family and co-works by giving them a complimentary issue of my bimonthly fitness newsletter. Just use the "refer a friend" link below to forward this issue.
Refer a Freind