Don't Buy Junk Foods
December 11, 2011 by RobZ
Don't Buy Junk Foods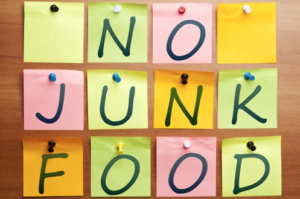 Many people ask me how to quickly and easily get fit. While I know they are hoping for a simple answer, the reality is that getting and staying fit is a lifestyle, not a quick fix.
So what do fit people do in their "healthy lifestyle"?
Fit Habit #1: They Don't Buy Junk
Fit people know that if they keep junk food in the house they will eat it sooner or later. So they don't buy any. Even buying junk food for your kids or spouse is not advised since 1) you'll likely eat some of it eventually, and 2) your loved ones shouldn't be eating that junk either. It's called junk for a reason.
Rid your home of chips, cookies, candy, baked goods, pre-packaged snacks and anything else that belongs in a vending machine. Replace the above with fresh fruit, veggies, nuts and other healthy whole foods snacks.