Colleen Pounds
It Doesn't Matter What The Scale Says!
Colleen Pounds,
Physical Therapist Assistant
Weight Scales lie!
My victory can be seen but not weighed, and it feels good.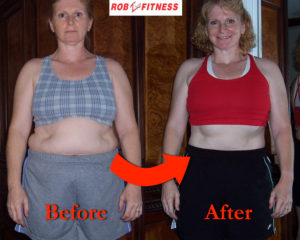 Before RobZFitness, like so many others, I habitually stepped on the scale. My Personal Trainer immediately began drilling into my head to "Stay off of the scale", explaining that it often gives false impressions of what really happens, which leaves people feeling defeated and depressed. Through the Education component of the RobZFitness program I learned that the only reason scale-weight is needed is to help calculate one's Fat-to-Muscle Mass ratio. Herein lay my victory.
If I were to tell you that from May to September I lost 13.5 pounds, you might not be impressed? However, here is the big picture. Within these four months, I lost 29 lbs of body fat, gained 15.5 lbs of lean muscle mass, dropped from a size 16 to 10 and decreased my body fat from 37% to 22%! This is what I actually achieved with the in-depth education of fitness and nutrition given to me at RobZFitness.
I feel very confident that I now have the tools to maintain my results, my strength and my nutritional habits for a lifetime.
Thanks gang!