Bruce Korte
Bruce Korte has been with us for the past 7 months and experienced great improvements while training with Taylor Green. Bruce dropped 30 pounds of total body fat. His body measurements have also greatly improved. His chest measurement went down 4.5″, hips went down 3.5″, and his waistline dropped by 4 inches. His body fat percentage when he first started was at 27%, now Bruce is happy to say that his body fat percentage is down to 14 1/2 percent. Bruce's male percentage ranking of body fat was ranked at 17% when he first started and now his body fat is ranked at 88% for his age. One of the best results that Bruce has experienced was in his pants size which dropped from 38 inches down to 32 inches.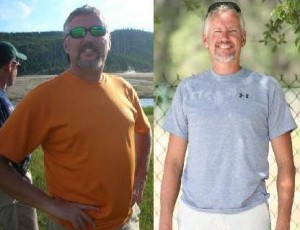 Exercise and Eating Properly – Part of My Life Now!"
Being a Business owner for many years I have seen the economy rise and fall similar to my weight. I figured the quicker I lost my weight and got myself back into shape the quicker the economy would recover. I thought maybe investing in myself would give me a better return than the market could. I finally got something right!
I like probably many people my age have gone through the years raising children and gradually turning into the blob we now are. Eating those burgers and fries at the ballpark and watching your kids get exercise instead of you takes its' toll. Looking in the mirror daily you don't notice it. Then you start looking at family pictures and you say "What the heck happened?"
One day I was reading the Osprey Observer and I saw Rob's Ad. I recognized the person that had written a testimonial. I went to his website and then recognized one of his trainers (Taylor) as being a friend of my daughter in high school. Little "T" at that time! It was a sign to get motivated. I called Rob at RobZFitness to set up an appointment to evaluate me. His evaluation told me right away where I was at physically. Rob is a very nice person and I only caught him snickering once!
I have always been very active but have never had the best eating habits. If I started to get to heavy I would just NOT eat. Wow have I learned that was a mistake. I lost my "scale" weight but at the expense of muscle tone not fat. I quickly discovered that Rob's way of eating AND training is the key to developing your body into what you want. After going through the initial three months your lifestyle changes completely. Your eating habits and exercise become a part of your daily routine.
At the age of 49 but stuck with a mind that says I'm 30 it is much easier and safer to attempt the activities I do in the best shape possible. Exercise and eating properly is definitely part of my life now. I'm trying to live by Rob's favorite quote "Train to Gain, Not Maintain". In other words I'll always be a work in progress.
I want to thank Taylor especially for putting up with my whining and sometimes profanity. He made the workouts fun but at the same time exhausting. We had many laughs over the months and have become good friends. Thanks Taylor!!