Beth Shaub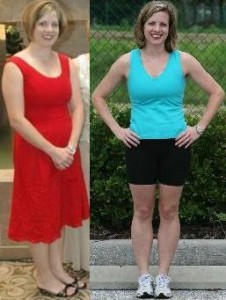 "I was tired of struggling on my own"
I came to RobZFitness because I was tired of struggling on my own to get my body back to what it was before children. I was tired of my clothes not fitting and having no energy. I went for my initial consultation with Rob and found out not only was I overweight, at 33.8% body fat, but I also had high blood pressure. I was in better shape than 7% of females my age. I knew I had to do something. I decided to make an investment in my health and join. I was very impressed with Rob's knowledge and philosophies on nutrition, exercise, and weight loss. I knew he could give me the tools I needed to learn how to live a healthy lifestyle. I believed in Rob, but most importantly, I believed in myself.
Maybe it was because I wanted to get the most out of my investment, but I took this new venture very seriously. I tried to follow everything that Rob and the other trainers said as closely as possible. It was so nice to have the personalized attention. Any question I could think of they were there with an answer. The first two weeks were tough because I was completely changing how I ate. No more diet sodas, no more finishing off my children's snacks. I was amazed at how quickly I felt so much better. I no longer craved sweets or carbohydrates. I have been on many diets before, but this was the first one that I can say that I don't feel hungry or deprived, honest!
After just one month, which included a week at Disney, I might add, I had lost a phenomenal 9.9% body fat! I knew I was onto something. The following two months I continued to work hard and stick very closely to the eating plan. At the end of 3 months my total body fat loss was 17.4%. I can now proudly say that I am in better shape than 86% of females my age. In three months I have gone from a size 12 to a size 4. My blood pressure is now well within normal range. My investment has paid off better than I could have ever imagined.
Thank you Rob, and all the trainers at RobZFitness, you have changed my life.
Beth Shaub