Adrienne Rosania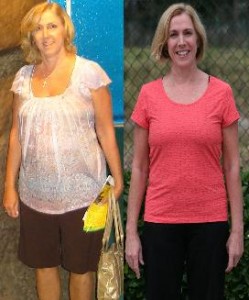 "Dropped from a Size 14 to 8"
It was that time of year. It was time for a new bathing suit. While I worked up a sweat just trying on the bathing suits, I knew I had to do something, especially since there was no squeezing into the size 14's that promised to make you look a size smaller. It was my "aha" moment.
I tried Weight Watchers, but it wasn't giving me the results that I wanted to achieve. I knew about RobZFitness from reading the testimonials in the Osprey Observer. I wanted to increase my stamina, decrease my dress size, and just plain feel better. After meeting with Rob and starting to work out, I had second thoughts about what had I gotten myself into. Then I got into a routine with and with their guidance, started eating right. The workouts are killer, but fun. I don't think I've ever done the same workout twice. They have inspired me to go beyond what I think I can do. When I work out on my own, I can hear them telling me "you can do it, you're almost done, just five more."
I never thought I would see the results I saw after the first three months. I dropped from a size 14 to size 8. Now I'm down to a size 6, have lost 24.5 lbs., and have less body fat than 90% of women my age. For the first time in five years, my doctor didn't call and tell me that I needed to watch my cholesterol. My cousins from around the country and I have plans to meet in New York City at the end of April to run/walk a half marathon. I never thought I'd be doing that, and without learning how to train and eat properly at RobZFitness, I wouldn't.
Thank you RobZFitness!
Adrienne Rosania