August 13, 2016 by RobZ · Comments Off on 28 Day Turkey Burner Bootcamp
New Challenge starts
Monday, November 5 – December 1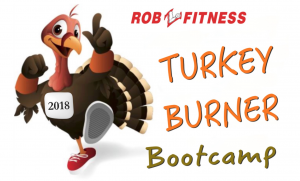 Lose 8-12+ pounds in 28 Days by joining our Turkey Burner Bootcamp Challenge #1 and start to transform your body for a lifetime.
You can guarantee to burn calories and lots of them…
You can now lock in your spot right now.
This training program is fast paced, strength and interval training style. Each participant is motivated in the outdoor and indoor environment to excel beyond current levels of fitness.
It's proven results that brings everything together AND allows each person to be challenged beyond their fitness level and creates faster RESULTS!
And I know your want FAST RESULTS right?
Sign up now (below) before you forget. Spots will fill up quickly!
Our three classes will start at 5:45am (Bootcamp), 8:30am (BodyPump), and 7:00pm (Bootcamp). I must also tell you that you should sign up right away after reading this to guarantee your spot.
It's pretty amazing really… Read more