Click to View Video
.
.
July 13, 2016 by admin · Comments Off on Fitness Programs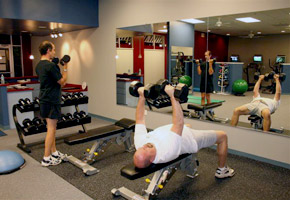 Personal Training for Weight Loss & Muscle Toning By far our most popular program if your goal is to lose weight and tone and firm up. Over 100+ written and video testimonials is proof enough. This program is a combination of weight training, cardiovascular exercise to lose body fat fast, increase body tone, improve endurance all at the same time.
Buddy or Couple Training Very popular. Train together or at different times. Studies prove that working out with others increase results. An exercise buddy may be exactly what you need to get back on track. Perfect for couples or friends who like working out together.
Strength Training An intensive resistance training program to increase muscle mass and strength gains to develop the muscular size.
Aerobics/Group Fitness Studio
Amy Zulkoski, a licensed fitness instructor cordinates our aerobic/group fitness classes. Our group fitness studio inside or our personal training studio. We offer BOOTCAMP, BODYPUMP, CXWORX, STEP, BODY SCULPTING, CORE/STRETCH, TABATA INTERVAL TRAINING.
On-Line Training and Fitness Coaching
This program has been ever so popular as I coordinate on-line training programs for those not close to our studio. Includes a fitness assessment, exercise prescription, unlimited email, phone calls, and video instruction. Assessments are followed up monthly. Call 813-571-3700 or email Rob@RobZFitness.com today for inquiry.
Sport Specific Training (ages 12-18)
Athletes interested in increasing power, strength, speed, and endurance to improve performance in a their specific sport. A great way to improve athletic ability to play at your best in sports and for life.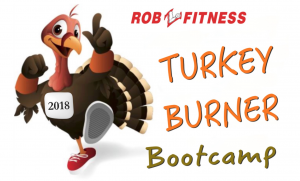 28 Day Turkey Burner Bootcamp Challenge
(New challenge starts November 5, 2018) This program is about my super fast weight loss program for large groups. It's called the 28 Day Turkey Burner Bootcamp Challenge for good reason. It's pretty amazing really… You workout with us 3-5 days a week for 28 days and you will look and feel great! Click here for details
Gift Certificates (Great Gift Idea)
Can be bought for any monthly program or purchased in any dollar amount to be applied to any program.
RobZFitness Cycling Club
RobZFitness organizes several rides a week, catering to a variety of levels and including a range of distances. We have special rides of longer distances during the course of the bike season and hold social events at various times of the year. Organized leave times during the week are at 10:00am on Tuesday and Thursday morning and Saturday at 9:00am. Our club provides a great way to meet other bicyclists in our area and to learn from their experience. Interested in joining email Rob at Rob@RobZFitness.com.
(813) 571-3700
Call today to get started!
.
.
.
.
Talk to 10 people and you'll get 10 different opinions on the best way to get fit.

 One will tell you to attend an aerobics class. Another will swear by jogging. Yet another will tell you that dance and biking worked for them.

 The truth is that there's really only one effective way to get fit. 

Before I get into the details, it's important that we agree on the definition of 'fit'. Too often thin is mistaken for fit, and that's not what you should strive for.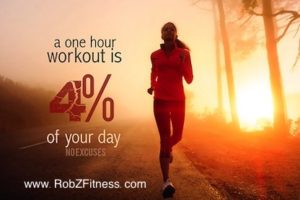 When someone is thin, but has very little muscle tissue, they aren't truly fit.
Here's why thin doesn't equal fit:
Their body fat percentage will be higher than ideal—even though you won't see a lot of fat on them, if their muscle percentage is low then fat percentage will be higher
Their resting metabolism will be low, since little muscle is present to burn calories at rest.
Their body won't be functionally strong, which will lead to injuries and frustrations.
So how does one get truly fit? It's this simple: Strength Training.
Strength training is when resistance is used to challenge your muscles in order to gain strength and endurance. You could do this with traditional weights, exercise bands, medicine balls, cable machines, sandbags, kettle bells or even just using your own body weight. Regular strength training has the following side effects…
Strength and muscle tone
Cardiovascular capacity
Speed, Agility and Flexibility
Resistance to injury and disease
If that's not enough to convince you that strength training is the only way to truly become fit, then read on…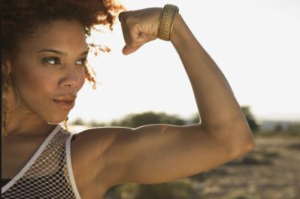 Top 9 Reasons To Strength Train
1. To Build Muscle and Gain Strength: Don't worry, ladies. This does NOT mean that you're going to 'bulk up' or look too masculine.
What will happen is that your arms, tummy and legs will become tighter, leaner and more defined.
2. To Lose Fat: When it comes to losing size, all that you want to see go is fat, not muscle. Strength training ensures that you maintain and grow those muscles and only lose fat.
3. To Build Strong Bones: The older we get, the more important our bone density is. A good strength training program is one of your best defenses when it comes to osteoporosis.
4. To Alleviate Anxiety, Stress and Depression: Sure there are plenty of pills out there that claim to give these benefits, but you and I both know that strength training is more wholesome and effective way. And besides, who really wants pharmaceutical side effects?
5. To Sleep Better: Here's another pill you can stop taking once you start strength training. Study after study have proven that strength training improves sleep.
6. To Improve Chronic Back Pain: If you are one of the millions across the globe who suffer from back pain then you'll love the benefit of lowered pain.
7. To Improve Insulin Sensitivity: Today diabetes is a huge threat. Minimize your risk by improving insulin sensitivity through regular, challenging strength training.
8. To Improve Good to Bad Cholesterol Ratio: Here is yet another pill that you could potentially stop taking while on a strength training routine. Blood pressure and heart health are of utmost concern, so why not give yourself the advantage of a strength training routine?
9. To Raise your Metabolism: This helps to reduce body fat and to keep that body fat off, even on the days that you aren't able to exercise. Pretty awesome, right?
A solid strength training routine will tone your legs, lift your buns, strengthen your core, and will result in inches and pounds lost.
If you're ready to begin your body transformation then feel free to reach out to me.
Call (813) 571-3700 or email Rob@RobZFitness.com today and I will get you started on the exercise program that will reshape your body once and for all!